Anthony Vaccarello Did Not Stray Far from His Signature Sexpot Aesthetic in Saint Laurent Debut
But the designer's first collection was missing a central aesthetic to tie everything together.
The invitation for the Saint Laurent spring 2017 show, a camel square of cardboard, came inside a small, black leather mini-pochette instead of the usual treatment we've seen over the past three years: limited-edition booklets featuring art from the likes of John Baldessari, Raymond Pettibone and Theodora Allen that served as a look into the heart and soul of the collection. In addition, the venue changed from the vast, empty space on the upper level of the Grand Palais or the Carreau du Temple to an address of, perhaps, an 18th century hotel particulier on the chic rue de Bellechasse in the 7th arrondissement.
These changes marked Saint Laurent's creative transition past the Hedi Slimane years, when the designer firmly established a recognizable aesthetic anchored by a permanent collection of clothes in constant supply to its network of stores to satisfy both customers' demands as well as Kering's corporate ones. Now Anthony Vaccarello, known for his ultra-sexy silhouettes, is at the helm, and he made his debut on Tuesday to usher in a new era for Saint Laurent.
Guests arrived to find the venue's entire edifice and courtyard fully gutted and under construction, with the bare historical façade still standing. In the center of the courtyard stood a large construction crane painted in the blue, white and red of the French flag and holding a giant YSL neon sign. It's not hyperbolic to say that we had high expectations for a rebuilding of Saint Laurent that would match the décor.
On a concrete runway (topped off with a reflective, gold plastic ceiling), models emerged wearing mainly short leather corset dresses — most with hanging puff sleeves and deep v-necklines — or corset-type tops worn with washed denim or similarly cut wool trousers and leather cropped jackets or short vinyl coats. It was immediately clear that the mood was Vaccarello's attempt to insert his signature aesthetic — that of an in-your-face, ultra-sexy vamp — into Saint Laurent's fashion vocabulary.
The clothes, mainly in black leather or tropical wool, were cut slim to the body. Most of the cocktail dresses were of the "micro" sort, even the final one in an embroidered panther print with an asymmetrical cut in the back. Needless to say, Vaccarello designed the clothes to reveal as much of the body as possible; even a razor-cut, tailored tux jacket had a sheer blouse underneath to expose the model's torso. Only one men's look was represented on the runway: a black sheer chiffon shirt over black wool pants.
Many pieces will likely translate into commercial success: smart black cigarette pants, the black parka, a wool short jumpsuit, a double-breasted coat and those YSL logo heeled pumps, for instance. But for such a high-voltage show — which was supposed to engineer a new road map for the brand — something fell flat; a central aesthetic that tied everything together, from the shoes to the micro-skirts, was missing. It will be up to Vaccarello in the coming seasons to establish a central idea beyond just furbishing high-octane, sexy clothes. After all, YSL was an idea before the designer created the clothes to reinforce his thinking.
Long Nguyen is the co-founder and style director of Flaunt.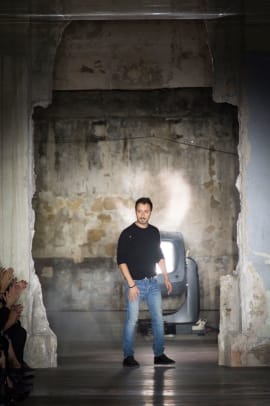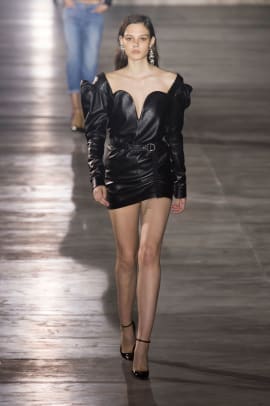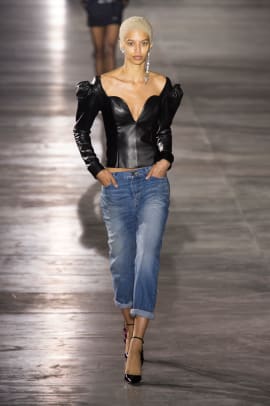 Want more Fashionista? Sign up for our daily newsletter and get us directly in your inbox.