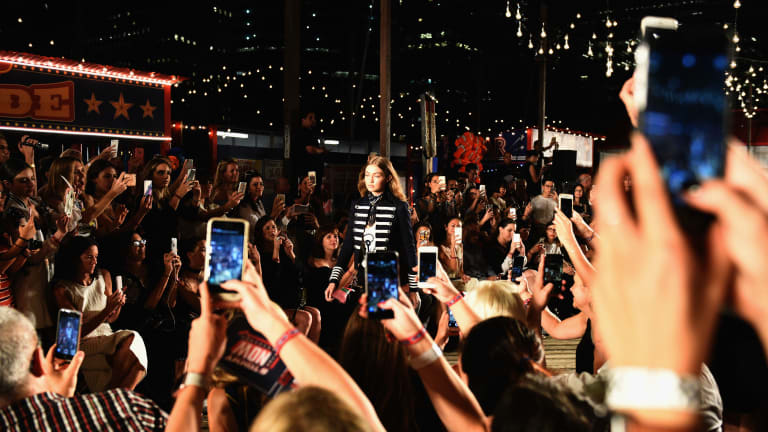 The Clothes Were the Least Important Thing on the Tommy x Gigi Runway
Get your phones ready.
Not every first-time designer merits a press conference, star-studded front row, and an audience packed with just about every major name in fashion publishing for his or her first show — but then again, not every first-time designer is Social Media Supermodel™ Gigi Hadid.
Perhaps you've heard, but Hadid designed a capsule collection for Tommy Hilfiger, and while other things were happening at New York Fashion Week on Friday, the media at large only had eyes for Tommy x Gigi. There was the aforementioned presser that morning, sandwiched between an appearance on Good Morning America and The View. Zanna Roberts Rassi of Marie Claire presided over the proceedings, and a question about design inspiration and partnership brought the most telling quote from Hilfiger. 
"When she hit the runway, the fans went crazy, they wanted to buy everything she was wearing, and Avery Baker, our CMO, and I talked at length about how we could use Gigi not just for being a model, because that's not enough in this day and age," he said. "We wanted to take it much, much further; we wanted to do something that was a breakthrough, disruptive. I think a designer has never partnered with a model before and allowed the model to have a very serious hand in designing the collection."
Countless brands are trying to tap into this social media supermodel moment, from Estée Lauder to Vogue. Hilfiger just took it one step further to the logical conclusion: Creating something with the muse to add an extra layer of fanfare and fan-frenzy. Naturally, no collection could be more relevant for the "see now, buy now" (or as Hilfiger calls it, the "buy now, wear now") conversation. This was the first season the designer experimented with showing a fully-shoppable collection on the runway, for which he created an entire carnival.
Tommy Hilfiger has never met a complicated set he didn't love, and the Tommy Pier was no exception. The experience, however, was anything but seamless. Pier 16 is located in a part of Manhattan not easily accessible by subway; models sweltered in the makeshift backstage area, and show-goers went through not one, not two, but three layers of security (your standard ticket check, an IDing for alcohol, and a bag check). Once inside, it felt like over half the audience was made up of #influencers wearing the collection — in fact, I don't know that I've ever seen so much Tommy Hilfiger in one place in my whole life. And that's not even touching on the front row, made up of Hadid's friends and family, including Kris Jenner. I mean, Taylor Swift was there, and she's been to maybe two fashion shows her whole career. This was big.
When it came to the show itself, there was a lot more flash. Taylor Hill, Binx Walton, and Lexi Boling were just a few of the top models who walked down the very long runway with the whirling neon lights of carnival rides in the background. You want an Instagram moment? Tommy Hilfiger has you covered. It must be said, however, that the clothes on their own are not anything special; on the racks, the white sailor trousers and sporty sweatshirts look like something you could find in any all-American mall come spring, and the nautical fall collection Hilfiger already showed in February is fun, if not groundbreaking. But by tapping Karl Templer for a little styling magic, calling in Hadid's big name model friends, and whipping up a social media extravaganza, the clothes became covetable.
And in a way, that's the genius. These clothes are downright safe by any standard. Any one of Hadid's fans (counting in the millions these days) could buy the Tommy x Gigi nylon bomber or the Hilfiger-designed velvet sailor shorts (or at least, ask their parents to buy it for them) and fit it seamlessly into her wardrobe, getting a piece of the Gigi Hadid pie without risking much style or cash-wise. As a selling methodology, it works; I picked up a Tommy x Gigi sweatshirt at one of the pop-up shops as soon as the show ended, and some of the entry-level pieces (priced at less than $100) appear to already be sold out online. There might be something to this "buy now, wear now" format.
Still, this isn't a fashion week model that will work for everyone, and many designers won't be clamoring to follow in Hilfiger's footsteps (if they even have the budget — eyes water just thinking about how many millions this must be costing the brand). As a fashion journalist juggling a jam-packed NYFW schedule, Tommy Pier made me miserable; truly, appealing to the fashion media establishment did not seem like a concern whatsoever. And why should it be? A lifestyle brand like Tommy Hilfiger has long since evolved past the need of reviews like this or editorial placement in magazines. For Hilfiger, social media is the new red carpet; it's where he's reaching the new generations of shoppers, the ones snapping up vintage Tommy designs spotted on the likes of Hailey Baldwin (who walked in the show, natch) and Bella Hadid (the only member of the Hadid clan not in attendance, due to some Dior Beauty duties in Paris).
But as a fan of Hadid's, of Hilfiger's, and of being entertained in general, I found Tommy Pier absolutely delightful. It was easily the craziest, most over-the-top fashion event I've ever attended, and I loved every second of it.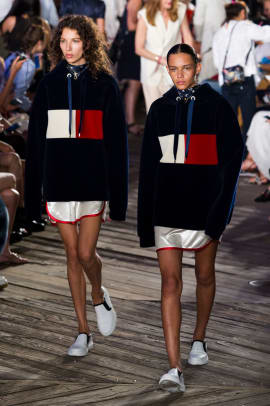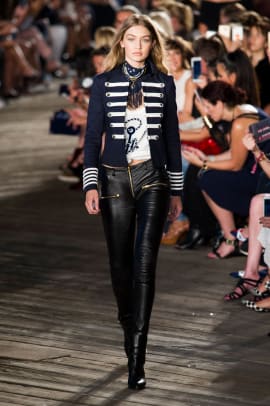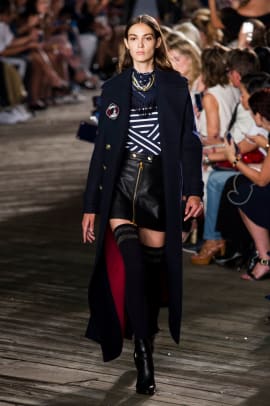 Want the latest fashion industry news first? Sign up for our daily newsletter.