Topshop Gives Us 'a Collection to Dance In' and Buy Immediately
We saw plenty of corsets, zebra print and, yes, vinyl.
The Topshop show space has had various incarnations over the years, usually with an inventive twist. We've trekked up stationary escalators to the disused Eurostar platform at Waterloo station, and irritated the art buffs in the concrete halls of the Tate Modern. This season, we found ourselves smack in the middle of Old Spitalfields market – once a treasure trove of vintage stalls, now a veritable tourist trap speckled with artisanal doughnut trucks and Sunday shoppers.
Given the crowds, it was perhaps best then that the front row was decidedly model-heavy, and absent of the usual A-list actresses and teen heartthrobs. Arizona Muse, Jessica Hart and Neelam Gill jostled alongside their younger peers/relatives of celebrities Lottie Moss and Anais Gallagher, who in turn would prove to be the target audience for today's collection.
For the last few seasons, Topshop has had a subtle '80s influence running through its shows. The power-hungry, shoulder-padded working girls of spring 2016 paved the way for 2017's women, who can party their way through the week without daring to dream of a desk in the morning. As the show notes promised us hedonistic, exhibitionist youth culture rooted in iconic, long-shuttered New Wave clubs Camden Palace and Blitz, Michel Gaubert (fashion DJ to every big show you can name) spun a brilliantly punky, upbeat playlist, proving this would be a collection to dance in.
So let us consider first, the party-wear. Zebra-skin skirts, vinyl micro-mini dresses, and the now-ubiquitous silk slip were all punked up with a pearl-safety pin hybrid earring and a subtle hair crimp. For these are the girls who stay up all night, sleep all day and use their fishnet tights as a grocery bag, if they were ever to do something so dreadfully mundane as shop. Exposed bras, sheer slit gowns laced tightly with bondage tape, and a couple of corset dresses thrown in at the end tempted us to neck our champagne and head straight for the nearest day rave, if only we had a boyish shearling to throw over the top.
Speaking of boys, if it's all sounding terribly sexy and girlie so far, take a look at the boiler suit knotted over a skintight body. Better yet, the parachute pants with their trailing utility straps, set to be a staple trouser shape of next season. Are they the next frontier of the fateful "athleisure"? As high-necked silk blouses were amped up by sporty ski-like pants and spike heels, Topshop may be the first brand to successfully get activewear into the party circuit.
Unsurprisingly, any tailoring or tweed was tempered with a swift slick of PVC or fuchsia pony skin, so we never veered too far from the club or close to the office. A business-like, knee-length skirt — demure from the back — turned to reveal a supremely NSFW thigh slit in the front.
The sheer (no pun intended) sex appeal radiated from these girls in the coolest way, so imagine our delight when we exited the venue and walked straight into a pop-up shop, as Topshop has joined the bandwagon of see-now, buy-now fashion. You can pry our zebra batwing jackets from our cold, dead hands.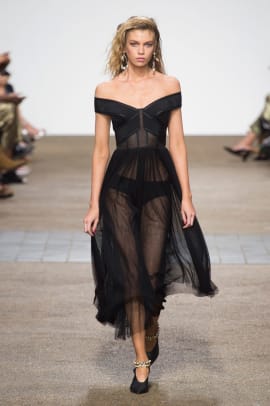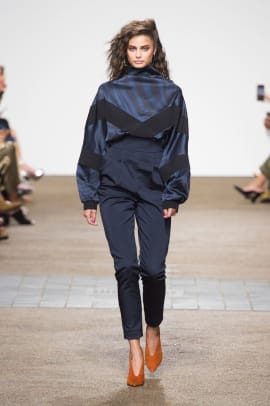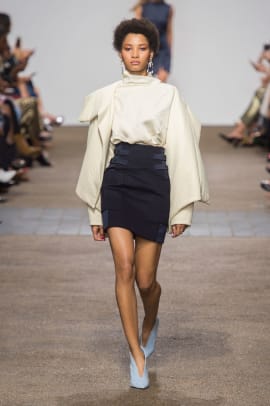 Want the latest fashion industry news first? Sign up for our daily newsletter.