Uniqlo Aims for Authenticity and U.S. Awareness With Remodeled Flagship and New Ads
"We're trying to deliver a message from Japan."
Ten years ago, New York City got a couple of very exciting new residents: one from Seattle (me) and one from Japan (Uniqlo). While I feel like I've lived a few different lives and gone through several #aesthetic changes in that time, Uniqlo's SoHo flagship — the company's first in the U.S. — hadn't been remodeled until very recently.
Open Friday, the revamped store — of which we got a sneak peek Thursday night — is being branded as "a new Tokyo in SoHo" and reinforces the company's Japanese heritage. Structurally, the store doesn't look all that different, but it's now merchandised into "shop-in-shop" areas. For fall, the retailer is focused on knitwear, so when you walk in, that's what you're hit with first. After that is an area dedicated to athleisure, and to the right of that is the "design studio," where the brand's more fashion-forward offering lives. To one side of the cash wrap is a new section that's never been featured in a U.S. store: a newsstand including over 150 different magazines and several books, all of which are Japanese. Nearby was a matcha latte station, which will be open every Saturday in September. There are touches of New York City, too: the mezzanine level features portraits of, and replicas of art by, Andy Warhol and Jean-Michel Basquiat.
"The [retail] environment has been changing drastically," explained Uniqlo USA CEO Hiroshi Taki on Thursday, via translator, of the decision to give this store a makeover. In addition to trying to "deliver a message from Japan," Taki wants to bring focus to Japanese quality, by highlighting the craftsmanship of specific products in these "segmented areas." "Our products are getting better as well," he said.
Product aside, Uniqlo has admitted to having an awareness problem in the United States, and Taki confirmed that's still an issue, but one that he hopes this store will help remedy. "In New York City, 80 percent of people know about us, but the people who have purchased Uniqlo is about 12 [percent]," he said. "When you travel to the suburban areas, the brand awareness goes way down. We wanted to make sure this store was the start to take the brand awareness to a much bigger scale and we wanted to redefine what Uniqlo is." That's a lot of responsibility for one store, even one in a high-traffic area like Soho, but Taki said the company plans to extend the same concept to other stores in the future as Uniqlo continues its expansion strategy of opening flagships in major cities throughout the country.
On top of that, the brand partnered with the agency Droga5 on its first-ever global brand campaign, "The Science of Lifewear," which will roll out to the U.S. in the coming weeks. As AdWeek pointed out, the campaign is meant to boost international awareness, but is set in a Japanese city — not to mention being strangely philosophical for a clothing ad.
It all ties into the whole "hey, don't forget we're Japanese" reminder that Thursday's store opening was about. John Jay, president of global creative at Fast Retailing (Uniqlo's parent company), said in a statement that, "By producing a global brand message from Japan, we are being authentic to our origin and who we are."
We'll see how effective this messaging is at getting U.S. shoppers into stores when the company issues its next earnings report.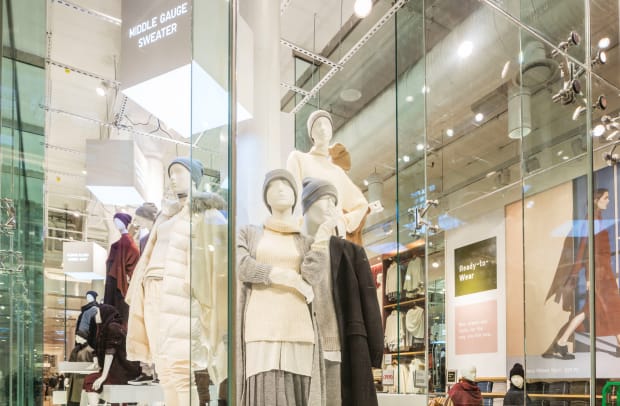 Want the latest fashion industry news first? Sign up for our daily newsletter.