I Want to Be Chill Enough to Wear Victoria Beckham's Spring Collection
Yeah, not going to happen.
I've spent a significant portion of my life wanting to be Victoria Beckham, as did many of us of a certain age. As her now-renowned eponymous clothing line took off and the industry evolved, Beckham's collections have served as indicators for where fashion is, aesthetically, with each passing season. For example, when she took her bow in Stan Smiths rather than her trademark stilettos last season, it was official: fashion had reached Peak Casual, and her collection showed it.
Her offering for spring 2017 — shown on Sunday morning at the time-honored Cipriani 25 Broadway — continued along this same vein. Working heavily in crushed velvet, washed satin and layers of chiffon, Beckham's latest collection was certainly her most relaxed yet, both literally in terms fabrics and figuratively in terms of overall silhouettes — not to mention the loose, baggy blouse and trousers (and flat sandals) she wore during her bow.
This softness was communicated in the show notes — "evolving a looser silhouette in a collection with an assured free spirit" — and translated into gentle versions of her bread and butter: Otherwise structural dresses and tops became slightly oversized and billowy, verging on pajamas, while lounge-ready bra tops were an unexpected accessory on their own. Speaking of accessories: "Summer boots" and "gentle bags," per the show notes, were also standouts, the latter of which are sure to be hot-ticket items once they become available. She also took the show as an opportunity to tease her forthcoming Estée Lauder collection by giving certain models a swoosh of bright blue eye makeup.
Am I even remotely chill enough to wear this stuff? If I have to ask, the answer is a resounding no. I'll check in again next season.
See Beckham's full spring 2017 collection in the gallery below.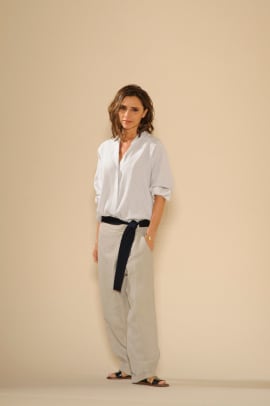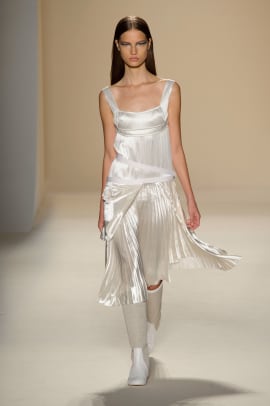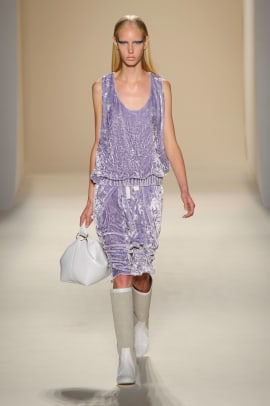 Never miss the latest fashion industry news. Sign up for the Fashionista daily newsletter.