Sexy Donald Trumps, Poop Emojis and More: These Are the Hottest Halloween Costumes of 2016
...courtesy of Yandy.com's scantily clad Halloween runway show.
There's a somewhat frequent complaint surrounding runway shows that the styling of the clothes is too unrealistic for everyday wear; too... costume-y. But that was exactly the point at online lingerie brand Yandy.com's first-ever fashion show on Friday night, which was comprised entirely of new-season Halloween costumes. 
To my knowledge, this is the first time a Halloween-themed show has taken place at New York Fashion Week — kind of a crazy thought when you consider the facts that, a) NYFW and All Hallows' Eve theoretically both take place during Pumpkin Spice Latte season, and B) Americans spend around $7 billion on Halloween each year — and it ain't all on fun-sized Kit-Kat bars or those giant, motion sensor spiders that hang from your doorway. God, I hate those things. 
Yandy's presentation included 39 women's costumes. Fourteen of those had the word "sexy" in their names, and the rest of them may as well have, too. There was sexy military personnel, three varieties of mermaids, two hot hippie chicks (both of which would've passed for Tommy Hilfiger looks), two scantily clad flappers, a revealing slice of pizza and more sexy animals than were at my last furry convention. 
Unsurprisingly, there were also several getups poking fun at pop culture. The show opened with a slew of emoji references: "Selfie Socialite" is the Snapchat puppy filter in 3D, "Sexy Heart Eyes Emoji" is a maillot with Katy Perry-approved smileys on the boobs and "Sexy Poop Emoji" is... well... you get the picture. For Broadway and history buffs, "Sexy Ali Hamilton" is a feminized take on Founding Father Alexander Hamilton's jacket and pantaloons, and for those who don't mind being unable to eat, drink or breathe properly for several hours, there's a Deadpool leotard costume, AKA the "Sexy Dead Assassin."
Of course, no election year would be complete with political themed costumes. Yandy's offerings include Sexy Political Donkeys and Elephants, as well as "Donna T. Rumpshaker" (Donald Trump) — which is reminiscent of a cute little British schoolboy outfit — and "Capitol Hill," a Hilary Clinton-parody that was honestly just a pantsuit minus the pants. 
According to Yandy's head designer Pilar Quintana, the current events-based costumes might get the most attention, but it's typically the more classic costumes that sell the best. "The pop culture ones are funny and cute," she says, "but a sexy Egyptian or a sexy goddess is always going to be hot." She adds that, each year, Yandy updates its costumes so that the silhouettes will better reflect what's happening in ready-to-wear.
As for which costumes are going to be Yandy's best sellers for 2016? Quintana's betting on the animals. Her favorite is the deer — excuse me — the "Sexy Deer." "I love our deer," she says. "I think it's cozy, and you can wear it with some tights and furry leg warmers." 
Check out every costume from Yandy's Halloween show in the gallery below — all of which are currently available to purchase on Yandy.com.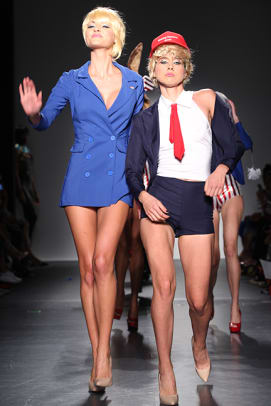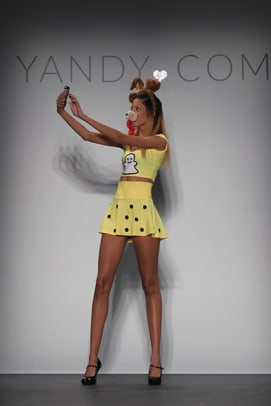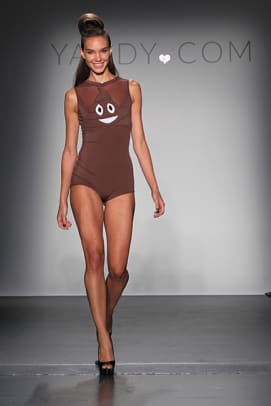 Never miss the latest fashion industry news. Sign up for the Fashionista daily newsletter.