Alena Akhmadullina Is the Russian 'It' Label You've Never Heard Of
The Moscow-based designer's fantastical dresses were a highlight of Mercedes-Benz Fashion Week Russia.
To give you an indication of how wildly popular Alena Akhmadullina is at Mercedes-Benz Fashion Week Russia, picture the most crowded runway show you've ever been to. (Tommy x Gigi immediately comes to mind.) Now, multiply that by two. With staffers spilling out onto every aisle and ordinarily front-row showgoers being seated in the third and even fourth rows, it was clear that Akhmadullina's spring 2017 presentation was the hottest ticket of the season. For the occasion, the designer had mounted ceiling-high wood panels at the start of the catwalk and installed imitation floorboards atop the space's carpeting; it was a set unlike anything I'd seen in Moscow. 
One of the most prominent designers currently working in Russia, Akhmadullina has been in the game for more than 15 years. She founded her eponymous label in 2000 while still a student at St. Petersburg State University of Technology and Design, and in her fifth year, won a nationwide prize for "The Dress of the Year." Her full roster of accomplishments may read like someone who is twice her age, but her clothing lives up to the hype. She's celebrated for her fantastical design touch, as well as her penchant for thematic collections; last year, she presented a range in partnership with Barbie. (Unfortunately, Akhmadullina was not available for interviews.)
I was advised by many of MBFW Russia's volunteers not to miss Akhmadullina's show under any circumstances, and from the very first look, I understood why. The show was split into two halves, the latter of which was created in collaboration with Faberlic, a Russian mass beauty company. While the first half was decidedly the more casual of the two, it embodied Akhmadullina's fanciful touch all the same. The first handful of looks were almost smock-like, each starched piece adorned with embellishments that ranged from metallic honeycomb patterns to ombré-shaded braid overlay. As the show went on, the styles became more ornate, finishing with a shimmering, wispy gown that floated down the catwalk.
But the second half contained the real money pieces. Here, lush greens and rich beiges made up Akhmadullina's color palette. She worked in velvets, silks and voluminous organza, and smartly paired each gown with velvet, lucite-heeled ankle boots. The aesthetic was very 21st-century fairy tale, and yet felt true to how women wish to dress today.
Akhmadullina may be colossal in Moscow, but it's taking her longer to make a splash in the U.S. and Western Europe. Her clothing is carried at 26 boutiques worldwide, including four in Moscow, two in St. Petersburg and others in Tel Aviv, Zurich, Prague, Beijing, Geneva, Shangai and Kuwait City. Meanwhile, Akhmadullina's line is only available at two retailers stateside: Curve Boutique shops in Los Angeles and New York City. But her resort 2016 collection is available on Moda Operandi — which, as far as the fashion e-commerce world is concerned, is an enormous stepping stone.
As I exited the show, one of the MBFW Russia staffers wondered aloud why Akhmadullina isn't consistently showing as part of Paris Fashion Week. She has the goods and, I gather, the international support to make that first presentation a breakout success. But perhaps there's something to be said about being a big fish in a small pond, and leaving home when the time is right. When that moment comes, we'll be following her every move.
See Akhmadullina's spring 2017 collection in the gallery below.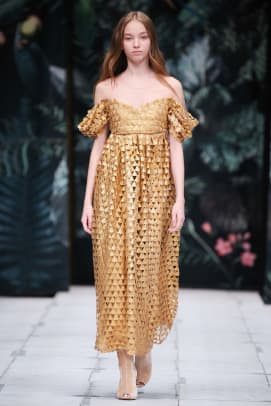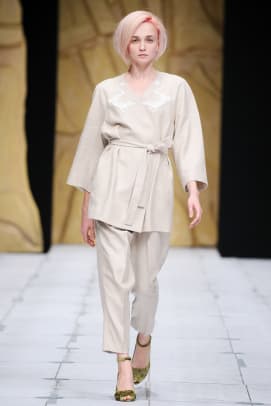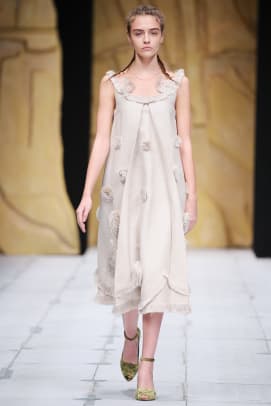 Homepage photo: @alenaakhmadullina/Instagram
Disclosure: Mercedes-Benz Fashion Week Russia paid for my travel and accommodations to attend and cover the event.
Never miss the latest fashion industry news. Sign up for the Fashionista daily newsletter.