Sarah Burton Infuses Shetland Traditions With Punk Details for Alexander McQueen Spring 2017
She was inspired by the "wild and magical coastal landscapes of the Shetland Islands."
Alexander McQueen returned to Paris Fashion Week Monday after a temporary relocation back to London last season, presenting its latest collection on a raised runway, uneven and shaped like a flat coastal formation, covered in a repeating pattern of layered rugs inside the Luxembourg Gardens's Orangerie du Senat. 
We can always count on creative director Sarah Burton to deliver romance and magic in the form of weightless, intricate gowns and dreamy embroideries, and her spring 2017 collection was no exception. Inspired by the "wild and magical coastal landscapes of the Shetland Islands," as well as the region's artisanal skills, according to the show notes, Burton played with "gossamer fine Shetland Lace... woven with indigenous flora and fauna — wild heather, clover, poppies and roses; sea birds and underwater creatures both real and mythical." She was also inspired by her collection of antique fabrics as well as Celtic paisley, Celtic checks and patched Tattic rugs.
As with her most recent resort collection, Burton used quite a bit of leather here: corsets over wispy dresses, rose-embroidered leather jackets, wide belts and sculptural minidresses. These pieces were either hand-painted with flowers or toughened up by grommets and jingling bells for a punk feel.
In fact, most of the collection's beautiful and delicate fabrics and shapes were disrupted somehow, and not just by biker jackets and corsets. Hand crochet-knit dresses looked deconstructed and put back together, and lace panels broke up sharp, tailored jackets and pants. Corseted dresses of fishnet knit frayed in tangles and delicate tulle skirts were covered in tufts of embroidered flowers. It culminated in two breathtaking final gowns featuring shredded tulle skirts and waves of silver sequins against a framework of black beading — perfect for a shipwrecked mermaid queen. 
See the Alexander McQueen spring 2017 collection in the gallery below.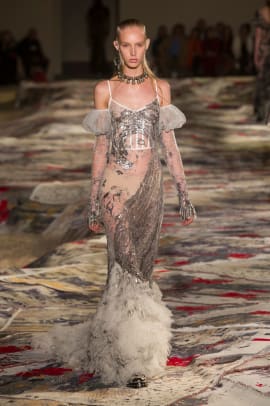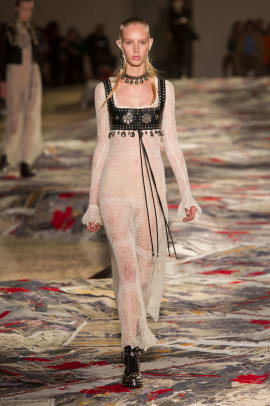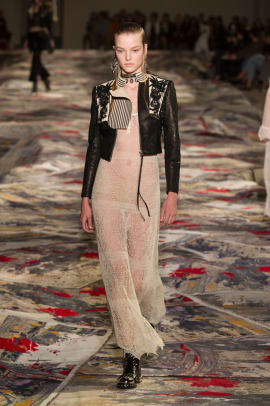 Want the latest fashion industry news first? Sign up for our daily newsletter.