Demna Gvasalia Does Couture Spandex for Balenciaga Spring 2017
And lots of outerwear to protect you from those spring showers.
There's an undeniable sense of practicality in Demna Gvasalia's designs for both Vetements and Balenciaga (even if the products are impractically expensive); and in his sophomore collection for the latter, he continued to interpet the house's codes with utilitarian touches — including plenty of rain protection.
Not unlike his debut collection for the house last season, most spring 2017 looks were topped with menswear-inspired, bold-shouldered, '80s and '90s-feeling outerwear, including big trench coats tied at the waist in khaki and leather, suit jackets that hung loose from an "inserted whalebone shoulder line" (per the show notes), oversize puffer vests (a springier answer to last season's full-sleeved versions) and monochromatic rain coats and with exceptionally fitted hoods — also seen on two latex capes that were very "Little Red Riding Hood"-meets-"Blade Runner."
Of course, Gvasalia put just as much thought into what is worn under those coats and against the skin. Per the show notes, he aimed to explore (as Cristobal Balenciaga often did) the relationship between couture and fetishism — "the obsessive interest in achieving a particular fit, the concern with the sensations which arise when specific fabrics touch skin." And, in true Gvasalia fashion, he expressed this timeless idea with another modern fabric, though one that probably hasn't been use so extensively in fashion since the '90s: Spandex.

He encased his models in the synthetic material, most notably via Spandex shoe-legging hybrids that we could certainly see front row guest Kim Kardashian incorporating into her spring look. Often, they were paired with billowy, brooch-adorned blouses that honestly looked straight out of an early "Golden Girls" episode.
Gvasalia's high/low sensibility could also be seen in the bags — including a continuation of last season's gigantic carryalls that, without any colorful stripes this time, looked slightly less directly cribbed from the recyclable tote bags one might find in developing parts of Southeast Asia. He also debuted an ottoman-like, statement-making, circular version.
It was another collection that has us rethinking the tenets of good and bad taste — something we'll have plenty of time to consider as these pieces come up again and again in magazine editorials and street style galleries over the next several months.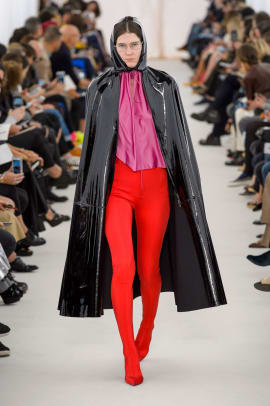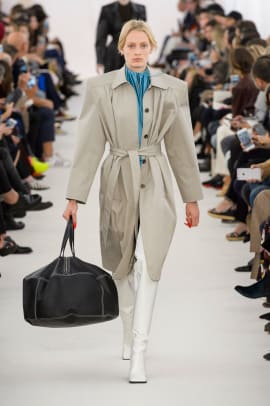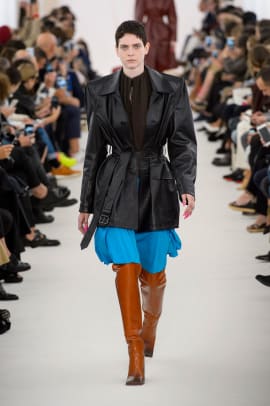 Want the latest fashion industry news first? Sign up for our daily newsletter.