Baserange Is A Super Simple and Sustainable Label to Watch
Chances are you're already a fan of its lingerie and swimwear.
In a time where Gucci's more-is-more aesthetic is thriving, and making a statement, whether for social media or a street style moment, is a priority, brands like Baserange that channel the quieter moments of fashion still flourish. Its undergarments — soft, subtle and easy in silhouette, material and color — are quite minimal and simple in design, landing the brand in such coveted retailers as Net-a-Porter, The Line and The Dreslyn, among others.
Friends Marie-Louise Mogensen and Blandine de Verdelhan, who met in 2009 while in Paris, founded the brand in 2012. Each were previously working for separate children's lines before they joined forces to start Baserange. "We started with simple underwear, something between lingerie and sports underwear because Marie saw a gap between these two," said de Verdelhan over the phone from Toulouse in the South of France. (Mogensen recently moved to Los Angeles from Copenhagen.) The duo have always worked separately, which makes for an easy and even split of duties. Mogensen, who studied at the Royal Danish Academy of Fine Arts, is in charge of Baserange's design and imagery, while de Verdelhan handles the business side of the brand — logistics, organization and sales.
Together, they travel to their trio of small, family-owned factories to monitor every collection's development and production, from Porto in Portugal to Turkey's Odemis, as well as near de Verdelhan's hometown. "We want to be close to them and have a longtime relationship because in this business very often you go from one factory to another," said de Verdelhan. Another appealing point behind Baserange is its sustainability, a practice that both ladies strive to implement, though it can have its challenges. "This was was an idea from the very beginning: doing simple clothes but in a clean way," said de Verdelhan. "You learn quite fast that it's not easy to have something really perfect. It doesn't exist, so you do as well as you can with the possibilities that you have. We use a lot of organic cotton and natural fibers like bamboo, silk and wool."
Through the years Baserange has expanded across categories, including basic apparel and swimwear. Knitwear, which is done in France, has also grown over the last three seasons. Mogensen and de Verdelhan are now tapping into the activewear market, offering a small range of sporty pieces like seamless bra tops and bottoms, sweatshirts and sweatpants. For spring 2017, Baserange looked to India and the four natural elements (earth, wind, fire and water) for inspiration. The collection is made up of newly added silhouettes (kaftan-style dresses, scarves and loose-fitting pants) in even brighter colors than usual (purple, yellow and orange).
While Baserange has been a cult favorite for some time now, the lingerie market has welcomed its fair share of newer brands in recent years that offer similarly simple takes on undergarments, swapping lace and prints for comfy elastic and neutrals. Instead of looking at these other lines as competition, de Verdelhan is quick to point out that she and Mogensen would rather collaborate. The latest proof is partnership up with London-based label Marieyat for Baserange's lookbook. Photographed by Dan McMahon and Ronan Mckenzie, the imagery features styled looks that combine both brands. "Within these pages are pieces from Mariyet's collections and pieces from the Baserange collection," notes the lookbook's text. "By working together, we posed a question: How do we find a shared space, without competing? What is me and what is you?"
Click through the gallery below to see Baserange's latest lookbook for spring 2017.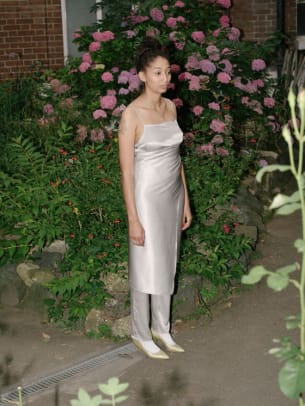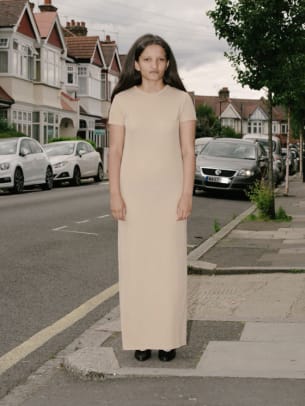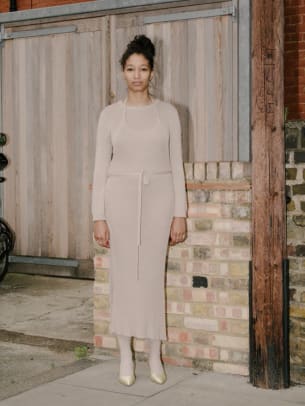 Want more Fashionista? Sign up for our daily newsletter and get us directly in your inbox.