Chanel Kicks It Back to the Old School Days of the Web for Spring 2017
Karl Lagerfeld got down with all things digital this season.
As a person who's only ever worked online — and who grew up in the early days of dial-up internet (shout out to AOL) on a bulky family computer that took up an entire corner of a room — I was pretty tickled to see that Karl Lagerfeld transformed the Grand Palais into a "data center" for the Chanel show on Tuesday morning. Guests walked to their seats through grid of faux rack servers, complete with flashing LED lights and cords tangled in every which way. While we're not convinced that Lagerfeld spends a ton of time on the World Wide Web (in 2007 he told The Guardian, "I don't want to be on the internet"), he does have an affinity for technology (in 2006 he said, "the iPod is genius. I have 300"). It was clear that the French house was getting down with digital this season — and it got quite literal with the theme.

The opening looks were two classic tweed suits, but the models (whose identities still remain a mystery) were masked with Daft Punk-esque robot helmets, gloves and boots, further emphasizing the "woman meets machine" motif. Upon closer inspection, the tweeds that followed — done up for spring in fun, rainbow colors — recalled the inner workings of a circuit board, like capacitors, CPU chips, and multicolored wiring — which, if we're being honest, would likely stress someone out who regularly works with computers. (If you're digging into this stuff, you're probably in trouble.) Later in the collection, graphic silk dresses and skirts were printed with loud, neon patterns that recalled old-school screen savers, cheesy mall glamour-shot backgrounds and those trippy, rave-worthy music visualizers.
In keeping with the nostalgic late '80s and '90s theme, accessories included hip-hop-inspired chunky chain necklaces (many adorned with a double-C pendant), oversized single earrings, fishnet stockings, branded lanyards and sideways baseball caps — some of which were topped with a floral appliqué, like those worn by the title character of the hit series "Blossom." Smiley, robot-shaped handbags lit up as they came down the runway, and both chain-strapped evening bags and oversized clutches appeared as if they had been ripped from a server panel. Not everything was aggressively hardware-inspired: several pretty, playful and wearable pieces were sprinkled throughout the collection, including lingerie-like slip dresses trimmed with lace, an oversized denim poncho, and some airy, ruffled separates made a bit sporty with stripes.
While kids these days might not remember a number of the references Lagerfeld made this season, this collection still felt like a big nod to the millennials.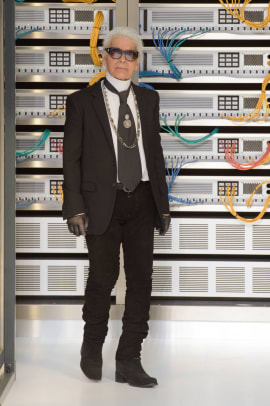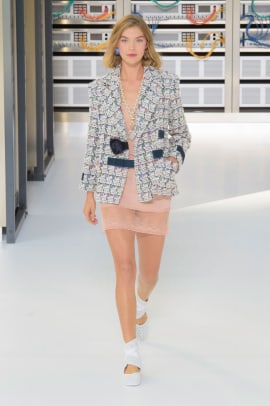 Want the latest fashion industry news first? Sign up for our daily newsletter.