CINQ À SEPT & LIKELY IS SEEKING WINTER '16 PRODUCT DEVELOPMENT INTERNS IN NEW YORK, NY
Contemporary brands, Cinq à Sept and LIKELY is seeking product development interns that have a general knowledge of fabrics and basic garment construction.
Cinq à Sept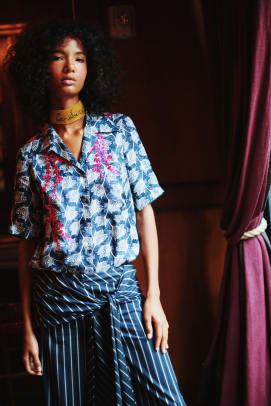 Sharing its name with the French term for the liminal moment linking late afternoon and early evening, Cinq à Sept brings the intriguing tension between day and night to a new advanced contemporary collection. Inspired by the hours between 5 and 7pm, when city streets are awash in the warm glow of the vanishing sun and office desks are abandoned for outdoor drinks and unknowable possibility, Cinq à Sept embodies a deliberate balance between elevated sophistication and undone ease, between youthful daring and confident allure. The collection's modern feminine aesthetic embraces unexpected details and fresh silhouettes, resulting in garments that draw their effortless romance and unstudied sexiness from the woman wearing them.

LIKELY:

LIKELY's innate sense of rebellious fun shines through in each dress, skirt and top in the collection, creating a fresh approach to modern femininity through smile-inducing pops of color, beautiful fabrications and contemporary tailoring. With a focus on accessibility, LIKELY can be worn unapologetically from a casual Saturday brunch to a nightcap with friends, making every day an occasion.
Requirements
Proficient in Microsoft Office, experience with Adobe Creative Suite a plus
Able to work in a fast paced environment
Carries a positive attitude and high energy
Organized, resourceful a team player with a strong work ethic
General knowledge of fabrics and basic garment construction
APPLICATIONS FOR SCHOOL CREDIT ONLY, accepting immediately for Winter 2016 thru Spring 2017 (Spring semester)!
Responsibilities
Provide support for Product Development team through various administrative duties
Correspond with local factories to assist in sample development
Assist in running errands to local fabric and trim vendors when needed
Organize sample fabrics, patterns and trims
Catalogue strike offs and sample yardage and bulk swatches for fabric team's records
Assist in assembling color-standards to send out to the mills for lab dips
To apply, please send your resume to Celia Eberdt at ceberdt@jayallc.com, subject line Product Development Internship.