Rei Kawakubo Explored the Theme of 'Invisible Clothing' at Comme des Garçons
The visionary designer used exaggerated pieces to comment on how clothing is related to the human condition — from birth to death.
"Invisible clothes" was the inspiration statement provided after the Comme des Garçons show at the newly renovated concert hall Elysée Monmartre on Saturday, where the models dressed in "clothes" of extreme proportions walked slowly on circular, raised platform, often turning sideways to let another model pass by.
Once again, this collection erased any conventional understanding of what garments are — at the very least, garments that are presented at seasonal fashion shows. What is "invisible" here is a borderline that exists and that separates clothes from the body, clothes from clothes, and clothes from emotions. But this borderline can have a different meaning for every person in the audience, and this has always been a central tenet of any Comme des Garçons show; afterwards, each of us discusses in-depth how we felt about what we just saw. There aren't any trends to talk about, and surely we were worlds away from the current obsession with "see now, buy now" — an approach that may or may not work for designer fashion of this calibre (and price point).
I don't know exactly how to interpret this show, except to say that Rei Kawakubo may have used these exaggerated pieces to comment on how clothing is related to the human condition from birth to death. In this 17-look collection, all of our emotions — from happiness to loss and suffering — were represented.
The first look was a giant, black velour coat with a turtleneck and a large circle cut out on the torso, worn over a dress with a mass volume protruding from the model''s stomach that can probably signify pregnancy. Then came a brown printed dress with rectangular "wings," followed by a short cocoon wool dress with a white cotton ruffle underlay and a cape that completely covered the model's head as she opened and closed it while walking — perhaps an indication of her giving birth.
A red tartan dress with a rectangular flag banner may have represented happiness, as well as a red layered dress with short sleeves and ruffle trims (red is the traditional color of weddings in Asia). But it was confounding that this red "wedding" outfit would be next to the final look in the show: a ballooning, black velvet 3D dress with a large collar and white spikes sprouting from the neckline. The garment was so large that it reduced the model's mobility, and as she came to a complete stop in the middle of the runway, the lights dimmed to black. That was the end.
And what do these clothes say about the woman within, with glimpses of happiness, marriage, childbirth and then death, all played out to Colin Stetson's reinterpretation of Henrick Gorecki's symphony No. 3, "Sorrowful Song"? Clothes become this silent accomplice and company throughout our journey — they're always with us. 
Can the clothes we wear represent us, our emotions and our paths throughout our lives? We often wear and then discard our clothes so readily that we almost forget to consider whether the clothes we threw out were also a part of our selves that we also shed. We all know that the clothing we choose to wear isn't arbitrary, and that we chose specific garments to show our truest selves to the world with very specific intentions. A fashion show today usually isn't intended to ask these kinds of questions, but Comme des Garçons isn't a regular fashion show.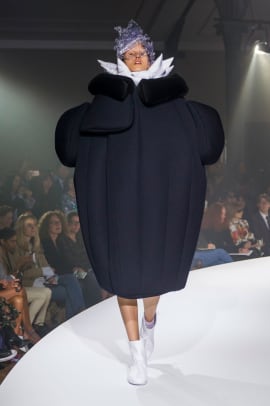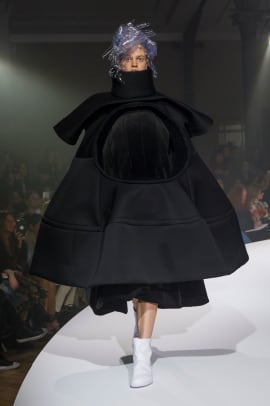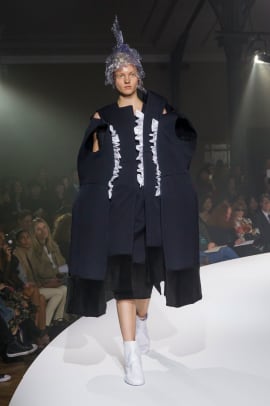 Long Nguyen is the co-founder and style director of Flaunt.