With Second Skin Overalls, Danielle Bernstein Is Making the Move from Blogger to Businesswoman
"I feel like there's so much more I have to offer."
As the fashion landscape changes, personal style bloggers have to go beyond just posting outfit photos to their Instagram accounts if they want to have an enduring business; many have branched out by landing magazine covers, scoring beauty contracts or entering into high-profile collaborations with other brands. Danielle Bernstein of We Wore What is taking that one step further by launching her own line. Second Skin Overalls, which debuts Thursday, is the brainchild of Bernstein, who started her blog five years ago with the tagline "Overalls are my second skin." (Hence the brand name.)
"I was known for wearing overalls and people always asked me where to get them, and my favorite pairs always ended up being one-off vintage items," she tells Fashionista over the phone a few weeks before launch. "About a year ago, I realized there was a space in the market that I could fill, and I set out to start a line of high-quality, ideal fitting overalls."
Bernstein is no stranger to fashion design, having previously collaborated with brands like Topshop and Onia on lines of jewelry, swimwear and fitness items. But Second Skin Overalls is different: Bernstein started the line with her own money, and had a hand in every aspect of the brand from sourcing the denim to finding the warehouse that will stock her items to building the website. She's even heavily involved in the design process, having sketched the initial five pairs on the back of a napkin. "I don't think anyone knows this: In high school, I used to take this course at FIT learning how to sew, and I went in every Saturday for about six months," she says. "I never actually wanted to be a designer, I was just really passionate and wanted to learn what went into making a piece of clothing."
To make sure the line fits well — her top priority, she says — Bernstein brought in a technical designer on a freelance basis. Together, they combed through her collection of jeans to get the styles just right; the high-waisted skinny overalls got their fit inspiration from some of her favorite pairs of hi-rise jeans, for example. Beyond that, Bernstein chose and approved every detail of the line. "This is extremely important to me because it's my first venture on my own, and as a personal investment," she explains. "Everything from the gold hardware to the font on the tag and the stitching was all hand-selected by me."  
The first collection is dubbed "Basics," and consists of five key styles: a short-sleeved jumpsuit, a high-waisted skinny black pair, a dark denim, flared-leg pair, a loose-fitting pair, and a casual, classic pair. While there are plans to expand beyond denim — Bernstein says she's already designing in leather, lace and silk — she plans to stick to overalls and jumpsuits to stay in a niche market. Since she's launching under her own financing, Second Skin Overalls will be exclusively direct-to-consumer, at least to start. The price point is $185 to $230. "I really wanted my readers to be able to afford it," Bernstein says. "Even though the quality and the cost of the denim we use would have allowed us to charge almost double or triple that, I really wanted to keep the prices low because this is the first collection and I want it to be accessible." 
Bernstein hasn't been entirely on her own in launching this project. In addition to the technical designer, the We Wore What team — including her project manager Moe Paretti, her assistant, her two agents and her photographer — have pitched in to getting the line off the ground.  And that's good, because in addition to launching Second Skin Overalls, Bernstein still oversees her blog, which expanded into home and lifestyle categories last year, invests in friends' startups, is in the process of writing a book, and has second line in the works, which is yet to be announced. On top of all that, she had an apartment move scheduled the week before launch. It's a lot to have on one plate, but for Bernstein, it's worth it.
"Fashion is just one industry, and it's only one part of me. I feel like there's so much more I have to offer," she says. "I'm always doing a million things at once, but I think expanding my personal resumé beyond being just a fashion blogger, which is never what I considered myself, is really important."
Second Skin Overalls are available through secondskinoveralls.com and through the Spring shopping app.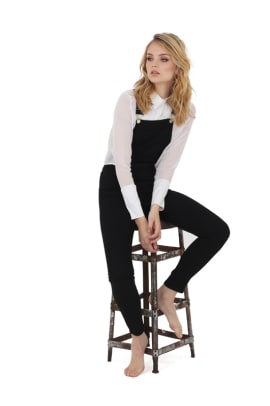 Want the latest fashion industry news first? Sign up for our daily newsletter.