Behold: A Wedding Dress Collection Inspired by All The Disney Princesses
From Belle to Elsa to Mulan, who's sort of the Kate Middleton of the bunch.
Considering that in the past year, Coach emblazoned its classic leather goods with Mickey Mouse, Kenzo released a sartorial interpretation of the "Jungle Book" and Alessandro Michele injected Donald Duck into his street style-bait Gucci, Disney-inspired wedding dresses were inevitable, right?
After all, cartoon princess-themed weddings at the Magic Kingdom are a thing and Belle's lemon meringue, off-the-shoulder gown would make for a memorable Instagram moment when you're saying "yes" to your own Matthew Crawley. (Plus, Alicia Vikander looked so good in the dress at the Oscars.) And who wouldn't want to have their own dramatic ice queen grand entrance on the big day? 
Well, Alfred Angelo — the brand that brought us a Queen Elsa-themed blue wedding gown a few seasons ago — has been making many an aspirational animated princess's dreams come true with its Disney Fairy Tale Bridal collection. In celebration of 25 years of "Disney's Fairy Tale Weddings and Honeymoons" (note to self for future anniversary trips), Alfred Angelo is strengthening its ethnically diverse princess gown lineup by adding pieces inspired by Pocahontas and Mulan, despite the latter technically not being a royal, but a kick-ass female commoner warrior fighting a man's battle. But anyway.
The bridal brand presented the entire spring 2017 Disney princess-themed collection during its runway show — making for a heart-warmingly nostalgic way to kick off fall Bridal Week. (A soundtrack mix featuring the theme songs from "Beauty and the Beast," "Little Mermaid" and, yes, Christina Aguilera's "Reflection" from "Mulan," helped enhance the mood, too.) Granted, I personally hoped for more on-the-nose interpretations of the iconic cartoon princesses, like the original blue Disney gown worn by Cinderella (or maybe separates for Ariel?), but Alfred Angelo kept the target audience in mind with a collection of traditional white dresses. Although, it pretty much goes without saying that the Ariel dress comes in a mermaid silhouette, with zero pun intended.
Click through the gallery below for the full Alfred Angelo x Disney princess lineup. Which is your favorite?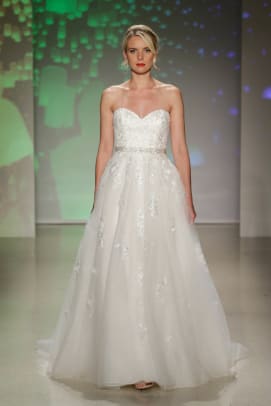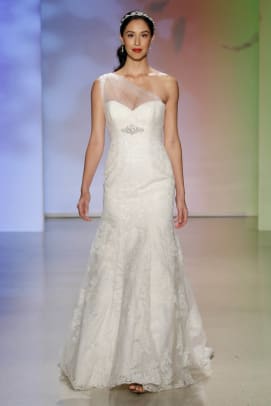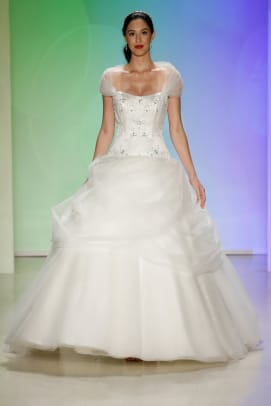 Never miss the latest fashion industry news. Sign up for the Fashionista daily newsletter.
Homepage gif: 'Beauty and the Beast'