How H&M Design Award Winner Hannah Jinkins Translated Her 'Staple-to-Fit' Collection for Fast Fashion Retail
The British designer travelled to Stockholm and Shanghai with H&M to produce her capsule, which hits stores on October 20.
Just a few days after Hannah Jinkins won H&M's 2016 Design Award last December, she set out for the fast fashion retailer's Stockholm offices to get to work: As part of the prize, the 2015 Royal College of Art grad and native Londoner has partnered with H&M over the past year to translate her graduate collection into a commercialized capsule. It was the first of three trips that Jinkins, 25, took to Sweden to meet with H&M's buyers and to replicate her oversize, genderless and denim-focused winning collection. And now, her distinctive "staple-to-fit" tailoring style is coming to H&M shoppers online (and in-store in select countries like the U.S., France, Japan and the U.K.) on October 20.  
"I'm really amazed with the factories that we've worked with... that we've been able to replicate it so well," said Jinkins on Friday. "The scale that I work with is very hands-on, even in the production side of things. So letting someone else take over, that was quite an odd sensation, really — it was quite refreshing." London boutique LN-CC already picked up her graduate collection last fall, where it retailed between $1,500 and $3,000. The H&M collection ranges in price between $50 and $400. "Obviously the price point was the biggest challenge, getting the hand quality that I aspire to, but then still fitting within the price point that we're working to," said Jinkins, adding that she was continuously impressed with the options brought to her by the H&M buyers. Instead of using premium selvedge denim from Japan, for example, they replicated the pieces with denim from a mill in China. 
Another technical challenge proved to be adapting the waxed cotton pieces. "In my original samples, those were wet wax, so it was sticky to the touch and something that we could develop to be more comfortable and practical," she said. "In a retail situation, when you've got something that just attracts loads of dust and fibers, it doesn't work in that more commercial setting. So we worked with different enzyme washes to manage to get the softness and the texture that we were looking for without all of that extra product on the cloth." Jinkins says she relied on H&M's development and sourcing team to find those solutions. "I said what I wanted and they found me amazing options, so it was definitely down to my lovely buyers."
As for the metal fastenings that hold together the collection's boxy silhouettes — for which Jinkins used real staples in her graduate collection — H&M developed a more user-friendly version as well. "You've got to consider all the care labeling and the washing all of that, so I was really happy when the factory came back with the development of the staples and they were much sturdier," she said.
Jinkins got a firsthand view of H&M's factories when she traveled with the team to Shanghai in April to approve final samples and meet with suppliers. "The scale of the factories is something I've never seen before," she said. "I think it's so refreshing when you think about working with this massive global company and still feel like it's a really intimate family in the way it's run. I think that's been the most eye-opening thing for me and it was really pleasantly surprising." Her final trip to Stockholm in June to shoot the lookbook was a different kind of exciting, new experience. "Seeing [model] Saskia de Brauw in my collection is a dream come true."
The H&M Design Prize also came with €50,000 (about $56,000), which Jinkins has used to pay off student loans for her Master of Arts degree. The rest is in savings "waiting for the time to be right" to launch her own label. She also took the opportunity to travel in Japan with her partner for a month. "Japan is something that I look at a lot when I'm working, and that mindset of designing feels very different from European outlooks. So to me, it's important to go there and see that for myself," she said. 
Jinkins had originally planned to use the money to launch her own label now, but she realized she was not ready. And despite seeing H&M's global scale firsthand over the past year, her own design ambitions remain focused on smaller-scale, localized production. "I felt like I couldn't produce [my own label, at this time] in a way that I felt was sustainable in multiple senses of the word: financially sustainable as well as actually producing in a way that was ethically and environmentally [sustainable]." Instead, she started working last month at London's Blackhorse Lane Ateliers, a denim manufacturer and design studio. "It's built around the ethos that you produce in the same building that you're designing in, and we have an allotment where we grow indigo... It's this real sense of building something really new but based on a really archaic system." The work experience she's gaining there is part of her long-term plan, she said. 
In the meantime, Jinkins plans to gather "40 of my nearest and dearest" at H&M's Oxford Circus flagship store in London on Oct. 20 to celebrate the launch of her collection over a brunch the retailer is hosting in her honor. "It's something that you don't necessarily anticipate," she said about the past year. "H&M is a household name. To have my name alongside it, it is very surreal."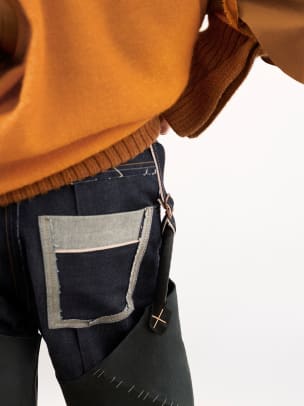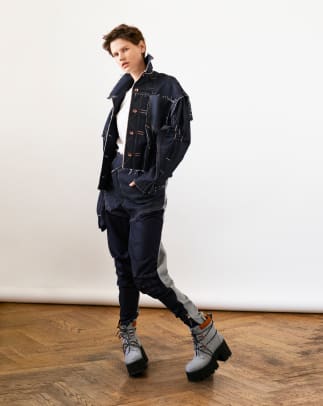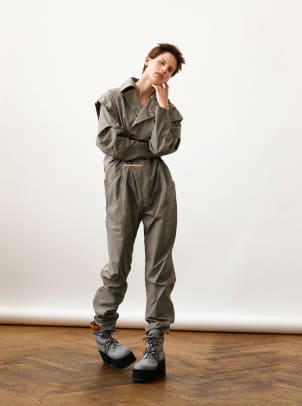 Never miss the latest fashion industry news. Sign up for the Fashionista daily newsletter.