With Help From Her Friends, Katharine Polk Celebrates Vulnerability in Houghton's Latest Collection
Model and "Houghton Girl" Chloe Norgaard is one of nine women who star in a poignant short film about body positivity ups and downs.
Back in August, Houghton designer Katharine Polk wrote a brave and revealing essay about her decade-long struggle with eating disorders and body dysmorphia for HarpersBazaar.com. The response was overwhelming support from friends, family and the fashion industry, which inspired Polk to take her body positivity message to the next level. So, with a little help from her friends, she created the Houghton fall 2017 bridal collection, entitled "Not Your Baby," powered by the meaningful theme.
Breaking from the traditional Bridal Week and fashion show format, Polk presented a 15-minute film on Thursday night featuring herself and nine "Houghton Girls," including model, student and hair goddess Chloe Norgaard, MADE co-founder Jenné Lombardo, Lulu Frost jewelry designer and founder Liza Salzer and three badass trainers from fashion's favorite gym, The Dogpound: Dara Hart, Keyla Castillo and Bianca Vesco. The women — diverse in personal style, body shape and all with demanding jobs within the industry — bared their souls on film and took a deep dive into all the unrealistic pressures women face in life and career.
"I made a list, reached out to my girlfriends and they responded in five minutes," Polk told Fashionista during the collection presentation after the film premiered to a packed house at Artbeam. Her nine-strong squad was also on hand to celebrate the film, each wearing custom Houghton pieces that served as a basis for the fall 2017 bridal line.
"I didn't design a collection," Polk explained. "[My friends] all came in and we got drunk. Each girl ransacked the archives and we were like, 'Tell me what you guys are feeling; what would you wear? What's your favorite look? Each girl has such a distinct style." From there, Polk re-imagined each archival look with her friend in mind. For brand consultant and Four6ix director Kelly Francis, she designed an an ivory silk satin pantsuit; for Taste The Style founder Cyndi Ramirez, a strapless swing top and high-waisted skirt set; for singer Morgan Kibby (aka White Sea, who also performed at the presentation), a slinky off-the-shoulder wrap-front gown. And the black moto jacket with "Fuck Boy" artily drawn on the back was inspired by Polk herself. 
"Katharine asked me and I love her and I was like, 'Hell yeah, why not talk about some real shit,'" said Norgaard, wearing a rose-gold crushed velvet and sequin-encrusted slip dress. Each "Houghton Girl" was also wearing her own extremely cool pink and white personalized bomber with custom calligraphy artwork, made in collaboration with Jessica Gatlyn of Boho Ink. (Good news: You can buy the jacket now. Bad news: There's only one left, per Polk as of 8:30 p.m. on Thursday.)
In the film, the now flame-haired model discusses how even she has felt inadequate compared to her peers blessed with ultra-long legs. "I'm gonna eat a fucking burger and keep it in my stomach," says Norgaard in the short. She especially felt the pressure early in her career, as she explained after the screening. "When I started in Japan, they would send girls home — or not give girls pocket money to get home — if [models] gained a centimeter in measurements in their hips or their waists or whatever. A centimeter," said Norgaard. "So back then, I was like, 'Oh fuck, okay, I have to count calories' and all this shit, but then I was like, 'Fuck this.' If I have to do this crazy stuff to [myself] and not be happy and not enjoy food and be so obsessed with this, I don't want to model." (Thankfully, she's since established a thriving career on her own terms.)
Body image issues are so pervasive in the fashion industry, but the motivational messaging the film explores goes even deeper. Confessional moments cover anxiety and depression (and medicating), parenting pressures, unrealistic career expectations (often self-inflicted) and how social media just really makes everyone feel inadequate about life in general. And of course, any and all of those thoughts might come up while planning a wedding, a hectic and not always sane experience. While Polk's film stood out from the usually lighthearted bridal week schedule of pretty white dresses (and a fair amount of gratis champagne guzzling), the designer said the timing wasn't strategic.
"The story with Houghton is — it doesn't matter what the time of year it is. The clothing is year-round. We're seasonless," she explained. "We're all real women with real lives, especially brides going through shit. We're all just real people going through real shit, whether we're running businesses or being a parent. I don't think it matters what time of year to share it. I just felt like it was an important message."
Watch a trailer of the Houghton fall 2017 bridal collection short film below — starring Katharine Polk, Jenné Lombardo, Chloe Norgaard, Lisa Salzer, Morgan Kibby, Cyndi Ramirez, Kelly Francis, Dara Hart, Keyla Castillo and Bianca Vesco — followed by a gallery of the fall/winter 2017 collection.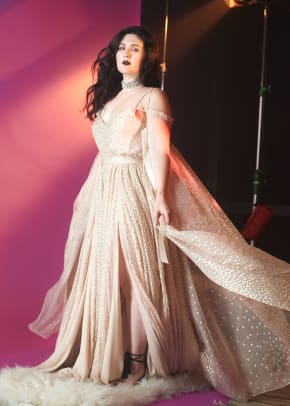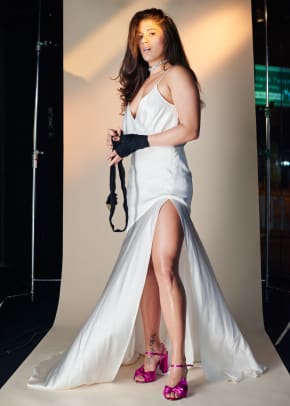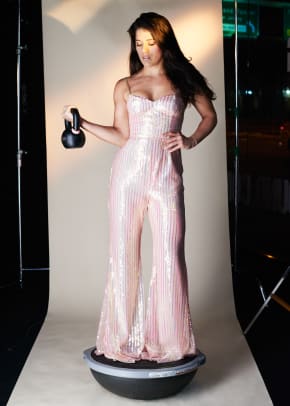 Never miss the latest fashion industry news. Sign up for the Fashionista daily newsletter.