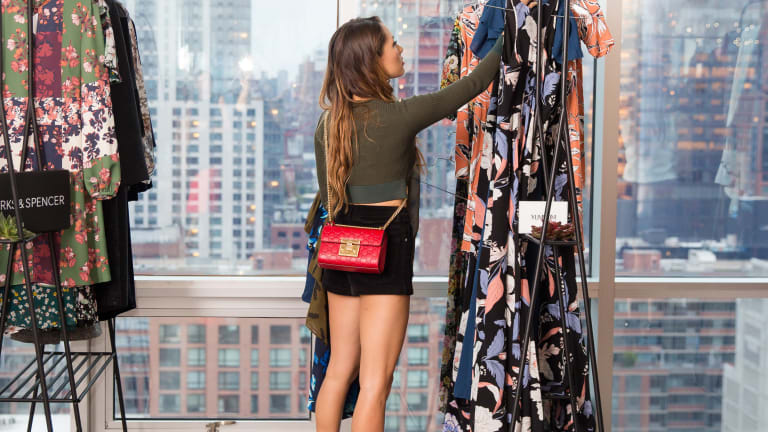 The Business of Being an Influencer During Fashion Week
While sitting front row, shooting street style and wearing multiple outfits per day may seem frivolous, it's all part of a lucrative strategy — for both influencers and the brands with which they partner.
The fashion month ecosystem is a fascinating, delicate and rapidly evolving one. Over the course of five weeks, from New York to Paris, industry insiders (and eager hopefuls) flock from show to presentation to after-party — each with different, specific reasons for showing up. You have the traditional fashion press (critics, magazine editors, newspaper reporters, et al.), as well as their digital counterparts, like the editors of this very website. Then there are the big name stylists — both celebrity and editorial — retail buyers, photographers and a handful of famous people, who usually round out the front row. 
However, over the past seven or eight years, a chunk of the highly coveted (and competitive) front row seats have been allotted to bloggers and influencers — digitally savvy folks with legions of followers who not only document their fashion week adventures on social media (Instagram, Twitter and Snapchat, most notably), but are also instrumental in helping brands move product. When one of these personalities turns up at a show wearing a head-to-toe look — and, later, posts a photo of said look online — his or her followers are often inspired to purchase the very same (or similar) pieces right away. Frequently, the influencers get a cut of each sale thanks to affiliate programs like the ShopStyle Collective or RewardStyle, and with enough digital popularity, these young men and women can build bona-fide businesses and earn serious revenue.
Despite this quantifiable legitimacy, some of the old-school industry fixtures neither appreciate nor understand influencers' presence at fashion week. "Note to bloggers who change head-to-toe, paid-to-wear outfits every hour: Please stop. Find another business. You are heralding the death of style," wrote Vogue's Digital Creative Director Sally Singer after Milan Fashion Week closed in September. The site's Fashion News Editor Alessandra Codinha continued: "It seems to be all about turning up, looking ridiculous, posing, twitching in your seat as you check your social media feeds, fleeing, changing, repeating... it's all pretty embarrassing." If these editors realized how much planning, strategy and negotiation goes into fashion month programming for influencers — as well as how much profit they can turn from creating partner content for brands during this lucrative time of year — we hardly think they'd find them to be "embarrassing."
On the Saturday of New York Fashion Week, I was invited into the ShopStyle Social House, which served as both an oasis for bloggers to recharge — literally and figuratively — between events, and an opportunity for influencers to borrow clothing and accessories to wear throughout the week, creating either video or photo content for the participating brands in return. (Brand partners include their hashtag and social media handles with every piece lent.) In order to help guests get camera-ready, the ShopStyle House even provided hair and makeup services, and kept street style photographer Craig Arend on hand to shoot guests in their looks, giving them professional images for their sites and social feeds. 
The ultimate goal here? For the retailers, it's to build buzz and to enter the social media conversation surrounding fashion week, which hopefully translates into sales and increased brand recognition. For the influencers, it's delivering quality content that will earn them affiliate income, as well as open doors to future business opportunities — like an ambassadorship for a high-powered label. In addition, the ShopStyle activation was meant to help established bloggers garner relationships with higher-end retailers, and to give up-and-coming influencers access to pieces they might not get otherwise.
ShopStyle's VIP influencers — which include the likes of Arielle Charnas of Something Navy (913K Instagram followers), Amber Fillerup Clark of Barefoot Blonde (1.2 million followers), Julia Engel of Gal Meets Glam (977K followers), Kat Tanita of With Love from Kat (337K followers) and Christine Andrew of Hello Fashion (733k followers) — had the chance to work on branded content with Neiman Marcus, Marks and Spencer and Luisaviaroma during NYFW, creating sponsored campaigns that launched on ShopStyle, the influencer's blog and the retailer's site — all of which were instantly shoppable. Many of these partnerships are worked out months in advance, and require a set of deliverables posted across various channels. Essentially, it's a marketing strategy that rivals traditional advertising — and one that's becoming increasingly popular as more millennial shoppers are influenced to buy clothing and accessories after seeing them "in context" online and via social media. (According to a recent report from Google, 64 percent of women shop this way today.) ShopStyle, which is owned by PopSugar, reportedly earned over $1.2 billion for its retail partners in 2014, thanks in part to sales of products featured by bloggers.
Kat Tanita, who started her blog over five years ago, has scaled back on the amount of shows she attends during NYFW over the years, preferring instead to meet one-on-one with designers and publicists in order to foster personal relationships. While she has her must-sees — Marissa Webb, Zac Posen, Marchesa — she often spends the bulk of her time during NYFW shooting with her own photographers for her site (preferring to wear her own clothes, as opposed to something borrowed), or creating content for brands. 
"I usually partner with one or two brands for the specific days of fashion week; I turn down a ton of stuff because if it's not organic, if it doesn't feel natural and it doesn't align with the ones I said yes to, then I don't want to do it," Tanita explained. "I try to focus on just one to two partnerships so that I can give it my all. If you're spread super-thin, the quality of work goes down, and I always try to put my best foot forward." This season, she worked with Luisaviaroma through ShopStyle, posting a series of Instagram Stories for them, and shooting shoppable street style photos with Arend that went up on her blog.
Just as retailers are able to track sales and referrals from their partners on ShopStyle using affiliate links, fashion houses are turning to new technologies that can accurately measure the social impact of their show guests — something that's crucial when putting together seating charts. Earlier this year, Paris-based influencer marketing software company Augure merged with Fashion GPS to form Launchmetrics, which provides brands with data and insight to strategically compile lists based on which invitees will have the highest impact on the brands' visibility (and, therefore, can reach the most consumers).
Michael Jais, CEO of Launchmetrics, explained that although there's not a magic number, influencers generally account for five to 30 percent of runway show seating, depending on the brand. (On average, it falls between 15 and 20 percent.) However, the company's data has shown that even if they make up just 5 percent of the seating, they're responsible for driving 40 percent of the digital traffic following the show. At Launchmetrics, influencers aren't just limited to bloggers and Instagram "It" girl types; any publication, editor, retailer or website with a sizable social footprint is given consideration. 
When consulting with fashion houses on which influencers they should invite to sit in their front rows, Jais said there's one key thing he asks brands to consider: What audience is it trying to target? Is the brand looking to reach its core customers that are already loyal and will shop with them today, or is it hoping to expand into new markets or age demographics that will shop with them in the future? Finally, when it comes to follower counts, the Launchmetrics team is diligent about educating brands regarding quality over quantity. "We really know the propagation and impact [the influencers] have with their online communities," he said. "It's becoming more and more about engagement and less about straight reach."
While they may not be writing reviews, clamoring to secure runway looks for a shoot or red -carpet appearance, compiling immediate trend reports or filing breaking news stories, influencers are a huge part of many brands' NYFW marketing strategies (and their budgets), so the opportunities for projects and activations are ample. When it comes to creating their fashion week content, bloggers put in significant time producing their own shoots — often hiring their own photographers to capture their street style looks. According to Tanita, a shoot can last as long as an hour, not including the time spent location scouting; Arend said that when he's working with an influencer, he generally shoots around 400 images of each look in order to get a handful of suitable shots. 
When a blogger or influencer is first starting out and looking to establish his or her personal "brand" and following, attending NYFW is a valuable (albeit expensive) investment in their career. Because they don't have the longstanding relationships with designers that their established peers do, they might hire a publicist to help get them into shows and parties; borrow clothing from PR showrooms; hire a photographer to shoot their daily outfits; hire a car to shuffle them around town; or take on paid projects with lower-tier brands (Snapchat or Instagram takeovers, for instance) in hopes that these will lead to better opportunities the next season. This sort of networking, as well as the "see and be seen" phenomenon, can prove to be priceless. 
As the industry continues to grapple with inevitable changes — including the introduction of the "see now, buy now" business model and the increasing emphasis on all things digital — the role of the influencer will only increase every season. While their presence at fashion week is more commercially driven and consumer-facing than that of the insider-y editors, stylists and buyers that may scoff at them, fashion is first and foremost a business, and on that front, these folks seem to have it pretty figured out. Don't knock the hustle. 
Cover image: The ShopStyle Social House. Photo: Will Ragozzino
Want the latest fashion industry news first? Sign up for our daily newsletter.