Miu Miu's Bathing Beauties Brightened Up the Last Day of Paris Fashion Week
The retro swimwear, floral caps, fuzzy robe coats and towel-like stoles were a delight.
Miuccia Prada clearly had the beach on the brain while conceiving her spring 2017 collection for Miu Miu, presented on Wednesday afternoon — the closing show of the season in Paris. Set to a soft soundtrack of waves crashing and gulls cawing, with a colorful, summery set that included a striped PVC runway (sort of like a very chic boardwalk), models stepped out wearing retro, flirty looks that seemed fitting for a '60s-era holiday. 
A series of sweet, embroidered cotton separates started the show; crop tops were either worn solo like a bikini with matching briefs, or layered over pieces like a trench coat or a crisp shirt with a Peter Pan collar (we saw similar styling in Milan at Prada). Girlish details like contrasting piping and buttons (some down the backs of shirts instead of the front), ruffles, apron-tie skirts and oversize bows emphasized the youthful vibe that the brand is famous for. The maillot was a popular shape, with knit versions popping up at the beginning of the show, followed by more swim-friendly options on the likes of Anna Ewers and Myrthe Bolt. Two-pieces were paired with belted raincoats or covered with towel-esque stoles to keep the looks demure. Breezy, silk graphic shirtdresses were in heavy supply, as were quirky floral swim caps that really upped the ante from last spring's tiaras. As for the shoes, some models got incredibly lucky, walking in super-flat slides in an array of colors (some plain, some adorned with bows or flower appliqués), while others tottered in either towering platform satin heels or wedges with a wavy sea motif.
As per usual with Miu Miu, there was lots of well-tailored suiting and jackets in funky prints — some in clashing, '70s-inspired color combinations — along with a handful made from a towel-like fabric. Most notably, there were several striped, fuzzy robe coats (a leading trend for spring) that looked not only incredibly cozy, but also ideal for swathing yourself in after a dip somewhere on the Mediterranean shore. It was a delightful way to end a marathon month of shows, and a welcome respite (albeit a very brief one) from the general state of things. Let's be real: Who doesn't want a vacation from reality right about now?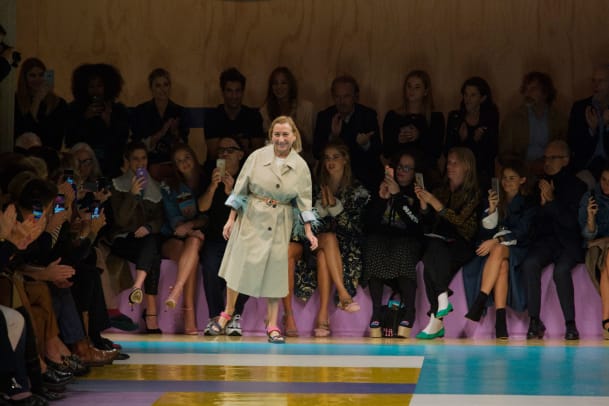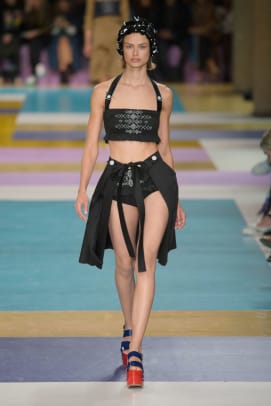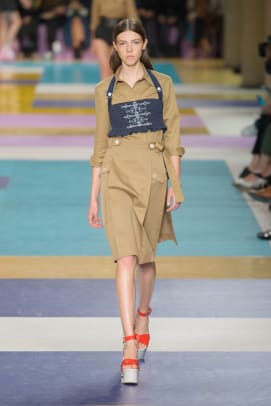 Want the latest fashion industry news first? Sign up for our daily newsletter.