Leandra Medine's First-Ever Shoe Collection Just Made Its Debut on Net-a-Porter
It's called MR by Man Repeller, and it's as delightfully eccentric as you'd expect.
Leandra Medine, founder of Man Repeller and all-around chic, clever human, is no stranger to designer collaborations: Brands like Veda, Atea Oceanie and PJK have tapped her to partner on limited-edition capsule collections over the years, as her unique point of view and styling sensibilities have earned her a global following. It's also no secret that the 27-year-old has a particularly keen passion for footwear (her enviable shoe collection has been photographed many times), and she's designed pairs for the likes of Laurence Decade, Del Toro and Superga in past seasons. But on Thursday, Medine's first-ever shoe collection under her own name, MR by Man Repeller, made its debut on Net-a-Porter, and from the fabrications to the product names to the silhouettes, the 10-piece range is impeccably on-brand.
The collection — which is priced from $350 for lace-up flats to $795 for velvet over-the-knee boots, — was created by Medine with "hearty love and care," and proved to be a much different beast then her previous partnerships. "There was no real creative counterpart to bounce the ideas off of — these shoes are completely born out of my own mental conceptions, which is wild, but also very fulfilling," she told Fashionista via email. Each of the pairs have names that ring a little too true to life (for example, the platforms are called the "Lol If You Think I'm Walking" sandals), which Medine named by free association in about "seven minutes." Clearly the woman has a way with words.
As for the designer's favorite pair, she has a fondness for the "Alternative to Bare Feet" loafers, which are offered in pink velvet embossed with a paisley pattern, as well as a metallic red leather. "I am and have always been a frequent wearer of loafers — we got the perfect silhouette here: they're not too delicate and feminine nor are they overtly chunky," she said. "I was also really eager to have the shoes rendered in somewhat unexpected fabrics and colors and am pleased with how they've turned out. They are also extremely comfortable." While many shoppers might not experiment with fashion as unabashedly as Medine does, the fact that her collection is studded, striped, shiny and generally pretty loud is meant to inspire customers. "[The shoes] are supposed to become one with their wearer; I don't want the women who purchase these shoes to feel like they are dressing like me, they're supposed to take the shoes and make them their own. That's what style is all about."
Browse the first MR by Man Repeller collection in the gallery below, and shop it all now over at Net-a-Porter.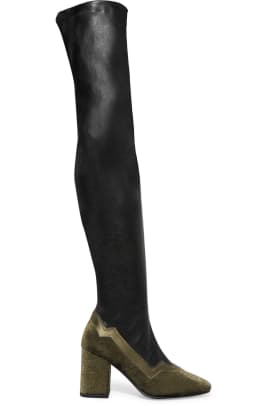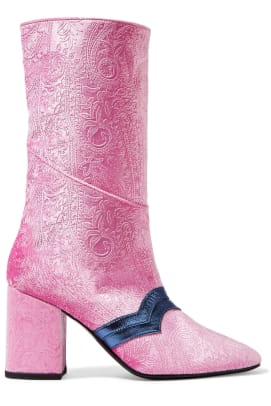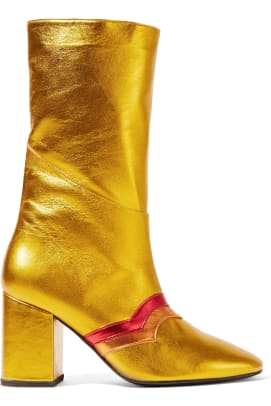 Homepage photo: @netaporter/Instagram
Never miss the latest fashion industry news. Sign up for the Fashionista daily newsletter.