Label to Watch Öhlin/D Is Bringing Whimsical Design Sensibility to Sustainable Fashion
"We just want to be in your closet."
One of the biggest buzzwords in fashion today is "sustainability." It seems like brands from the high street to the luxury world are trying to find ways to make their designs eco-friendly — or, at least, to gain the press around those efforts. But when Anne Deane and Jacob Park launched Öhlin/D three years ago with a commitment to sustainability, that wasn't the case. 
"The first few seasons, it was so hard when we were all by ourselves," Park says. "It was me and Anne in a tiny closet, and we didn't know who to reach out to in order to find sustainable fabrics. The only contacts we really had were some Anne had previously made down in Peru."
Thankfully, that's changed — thanks in no small part to brands like Öhlin/D, which aim to combine stylish, fashion-forward design with sustainable practices. The duo met through mutual friends, but soon a shared love of literature and fashion brought them closer together. Starting a line was never on Deane's radar, but she realized there was opportunity to make a change in the industry. 
"I never thought I would get into fashion, but I always had a desire to create change and also to be in a creative world," she says. "Somehow I stumbled upon the fashion industry and felt there was a real need and an ability to be a part of that transformational process — doing good and creating beautiful things." 
Once she decided to start her own line, she knew she wanted Park, who was working for Vera Wang at the time, to be a part of it. "I could tell that he understood something different and fresh compared to everyone else that I knew in terms of fashion," she says. "He would be wearing something, and then two seasons later it would be coming down all the runways and be in all the stores."
"I've always appreciated the transformative quality [fashion] had," Park adds. "As a little boy, I always felt uncomfortable in my own skin. So to be able to dress up and have different outfits and different inspirations is [huge] for me, and I love seeing how that can take place with an individual, and also within communities."
As president and founder of the brand, Deane handles most of the business-related issues, ranging from wholesale to their own recently re-launched e-commerce. While she has a part in the design process, Park is vice-president and creative director, overseeing the design direction and most of the brand's visual output. They describe the Öhlin/D woman as being playful and whimsical, which is reflected in their knitwear-heavy collections detailed with ruffles, pom poms and unexpected embroidery. The brand also works with an emerging artist every season; for Spring 2016, Nathan Qualley scattered digitalized fruit prints across a chiffon shirt. "I think almost anyone could be our ideal customer," Deane says. "We just want to be in your closet."
Öhlin/D focuses around six pillars of sustainability, a result of an internal study of what values their workers held. The environment is naturally a big focus; as much as possible, they source from mills that use sustainable fabrics and eco-friendly dyeing processes. Even the hang tags — made from plantable, recycled paper with seeds embedded — are sustainable. But equally important is making sure workers have rights, whether in Öhlin/D's offices or in the manufacturing plants used in locations like Peru and Nepal. "We're not even 100 percent there," Park admits. "But every season it gets better and better with what percentage of our collection is totally sustainable versus areas where we actually need to improve things." 
As a young brand, the biggest challenge is achieving sustainability on a small budget. Because most of the fashion industry is not using these resources, it's hard for them to find both the materials and factories willing to work with those materials and remain at the advanced contemporary price point. Still, they say things have improved dramatically even in the last year and a half; they hope to continue growing and to become examples in the sustainable design community. "I would love one day to be in a place where there's someone else starting a brand out there, where they look at our brand and our journey, and they think 'wow, I would love to be a contemporary of that brand,'" Deane says.
"Anne wants to be on the drop-down menu on Vogue, which is definitely a goal at some point," Park adds with a laugh. "I never want to become a massive brand for no reason, but I do hope that our brand gets to a place where it has a lot of visibility to people all over the world, so people know there are fashion-forward options for sustainable design, changing the perspective of sustainable design from a crunchy, granola one to one that can be super-innovative."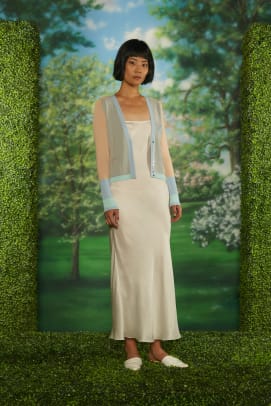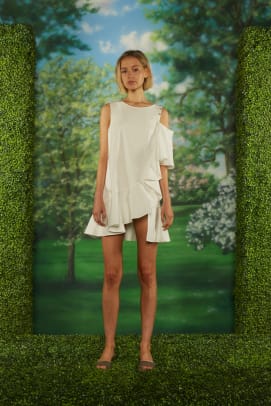 Want the latest fashion industry news first? Sign up for our daily newsletter.