Pat McGrath's Next Makeup Launch Is Going to Top Everyone's Holiday Wish Lists
See every new item from the line, plus prices.
Pat McGrath is about to take over your Instagram feed yet again — or her makeup line Pat McGrath Labs is, anyway. The latest limited-edition product in the legendary makeup artist's collection, aptly called Metalmorphosis 005, is all about metallics. Specifically, McGrath will be bringing back the Gold 001 pigment with which she launched Pat McGrath Labs, and adding to it a powder version — as well as both cream and powder formulations of three other metallic shades (silver, bronze and copper). She's also introducing her first-ever eyeliner: A super-glossy, long-wear liquid felt-tip marker that's dual-ended, with a precise tip and a wider one. Suffice it to say the whole lot is predictably stunning.
"It's all about metal being able to move," said McGrath during a launch event for the collection. "You can do the thinnest layer, you can put it on your lips, you can double-coat with the shadow — anything you want. You can put it on with your fingers or with a brush," she said, noting the line's inherent versatility. McGrath has hinted at the new products for weeks on Instagram — and she also used the silver pigment for the spring 2017 Versace show and on models' lips at Margiela.
"For me, metallics will never go away... Metallic is the thing that brings life to makeup. They bring so much dimension to the face, you can't help but love them," said McGrath. 
Metalmorphosis 005, which will be sold both separately based on shade and in kits, will be available starting at 12 p.m. ET on Nov. 15th on patmcgrath.com, and then on Sephora.com and in seven select Sephora stores on Nov. 22nd — just in time to make it the most lusted-after holiday gift on every beauty junkie's list. To see each of the products and find out individual pricing, click through the gallery below.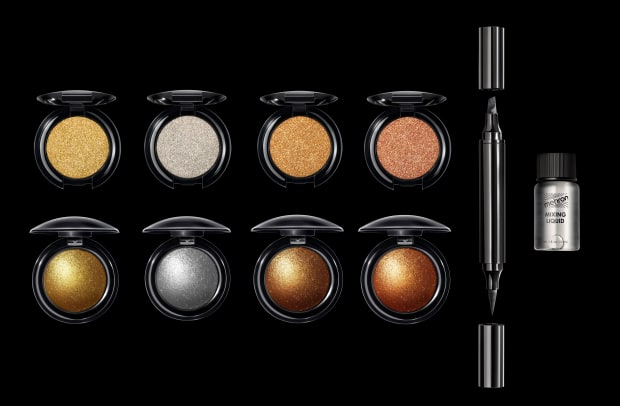 Sign up for our daily newsletter and get the latest industry news in your inbox every day.