Moscow Label Vassa & Co. Is Bringing New York to the Russian Market, Despite the Challenges
Moscow-native Elena Vassa is carving out a niche for herself with her brand's sharp, understated aesthetic.
After tackling the spring 2017 shows in New York, London and Milan and Paris, we've kept the fashion train rolling all the way through to Moscow, where the 33rd season of Mercedes-Benz Fashion Week Russia (#MBFWRussia) is currently underway in the nation's capital.
We flew from New York to Moscow to cover the shows, which we'll be doing until the event wraps up on Tuesday. 
If there's one element that differentiates the runway shows at Mercedes-Benz Fashion Week Russia from New York Fashion Week, it's theatrics — as in, Russian designers really enjoy an extravagant collection. (The legendary Bolshoi, which literally translates to "biggest," both exists and thrives here for a reason.) So go figure that, on my very first day here in Moscow, I'd attend a presentation for a brand that expressly draws inspiration from New York City, from where I'd just flown 4,663 miles. 
Unlike a number of her Russian contemporaries, Vassa & Co. designer and Moscow native Elena Vassa prioritizes sharpness and minimalism; her silhouettes are consistent with those you may see on artistic types roaming the streets of downtown Manhattan. For Vassa herself, New York is where her and her namesake brand's heart is, and it's been that way since the ready-to-wear line was launched in 2000. "We try to be very elegant, but at the same time, we don't want to be snobbish," Vassa told me during a visit to her Moscow showroom on Friday. "We like to be independent. We don't compromise our concepts. We do this [for the] intelligent, sophisticated [woman]."
Vassa's penchant for New York runs deep, having worked as a designer in the city's Garment District following her graduation from the Virginia Commonwealth University School of the Arts in Richmond, Virginia. After forming Vassa & Co. with the help of her three partners in Moscow, Vassa began showing her collections all over the world, including at London Fashion Week; in the fall of 2013, Vassa & Co. officially launched in the American fashion market with a presentation at the Four Seasons Hotel in New York.
But selling New York designs for the Russian woman comes with its challenges; Russians "love Dolce & Gabbana," Vassa said, and those ornately embellished designs are a far cry from the architectural black frocks that make up so much of Vassa & Co.'s DNA. "There are no rules [here]," Vassa told me when asked about the difference between the Russian and American markets. "When we go to New York, we know the rules. We know our niche. Here, it's very difficult to sell to regions because of the price range, and the mental understanding of [our] style, because this style is very advanced."
With Vassa & Co. now carried in 12 brick-and-mortar locations in Moscow, three in St. Petersburg and 12 others across Russia, the country is surely well-versed with the brand, however progressive it may be. Each collection, though, is limited-edition, with just 200 to 300 pieces of each style made for all of Russia. As the company stands now, creating any more inventory would cause the prices to surge, and Vassa is against transitioning the label into something more mass-market. Vassa describes the Russian audience as having a bit of a "mental block," as there is no such contemporary brand that comes close to Vassa & Co.'s aesthetic, price point and quality.
Which is to say that the quality is impeccable. Produced in Moscow, the line features fabrics from Portugal, Italy and France, and has some of the best tailoring I've ever seen from a brand of this category. Back at the showroom, Vassa removed a wool wrap coat with a contrast collar and lining from the racks and held it up against her frame: "This fits better than Céline." She put it on her assistant, who cinched the waist belt and let me be the judge — she may have been right.
The audience, Vassa assured me, is growing. "It's getting better," she said. "It's not easy in Russia. We break rules." To that end, Vassa & Co. is sold in 12 stores in the U.S., as well as in Japan. But above all, she has her sights set on just one location: "We hope we will succeed in New York. That's my dream. I lived near Central Park, on 59th Street. Someday, [I] would like to open a store [there]. I dream to sell in Barneys."
See Vassa & Co.'s spring 2017 collection in the gallery below.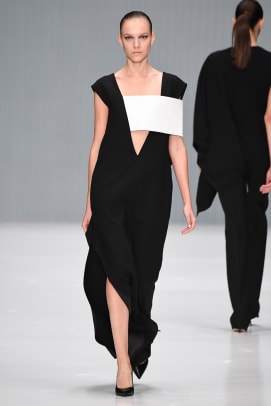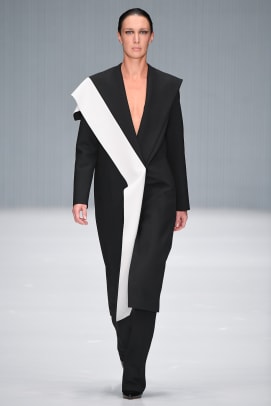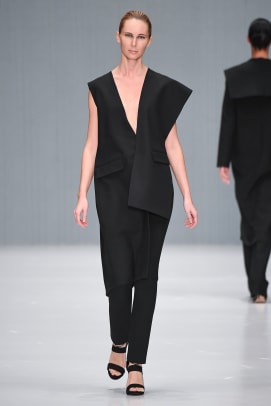 Disclosure: Mercedes-Benz Fashion Week Russia paid for my travel and accommodations to attend and cover the event.
Never miss the latest fashion industry news. Sign up for the Fashionista daily newsletter.