Altuzarra Does Victorian Femininity For Real Women for Pre-Fall
Botanical prints, soft tailoring and gathered sleeves are officially all we want to wear.
It's not that Joseph Altuzarra doesn't always consider practicality when designing his collections, but for pre-fall 2017 he did an especially nice job of marrying a somewhat fantastical inspiration — the romanticism of the Pre-Raphaelites, and their devotion to nature — with the real, modern world.
Perfectly wearable blouses and dresses were accented with long, flowy sleeves gathered at the wrist — it's meant to have the effect of wearing bracelets over your sleeves (so if you can't afford Altuzarra, just do that). Floral prints covered everything from dresses to shoes; while they perhaps were not "groundbreaking," they were also not your typical floral prints and featured exceptional detail and variety, having almost a hand-painted effect. Uneven black-and-white stripes had a similar familiar-but-not-unoriginal vibe. Altuzarra also broke out of his comfort zone by giving several looks a Victorian-inspired rounded shoulder.
There was also a focus on tailoring and suiting — categories that customers have had a "strong reaction" to over the past few years, Altuzarra explained during a presentation at his studio on Tuesday. He also wanted to give options for real working women who have to wear suits but also want to "express their femininity and fashion sense." The best part of the presentation, though, was the sequined cocktail and evening attire, with sparkle becoming an occasion-dressing signature for the designer.
Altuzarra also nailed it again in the accessories department by continuing to evolve his hit handbag line — this time adding an on-trend and sensible top handle to several styles. However, we were a tad confused by one accessory (seen in look 22 above) that the model held like a handbag, though it looked more like an over-the-top statement necklace or musical instrument. Altuzarra called it a key chain and it does indeed come adorned with a bunch of dangling keys, but... what? "It's also kind of a wink to my husband who's a landlord," he added. We're still confused by the function of this contraption, but hopefully some street style star will try it out next year and make us all understand.
See the entire Altuzarra pre-fall 2017 collection in the gallery below.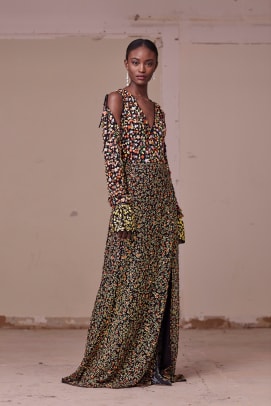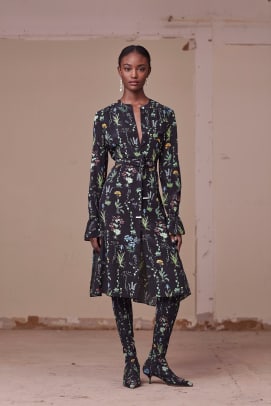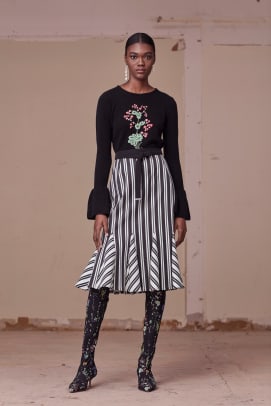 Want the latest fashion industry news first? Sign up for our daily newsletter.