Canada-Based Beaufille, Run by Two Sisters, Is a Label to Watch
If you're getting DMs from Net-a-Porter, that should mean something good.
Growing up in a creative household in Toronto helped fuel Beaufille sister-designers Chloe and Parris Gordon's foray into design. Their mother, a fine artist who "hand-painted every floor, ceiling, stairway, nook and cranny" in their family home, introduced them to fashion with trips to high-end department stores. One of Chloe's earliest memories is watching her mom's best friends, all seamstresses, come over to sew, draft patterns or do a fitting. Eventually, she enrolled in the Nova Scotia College of Art and Design to study fashion and textiles. Parris, who's two years younger, followed suit to learn jewelry design and metalsmithing. Once they graduated, the pair joined forces to start Chloe Comme Parris in 2009, which quickly garnered attention throughout their hometown.
By 2013, the duo decided to take their business to the next level and rebranded with Beaufille. Its New York Fashion Week debut in February, along with a few serendipitous style moments, made the new brand a breakout success with its fall 2016 collection. "The day of our presentation, Intermix booked an appointment and we met with them the next day," remembers Parris. "They were the first big name that came on board." When Yasmin Sewell wore a coat from Beaufille during Milan Fashion Week, Chloe recalls receiving (and missing) Net-a-Porter's direct messages on Instagram. (Luckily, the two met the e-commerce site's fashion directors in Paris.)
"The idea of minimalism in fashion is something that is always there and Beaufille is a brand that is offering a new interpretation while still feeling natural," says Lisa Aiken, Net-a-Porter's retail fashion director. "The use of backless details and carefully placed cutouts in the [fall 2016] collection adds drama and interest to a minimalist look. These subtle design elements result in a brand that is extremely sophisticated that still remains approachable and wearable."
With retailers like Net-a-Porter and Intermix, among others like Hudson's Bay, Holt Renfrew and Forty Five Ten, showing their support, the Gordons have been able to let loose with their spring 2017 collection. Inspired by Brazilian landscape architect Roberto Burle Marx, the sisters played with structure and volume through dense and crisp fabrics, circular flouncing and ruffled hems. The jewelry also riffed on Marx's artistry through flowers and plants. "It kind of relieved some of that weight off of us. We were really trying to make collections that were attractive and [sellable] to these retailers," says Chloe. "Once we had done that we wanted to have a bit more fun and play around and not be so serious."
We spoke with the Chloe and Parris on rebranding and starting Beaufille, working outside of a major fashion city and the work dynamic between them.
What was the realization to transform your former label into something bigger like Beaufille?
Parris: Out of school, we definitely got into a couple of retailers in Toronto and we were selling really well. So the business part of it was off to a start, but we needed to change from the ideas and aesthetics that were born out of art school. Our school is very conceptual, very rooted in building things from scratch and having these abstract and kind of out-there concepts and techniques in the way of making things. We were working in that mentality with the other brand and we reached a point where we weren't seeing the growth and traction we had always hoped for. With that art school mentality, you're not as much thinking as clothes to sell or business. You're thinking more of experiments and showcasing the techniques you can create and craftsmanship and artisanship. We realized we want to have a brand. We want to have a fashion house. We don't want to be doing these school projects anymore so to speak.
And what were some of the steps that you took?
Parris: We looked at what we've done in the past, what we wanted going forward, how we wanted to brand everything. We stripped down the way we work to the bare essentials of what inspired us and what we wanted the aesthetic to be, and then move forward with that. I think we needed to rebrand or else it would have always been the same idea under the old brand name. It was about streamlining and bringing this thing to the big leagues.
So how would you describe your brand now?
Chloe: Beaufille means "handsome girl." It's this oxymoron, kind of play on how we describe our girl. There's always an effortless quality that we're looking for with our pieces. They're very easy to integrate and they also stand out, but through subtleties more so than dramatic statement. The wearer really appreciates our clothes because we do have a lot of details in our pieces that, I think once you own it, it starts to reveal.
What was your approach towards gaining new retailers and exposure?
Chloe: We always saw the brand as carefully curated in all major fashion cities — to not be stocked everywhere but to be carefully curated and never too overproduced. The idea was to keep the demands high and not oversaturate the market. We started applying to show internationally, as well as traveling to New York City and Paris every season and met with retailers.
We also identified who our key doors were and the key people that we wanted to dress to help build the awareness. So we were trying to find what are the best avenues to get our brand in front of these people, and I think it's getting into these street style photo features, getting into publications and editorials, and making relationships with stylists and buyers. Just being this squeaky wheel. In Canada, we're quite removed. We can't just drop by someone's office. We really did a lot of follow-up and research into those avenues and were relentless about it.
Do you find being in Canada challenging? Or is it helpful being removed from so many designers in New York?
Parris: It's definitely far more challenging. As Chloe put it, you can't just drop in the office and be introduced to someone who's really in the depths of the industry that easily. You have to work harder on international outreach and strategy. It made us focus a lot more on our product being the center of the brand. It helps things evolve more organically, too. Perhaps if we were based in New York, things would've moved quickly in the beginning stages and we weren't ready for it.
What's the creative process between you both?
Chloe: We pick up where we left off each season. It's a very collaborative process. We pick all of our fabrics together. We identify key silhouettes and things that have done really well and work from that and how we bring it into the next collection. We do a lot of research together and compile it all to make sense of where we're going. Parris physically handles making the jewelry collection and I physically handle creating the ready-to-wear collection of samples. But we design and edit together throughout the whole process. So a design might start from a sketch for me and I show it to Parris and we tweak and edit it together. Once we make prototypes and see things on [a model], we adjust together. Same goes for jewelry when [Parris] is mocking up different styles.
How do you work through things if you're not on the same page? Is it easier being sisters?
Choe: I think it's easier because our relationship growing up paved the way for this. We definitely know each other extremely well and we respect and appreciate the opinions from one another because we are coming from design in a different place. I'm much more rooted in abstract imagery and ideas and follow a more masculine approach to womenswear whereas Parris is very feminine and detail-oriented and playful. So both of our ideas when designing really make a piece have this beautiful harmony and balance.
Browse the gallery below to see Beaufille's spring 2017 collection.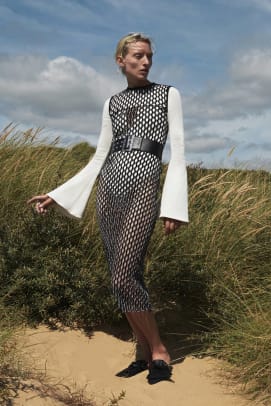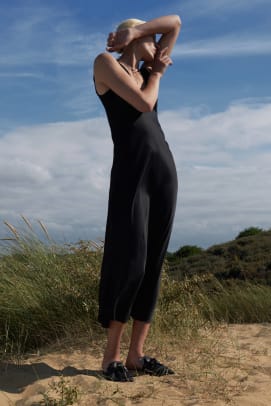 This interview has been edited and condensed.
Want more Fashionista? Sign up for our daily newsletter and get us directly in your inbox.