Fig Collective Wants to Offer More Than Just Emerging Korean Streetwear Brands
The Brooklyn-based online retailer has expanded into a creative studio with plans to start its own fashion line.
In the e-commerce space, Fig Collective has found its niche: Korean streetwear. Its website is hyper-focused with a curated selection of emerging brands for men and women. (Though, being streetwear, most items are unisex.) The limited stock of pieces available are styled according to Fig Collective's defined aesthetic, resulting in a cool mishmash of coveted looks featured in its seasonal editorial. For fall/winter 2016, Brooklyn-based Fig Collective turned a warehouse rooftop into a pastel-colored, cloud-scattered dreamscape. It's the kind of artistic imagery that's successful for showcasing (and selling) clothes and building a brand online, most especially on Instagram. 
"It started from us loving fashion and clothes. Our aesthetic level is up here, but then what we want to spend is not that much. We wanted to bridge the gap between where it's not fast fashion but it's not unaffordable; something attainable but without sacrificing quality and design integrity, on-trend but not so disposable," says Janne Chung, who handles design and styling. "We were just like, 'Everything in Korea is way cuter and the quality is great and the prices are good.' And when I buy stuff from Korea — even now when I wear stuff from Fig at work — everyone is like, 'Where can I get that?'"
Fig Collective's concept came easily to the four-person crew, comprised of Chung, creative director Yongjae Kim, film and photographer Sungjune Jang — all of whom are Parsons grads — and video artist Seungbum Hong. "It started with Korean brands because we already had those relationships," says Chung. "Our background is Korean and we wanted to give exposure to these great labels that could do great in the U.S. market." Indeed, as Asia's fourth-largest economy and one of the most connected places in the world, Korea is a rising influential hub for fashion and, of course, beauty. "[Koreans] adapt to, consume and digest things so fast," says Chung. "When we're still processing it [in the U.S.], they're already making it."
Currently in Fig Collective's rotation are such up-and-coming brands as Vei-8, Knave, 13 Month, Bouton and Vuiel. While most of the inventory rings in under $300, the most expensive item available is a vegan leather jacket with fleece lining and trim by Vei-8. More well-known brands also complete the mix, like ThisNeverThat, Andersson Bell and Ader Error, the most popular name of the bunch. As these brands grow, they'll likely get replaced by newer, younger ones.
Since launching at the end of October in 2014, the collaborative workload behind Fig Collective can sometimes take long nights and weekend hours. While Kim oversees Fig Collective full-time, Chung still maintains her day job as a designer for Ralph Lauren and Hong and Jang handle their own freelance projects. Over the past two years, the online retailer's demand has only increased, expanding its efforts into a creative agency with fashion films, music videos, campaign ads and lookbooks featuring Fig Collective's signature vision or, at the request of an overseas client, a dose of New York City grit.
A fashion line is also in the works to launch next spring with select unisex streetwear pieces. With a few successful stints at the Artists & Fleas market in Williamsburg, Brooklyn in the past, a physical retail presence, such as a pop-up shop, is a consideration. Most recently, Fig Collective partnered with Svrround on a 360-degree video from its fall/winter 2016 shoot, directed by Hong. (You can view it on Fig Collective's website.) "We wanted to capture a unique atmosphere for the consumer to experience the clothes beyond a 2-D format," explains Chung. "We think the future of retail consumption will involve a lot more of 360-degree video."
And while Kim and his small team continue to push the creative trajectory of their independent company, an even bigger picture stands: continuing that collaborative spirit with designers and other creatives worldwide. It's why they're called Fig Collective in the first place. "Symbolically, the fig seed is a tiny seed that can grow into the biggest tree, which metaphorically represents Fig Collective," says Kim. "Our future vision is to introduce and help cultivate a more international and diverse scope of up-and-coming brands and talents. We want to provide a platform for expression and experimentation through fashion, the arts, photography, film, videography and music — empowering them through collaboration."
Click through the gallery below for Fig Collective's fall/winter 2016 editorial.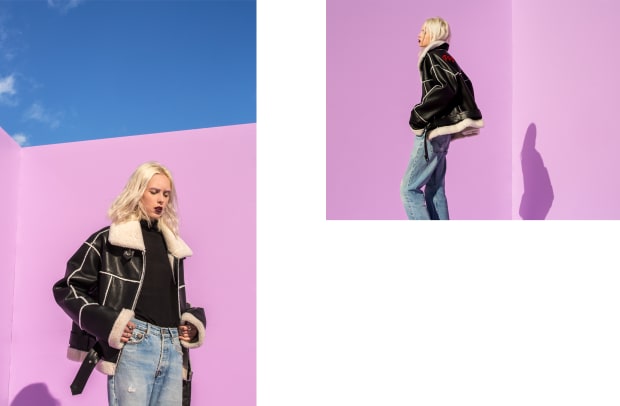 Want more Fashionista? Sign up for our daily newsletter and get us directly in your inbox.