Kohl's Introduces Its Own Millennial-Focused Answer to Fast Fashion
The department store has unveiled K/Lab: on-trend, data-informed, fast — "speed on steroids" — fashion.
Kohl's is the latest retailer to tap into the millennial market with K/Lab, a new in-house label inspired by of-the-moment trends and offered within a three-month turnaround. "In the industry you [usually] have anywhere from 30 to 40 weeks from concept to finish when a customer actually sees it," says Sofia Wacksman, vice president of trends at Kohl's. "We're getting it in 12 to 15 weeks, so super fast time." Or "speed on steroids," describes EVP of Product Development Arthur Lewis. The brand's inception was also rapid: the two came up with the idea in February, presented it to their CEO in April and on Monday, K/Lab debuts in select Kohl's stores and online.
Over the past couple of years, we've seen ailing department stores go to great lengths to compete with fast fashion and cater towards a more informed, connected and younger customer. Efforts have ranged from partnerships with outside retailers or brands (Macy's and Etsy; Bergorf Goodman and Kith, for example) to concept pop-up shops featuring emerging designers, such as Brand Assembly for Lord & Taylor and Olivia Kim's curated "Space" for Nordstrom. But what sets K/Lab apart, according to Wacksman, is that the collection is heavily informed by data. The retailer's trend team and data scientist collect information from social media, fashion websites, runway shows and influencers, which then is filtered, analyzed and applied towards creating a new sweatshirt, jacket or dress.
For its debut collection, pieces stylistically align with the fall and holiday season. A mock-neck crop top in a textured metallic finish (for $38) matches a pair of equally shimmery culottes, which go for $58. A sheer mesh dress with a star motif comes in a maxi ($68) or midi ($58) length. A long-sleeved kimono robe ($68) is available in black or pastel pink. The prices also align with the Kohl's customer, with the most expensive K/Lab item — an oversize bomber jacket — ringing in at $78.
"I think it's one thing to watch a runway and base something off [of that] and put it in the store right away and that can certainly work," says Wacksman. "But how we're approaching this is we're leveraging the data to inform better decision-making. We're not looking at last year, we're not looking at six months ago. We're looking at real time now."
The strategy is similar to the way Who What Wear culls its own site's data and trends from readers' activity and high-performing affiliate links to design its collection for Target. Kohl's, however, will first launch its K/Lab at a much smaller scale, appearing in only 21 stores that were chosen according to their proximity to a young, fashion-minded demographic. (For comparison, Who What Wear's line debuted throughout 800 Target locations.)
Of course, a millennial-friendly fashion brand wouldn't be complete without a strong online presence. When shoppers visit kohls.com, K/Lab will have its own landing page with original art direction and styling, as well as separate accounts across social media. In stores, K/Lab will also have a newly designed and distinct display on the sales floor. Wacksman notes that the label's inventory will also be spread out among the juniors and women's sections to further test its performance and "to stay nimble, fast and informed." Plus, its stock will also be fairly limited, so once a K/Lab piece is gone, it's gone — though a similar piece might end up elsewhere on the sales floor. "If something sells out we may say, 'You know what, this would be great in Lauren Conrad or Jennifer Lopez,'" says Wacksman, as both celebrities offer fashion lines at Kohl's. "So it's truly a laboratory that informs the rest of our company in a really new way."
Click through the gallery below to see the first K/Lab collection for Kohl's.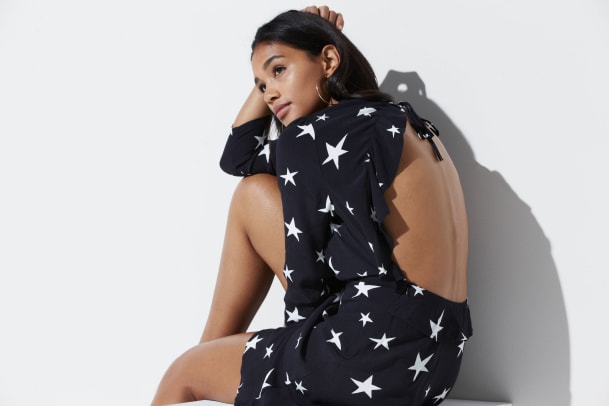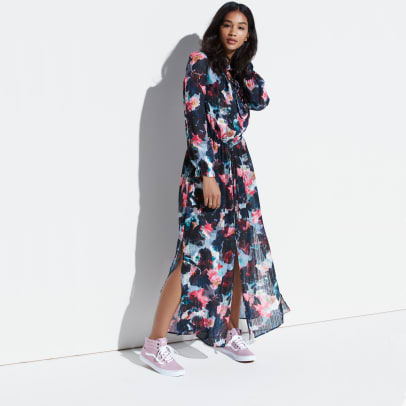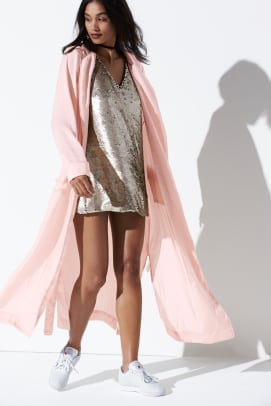 This post has been revised from its original version with Arthur Lewis's updated position title.
Want more Fashionista? Sign up for our daily newsletter and get us directly in your inbox.