Hey, Quick Question: What Fits In This Adorable Mansur Gavriel Baby Bucket Bag?
What's left of our sanity, for one.
Welcome to our column, "Hey, Quick Question," where we investigate seemingly random happenings in the fashion industry. Enjoy!
Mansur Gavriel's bucket bag has been a top seller ever since the brand was founded in 2012. Thus, in addition to expanding into new styles and even footwear, Rachel Mansur and Floriana Gavriel continue to produce new iterations of their most popular silhouette.
Enter the Baby Bucket. Smaller than the Mini and even tinier than the Mini Mini, this itty-bitty version fits in the palm of your hand. (According to a Mansur Gavriel spokesperson, the bag is a little less than five inches tall and is exactly three inches wide. Eep!) The new style will be offered at the label's upcoming pop-up shop in New York City, which opens on Friday, as well as online. Available in four different colors, the Baby Bucket will cost between $195 and $225.
The bag's size got us thinking: What exactly can one fit in a Baby Bucket bag? Definitely not an iPhone Plus. Perhaps a couple of credit cards and some makeup items. We at Fashionista came up with a few other (slightly unhinged) ideas. Enjoy the running list of tiny things below.
A handful of pennies
A mini Champagne bong
What's left of my sanity
Both of Donald Trump's hands
An airport-sized bottle of whiskey
Whatever North West likes to carry around since this would be a good purse for her
A lost Apple TV remote
One of Verne Troyer's Yeezys
The ashes of a pair of burned New Balance sneakers
A lock of Harry Styles's hair
Bella Hadid's waist
An empanada
Three to four chicken nuggets
A pair of ear pods
Three Lola tampons
Tinkerbell
A Keebler elf
A pack of Post-it notes for writing empowering messages
All of the ad pages from a magazine's December issue
All of the British journalists who have given Meghan Markle any privacy
A tiny cup that baristas give you when you order a macchiato, and then you feel like an asshole drinking from it
The mouse that got zipped into a Zara dress (sorry)
A baby squirrel probs
A Dr. Pepper Lip Smacker, which is objectively the best flavor
A few-months' worth of birth control pills before Trump and Mike Pence take it all away
A mini Babybel cheese wheel
A wine juice box
Tissues for unexpected crying (okay, we're sensing a theme here)
Click through the gallery below to see more of the Baby Bucket and send us your own suggestions in the comments below!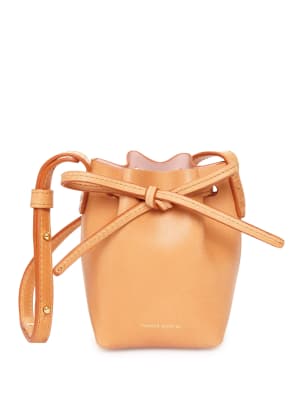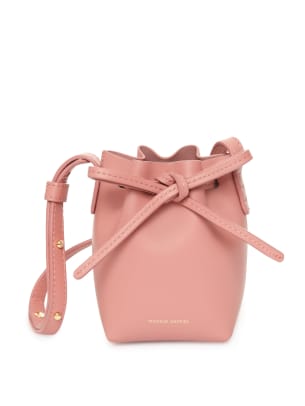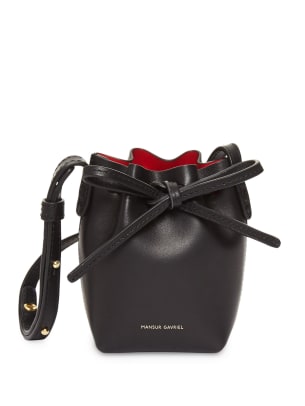 The Mansur Gavriel pop-up, located at 134 Wooster St., opens at 12 p.m. on Friday, Nov. 18 through Jan. 11, 2017. 
This post has been updated from its original version to include the Baby Bucket's dimensions.
Want more Fashionista? Sign up for our daily newsletter and get us directly in your inbox.