Pharrell Aimed for Cultural Representation, Not Appropriation, With New Adidas Collection
"I think the greatest color of all time is culture."
Pharrell Williams was everywhere at this month's very complex ComplexCon festival in Long Beach, California. As the conference's cultural director and executive chair, he kept popping up on panels; he was on the event's main stage with Kid Cudi and Travis Scott; and he unveiled Elwood X25, his first collection for G-Star RAW since becoming a co-owner of the label earlier this year. But his most memorable appearance was at the Adidas exhibit discussing his new Hu Collection with the brand, during which the Native American people of the MHA Nation in North Dakota — a group Williams and Adidas visited in June and photographed wearing pieces from the Hu Collection — discussed their culture and issues most relevant to them, including their stark opposition to the Dakota Access Pipeline. Williams said he wanted to use his platform with his most recent Adidas line "for people to tell their stories [and] make people feel empowered to be a human being, no matter where they're from."
A recipient of the Fashion Icon Award at last year's CFDA Awards, Williams is no stranger to fashion collaborations, from G-Star RAW to Louis Vuitton to Chanel to Adidas. Since first pairing with Adidas on 2015's Supercolor line — the enormously popular, color-saturated version of the brand's iconic Superstar sneakers — Williams's collaborations have been a large part of Adidas's resurgence as the go-to brand for sneakerheads and streetwear influencers.
Williams's Hu Collection seeks to "explore humanity and celebrate diversity around the world," and its centerpiece collection of kicks doesn't shy away from that message; a primary color set of sneakers are emblazoned with slogans such as, "Hu," "Species," and "Race." The line also includes tees and jackets that stick to this diversity message. During his June visit with the MHA Nation, Williams said his intention was to "go back and explore the purest ways" of life, emphasizing there is "no better way to do that than with... Native Americans." The visit resulted in a short film (see below) featuring people from the MHA Nation wearing pieces from the collection and narration by activist DJ Two Bears discussing the group's culture and traditions. The production feels equal parts fashion film and documentary.
Williams sat down with Fashionista at the conference to talk about his relationship with Adidas, how the brand uniquely works with artists and why culture is his favorite color. Read on for highlights from our interview.
In terms of its position in streetwear and pop culture, it feels like Adidas is having a moment unlike anything we've seen since Run DMC dropped "My Adidas." How much do you think about the brand and its legacy when focusing on a specific collaboration?
If anything, I feel like what we're all doing — and when I say we, I mean Kanye [West], Stella [McCartney], Yohji [Yamamoto], Palace [Skateboards] — is trying to coexist in the world where Adidas already has their brand and they already have their legacy. Whatever we can do to help, we're helping. They're also helping us to establish our ideas and thoughts and bring them to fruition.
Can you talk a little about your relationship, as an artist, with your Adidas collaborators? Do you feel like it is different from, for example, an athlete collaboration?
I think Adidas has a brilliance in their approach and their rapport with creatives. But it is a crime to say an athlete is not an artist. The way that you do something is your fashion. The way that [athletes] play their game is an art. And it is a crime to say that artists are not athletes. There is a sport and a competitive nature to the things that we do. Even if our biggest competitors are the ones that we see in the mirror. I think Adidas is the one singular brand that understands that. Artists are also athletes and also academics. For me, those are the three stripes [of Adidas].
You've worked with Adidas since 2014. This year, you became a co-owner of another brand with which you have frequently collaborated. Have you thought about elevating your involvement with Adidas?
No. I'm blessed to juggle the bowling pins that I juggle now and, in fact, I'd need more arms to take on anything else.
Politically, it is clearly a really divisive time in the U.S. Did you think about speaking to that with Hu's focus on both the diversity and the connectivity of the human race?
I think both of those conversations are symbiotic. One wouldn't really exist without the other. The premise of Hu is, how can we help you achieve your ambition of betterment? We want you to shine from the inside out. Hu, it means, Health Ultimatum. It doesn't matter what your body is doing if the social body is sick. It doesn't matter what your spirit is doing if the spirit of this nation is sick. And it doesn't matter what condition your mind is in, if the mentality of this country is sick. It all really works symbiotically; it's all the same thing.
Where does the term "Health Ultimatum" come from?
It's just initials. Like the way your name is just initials to your spirit.
You worked with the MHA Nation in North Dakota for Hu. How did you work on the collaboration process in order to make sure the line is more representation than appropriation?
I was just providing a visual and auditory platform for them to tell their story. With our brand, instead of it just being my face plastered everywhere, I thought it would be very interesting to just show culture. I think the greatest color of all time is culture. It is so beautiful — you will never get tired of that color. I always thought that should be the backdrop of all of our campaigns.
If we have the opportunity to tell someone else's story, why wouldn't we? And [Adidas] is going to spend a lot of money putting it out there, so why have them spend a lot of money putting an image out there that only has gear and my face? Why not put it on people who have a story to tell and let them tell the story they want? If you ask [MHA activist] DJ Two Bears, [MHA Nation] told that story the way they wanted to tell. We did a short film and they told their story. We [as a country] have an interest in going back to the things that are the most primal and [MHA Nation] preserved those customs. I feel like there is an interesting parallel in what we are missing now and what [the MHA Nation] has held onto.
We started [in this campaign] with the indigenous people of America, who are the Native Americans, but we are going to get to Africa, the Amazon, the Aborigines — worldwide. That's our ambition.
See the campaign here: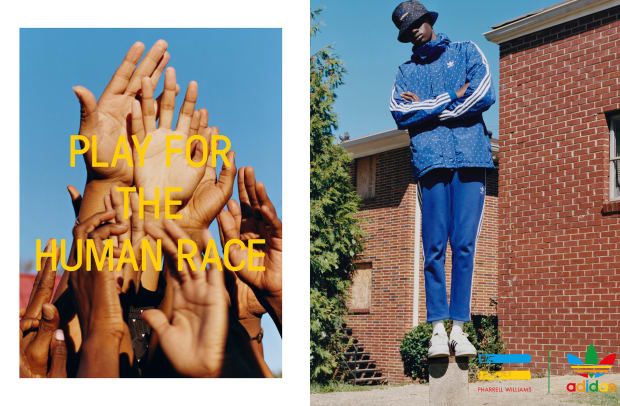 See the collection :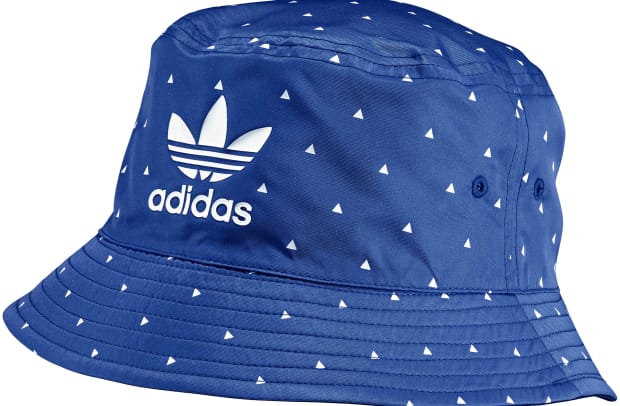 adidas Originals = PHARRELL WILLIAMS Hu Holiday is available in stores today.