The Best Vetements and Off-White Look-Alikes to Shop This Season
This begs the question: Is everything a knock-off?
Searching for Vetements- and Off-White-inspired pieces to shop is a surprisingly mind-boggling exercise. You're scrolling through the affordably priced merchandise on Zara.com, minding your own business, when bam! Suddenly you're contemplating all sorts of existential, chicken-or-egg questions. Like, is this sweatshirt trying to look like a Vetements sweatshirt or is it just, you know, a sweatshirt? Were these patchwork boyfriend jeans inspired by the ones at Off-White or are they just vintage-looking denim? Is everything in this store a Vetements knock-off? Wait. Is everything in the world a knock-off?
It's all very meta — and a bit dizzying — but also, fun. Because, as it's been well-documented, Vetements and Off-White have earned spots in the cool-kid fashion club with edged-up versions of pieces we've all seen before. Which, of course, is one of the reasons fashion people (and the internet) have been freaking out over the two brands in the first place. Those Gothic hoodies, reconstructed T-shirts and spliced-up jeans make you think about the state of things. They're the next logical step in the nihilistic, normcore revolution for those who pretend they DGAF but actually do. They're easy to wear but designer-y and, better yet, make you feel like you're in on some kind of joke — or, at least, like you get the meme.
But here's the thing: Maybe the joke's on us. Because for all that angsty nostalgia and anti-fashion irony, Vetements and Off-White do not come cheap. Unless you're Rihanna or Kanye West, you're probably getting your fix at one the many mass-market stores that stock pieces that look a lot like the "real" thing, but are a fraction of the price. This is just fine — and maybe the whole point anyway. If most people can't tell the difference between an actual DHL T-shirt, the $300 Vetements version or the $19.99 copy cats that are all over the World Wide Web, does it matter which one is "real" in the first place?
While you ponder that, take a peek at some of the best Vetements and Off-White look-alikes on the market right now in the gallery below.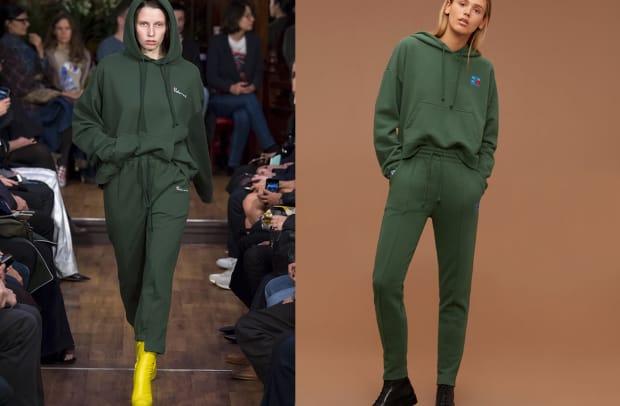 Never miss the latest fashion industry news. Sign up for the Fashionista daily newsletter.