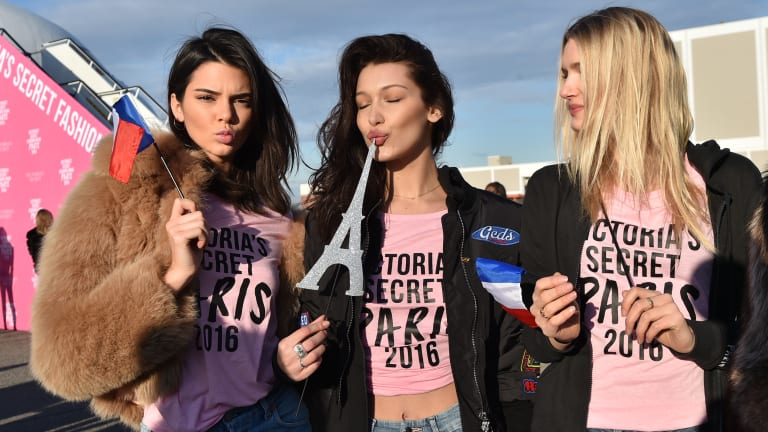 We Flew to the Victoria's Secret Fashion Show with Two Angel Besties
Taylor Hill and Romee Strijd chatted with Fashionista about how their lives have changed since first hitting that sparkly runway two years ago.
Two years ago, I was given the opportunity of a lifetime (or so I thought): to fly on a private plane across the Atlantic to the first-ever Victoria's Secret Fashion Show in London, with the entire cast of models as my travel companions. Well, whoever said that lightning never strikes twice was wrong, because on Sunday morning, I found myself back at John F. Kennedy International Airport, Victoria's Secret-branded boarding pass in hand, standing on the tarmac as dozens of the most beautiful women in the world posed with French flags and glittery cardboard cutouts of the Eiffel Tower, blew kisses for the hoards of cameras or — in the case of Instagirls Bella Hadid and Kendall Jenner — hijacked a luggage cart. While the latter caused a bit of trouble for the loading crew, it made for one hell of a photo op. 
Although I was a veteran of sorts on this trip, much has changed in Angel-land since the 2014 show in London. In the spring of 2015, the lingerie brand announced its new class of contract models — following the departures of longtime VS faces Miranda Kerr, Erin Heatherton and Doutzen Kroes — which is the largest in its history, with Stella Maxwell, Jasmine Tookes, Elsa Hosk, Martha Hunt, Josephine Skriver and more joining the ranks of Adriana Lima, Lily Aldridge and Alessandra Ambrosio. (Fun fact: Out of the 10 first-timers who walked in the 2014 show, four were promoted to Angel status within a few months.) 
In addition, the 2015 edition of the show in New York introduced "celebrity models" like Jenner and Gigi Hadid into the fold, further adding to the international media circus that surrounds it. This year, Jenner and both Hadid sisters are part of the cast, consisting of 51 women — 18 of which are rookies, helping to make up for the absence of Angels Behati Prinsloo and Candice Swanepoel, who each recently gave birth. Excepting a handful of models who surely regret missing out on the cozy, slumber party-esque transatlantic flight experience, we all boarded the impossibly on-brand aircraft (bubblegum pink striped blankets! Metallic silver toiletry cases! Hair and makeup touch-up stations!) en route to the City of Light.
Because this flight was, of course, a giant press opportunity (albeit one at 40,000 ft.), the Angels were completely camera-ready — thanks to call times between 4:00 and 5:00 a.m. — and spent the first two hours of the flight mingling with editors, photographers, bloggers and in-house film crews. I, still bleary-eyed and decidedly not camera ready, was pleased to chat with two of the bubbliest new Angels: Real-life best friends Romee Strijd and Taylor Hill, who I'd met on the London trip when they were both VS Fashion Show rookies — and whose careers have since exploded. 
When asked how boarding the plane to Paris as an Angel felt different than showing up to the airport as a freshman heading to London, Strijd said that the emotions were almost incomparable. "The first time was all so new, I didn't know what to expect," she explained. "I got to see all of the Angels for real for the first time. From that point, everything happened so fast: I became an Angel myself! It happened two months after the show. I never expected it — I was 19 years old, and I never thought they'd [give a contract to] someone my age." As for her overall mood heading to Paris, Strijd was "less nervous but way more excited" than she was for the London trip, mostly thanks to her close group of colleagues that she likens to a family.
Hill, who was also honored with a VS contract just months after her first show, recalled how freaked out she was heading to London as a newbie two years ago. "I was literally in so much shock," she said. "I was seeing Candice Swanepoel and Adriana Lima in person for the first time. I was dying — fan-girling the whole flight. I thought, 'I'm breathing the same oxygen as them... this is insane." While she was a relative unknown in 2014, and boasts a whopping 5.5 million Instagram followers today, Hill still has one of those "pinch me" moments every so often. "It's still so new, but now I know [the veteran Angels] and they know me. They think I'm funny, and that's amazing — we're friends now! But in the same sense I respect them so much. Every time I see [Adriana Lima], internally I'm like, 'my queen!' I'm still so excited and can't believe I'm here."
Both Strijd and Hill have blown up on the high fashion scene since their VS debuts: Strijd has hit the runway for Chanel, Balmain, Fendi, Moschino and more, but when asked about the milestones she's most proud of, she didn't hesitate. "I started my season [in September] in New York with Alexander Wang — I've always wanted to do that show, such a cool brand," she said. "And I love working with Michael Kors, I did the campaign with my best friend Taylor [Hill]." (The pals also starred together in the fall 2015 Juicy Couture campaign, styled by Carlyne Cerf De Dudzeele.)
As for Hill, she's not only become a Vogue favorite, but she's also landed a Lancôme contract, a Topshop campaign and walked the runway for nearly every top-tier label you can think of, from Marc Jacobs to Versace — a feat for which she wholeheartedly credits VS. "My next season after [my VS debut] I walked so many shows — Chanel, Givenchy, McQueen. Whoa," she said. "I also did the Miu Miu campaign for fall/winter, and that was kind of surreal. Miu Miu is so high fashion and I never thought I'd be able to do it. I was always told I'm very commercial and I may never really walk the big shows." 
Speaking of the "big shows," I asked Hill how she thought this particular trip to Paris would compare to those she walks for PFW and couture. "It's so much energy this time," she beamed. "Paris Fashion Week is long... it feels like forever, like it never ends. It's fun at times; at others, it's so hard. But with VS, you're here with all of your friends; it's just for a few days and you're having the time of your life. It gives Paris a different view in our minds — usually when I think of it, it's through fashion week. Here we go again! Ten days in Paris, woo hoo!" We feel you, girl.
After arriving in Paris in the wee hours of Monday morning, the models were in for two days of photo ops (at the Grand Palais and the Eiffel Tower, as per Instagram), press junkets, beauty treatments and last-minute, hardcore workouts, but if the lighthearted mood of the flight is any indication, they'll find some time to have a little fun. That's what Victoria's Secret is all about, after all.
Want the latest fashion industry news first? Sign up for our daily newsletter.
Disclosure: Victoria's Secret provided my travel and accommodations to cover its annual fashion show.