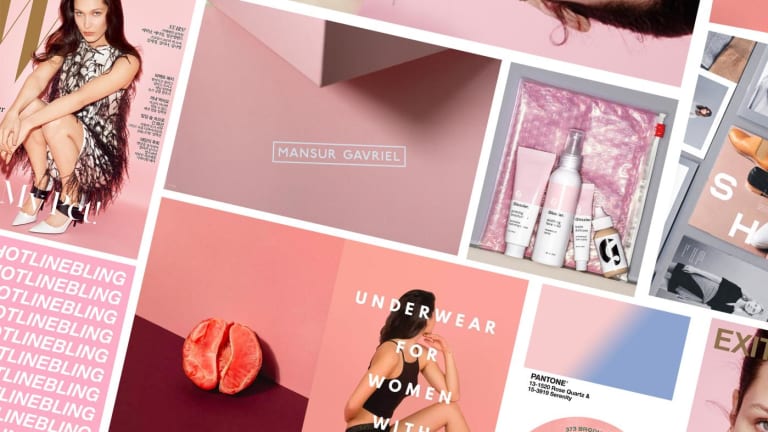 Fashionista's Favorite Stories of 2016
The best of the best, as chosen by our editors.
At the risk of sounding corny, the small (yet mighty!) team here at Fashionista pours its blood, sweat and tears into the stories we publish every day. There are a lot of very, very late nights, frenzied weekend email chains, "drop everything" breaking news moments, social-media deep dives that border on stalking and marathon market weeks, fashion months and red-carpet seasons that run us so ragged that it's a miracle we're able to write complete sentences when they're over. That said, we do it because we love our site, this industry and you, dear readers, whose positive feedback makes us want to do more, be better and think even further outside the box. 
Because we work at such a breakneck pace, we rarely stop to appreciate the pieces that really made an impression over the course of the year. Our writers and editors have a lot to be proud of, thanks to stories that made us think, made us laugh (or, in a few cases, cry) and started constructive conversations — within the industry and beyond — among our peers and readers. In the spirit of the new year, we hand-picked our favorite articles of the year, ranging from reported-out investigations to our thoughts on the most absurd happenings in fashion. If you find yourself bored on vacation, consider this your go-to reading list. See you in 2017!
The 5 Most-Read Stories of the Year
1. Kenzo x H&M: See the Full Collection With Prices
2. The Full Kenzo x H&M Lookbook is Here
3. Every Look From The 2016 Met Gala Red Carpet
4. Victoria's Secret Fashion Show 2016: The Full Model Lineup
5. The Oscars After Party: See What Everyone Wore
The 7 Best Pieces of Kardashian/Jenner Kontent
1. Teen Millionaire Unable to Remove $5,000 Shackle 
2. A Review of the Kendall and Kylie Mobile Game, By an Adult Woman
3. Do Magazines Need the Kardashians More Than the Kardashians Need Magazines?
4. Kris Jenner's Vintage Fashion Collection Won't Be Going to Kim Kardashian
5. Kylie Jenner and Shopify Prepare for What May Be the Most Hyped Pop-Up Ever
6. Abby Lee Miller of "Dance Moms" Attacks Kendall Jenner for Ballet Technique in Vogue Editorial

7. Kendall Jenner Channels Paris Hilton With Her 21st Birthday Ensemble
10 Can't-Miss Career-Centric Stories 
1. How Laura Brown Is Making Fashion Fun Again
2. How Rankin Became One of the Strongest Voices in Fashion Photography and Publishing
3. How Hildy Kuryk Segued a Thriving Political Career Into Vogue's Top Communications Role
4. How Lawrence Schlossman "Failed Upwards" to Become the Unofficial Spokesman for #Menswear
5. How Brandon Maxwell Balances His Own Line With Styling Lady Gaga
6. For Abbey Lee, Playing a Troubled Model in "The Neon Demon" Was "One Hundred Percent True to Life"
7. A Commitment to Unretouched Images Landed Model Iskra Lawrence the Career of her Dreams
8. How a Data Scientist (Who Studied Astrophysics) Ended Up in Fashion
9. How the 18-Year-Old Anastasia Beverly Hills Brand Became the Buzziest Beauty Company on the Internet
10. How Emily Oberg Kick-started a Video Career at Complex
10 Essays That Got People Talking
1. Confessions of a Confused Fashion Editor
2. Why Vogue's Blogger Takedown Is Embarrassingly Out of Touch
3. When Does a T-Shirt Become So Much More Than a T-Shirt?
4. Sorry, Vogue: Body Parts Are Not a Trend
5. Why I'm Ditching My High Heels for Good
6. How My First Date Uniform Taught Me to Be Myself
7. I Banned Myself from Instagram During New York Fashion Week
8. I Love the Victoria's Secret Fashion Show, and I'm Not Even Sorry
9. Karlie Kloss Is So Boring — And That's Why She's My Favorite Model
10. How Do I Just Go Back to Being a Beauty Editor Now?
About Yeezy Season 4...
Kidnapped by Kanye West: The Yeezy Season 4 Story
...and the "Pablo" pop-up.
What It Was Like to Shop Kanye West's Pablo Pop-Up, According to a Top Reseller
11 Stories That Made Us LOL
1. Hey, Quick Question: Are Butts the New Pants?
2. The Models Behind the "Shit Model Management" Instagram Talk the Truth Behind the Memes
3. 7 Trends That Dominated Vogue Weddings Over the Last Year
4. Ryan Gosling Kicks Off "The Nice Guys" Press Junket in a Too-Tight Suit
5. This Video of Anna Wintour Introducing the Vogue App Is Oddly Threatening
6. Anna Wintour Got Lost and Cried in the Basement of MSG After Yeezy Season 3
7. Models Had a Difficult Time With Their Footwear at the MTV Movie Awards
8. Taylor Swift's Fourth of July Party Weekend Was Basically a Solid & Striped Ad
9. Noted Fashion Youths Shocked to Experience Minor Inconvenience 
10. Hey, Quick Question: What Fits in This Adorable Mansur Gavriel Baby Bucket Bag?
11. Bella Hadid Agrees With General Public, Loves Pizza
5 Things You Need to Read About Career Etiquette
1. How Not to Pitch Fashion Editors: A Complete Guide
2. How to Get More Likes on Instagram, According to 10 Fashion Insiders
3. A Guide to Not Screwing Yourself Over on Social Media if You Work in Fashion
4. What Not to Wear to a Fashion Internship
5. How Social Media Can Help You Get a Job in Fashion
13 Deep-Dives on Industry Trends
1. How Collage Became One of Fashion's Favorite Mediums
2. Why Bootleg Gucci Is, to Some, More Authentic Than the Real Thing
3. How Do Indie Designers Deal with Knockoffs?
4. What Makes a Brand "Cool" in 2016?
5. How Skaters Really Feel About Fashion's Appropriation of Their Culture
6. Is Harry Styles Fashion's Most Eligible Ambassador? 
7. How "Tumblr Pink" Became the Most Ubiquitous Color in Fashion Branding
8. What Really Happens to Your Clothing Donations?
9. Why Retailers Are Banking on Millennial Nostalgia for Fall
10. A Look at Fashion's Longstanding Love/Hate Relationship with Drugs
11. How Patagonia Keeps Its Brand Message Authentic in the Midst of an Activewear Boom
12. Everything You Want to Know About Lip Fillers but Are Afraid to Ask
13. "You Can't Download a T-Shirt:" The Evolution (and Comeback) of Music Merch
That time we made #merch
Merch Is All We Write About, So We Made Our Own
The Best of Beauty
1. How Colourpop Became the Most Popular (and Most Mysterious) Beauty Brand on the Internet
2. YouTube and Instagram Sensation Patrick Starr on Being a "Beauty Boy" in a Girls' World
3. The World's Foremost Disney Cosplay Expert Weighs in on Fashion's Princess Moment
4. Spencer Pratt's Beauty and Self-Care Routine Is Pretty Much What You'd Expect
5. How Social Media Is Impacting Cosmetic Surgery Culture and Disordered Eating
6. I Tried Cult-Favorite Peel Baby Foot and All I Got Was Incredibly Soft Feet
All things #Influencer and #Instagirl
1. Inside Lululemon's Unconventional Influencer Network
2. A Definitive Ranking of the Modeling Industry's Most Influential Families
3. Inside the Revolve House, the Buzziest Brand Activation of the Summer
4. For Fashion Bloggers, Fancy Vacations Are Just Part of the Job
5. The 20 Most Influential Style Bloggers: 2016 Edition
6. The Monica Rose Effect: How the Kardashians' Stylist Is Shaping the Aesthetic of the Social Media Generation
7. Meet the 21 Celebrity Millennials in the Front Row at Dolce & Gabbana's Spring Show
...and about that election.
How We Plan on Covering (or Not Covering) Melania Trump's Fashion Choices
Homepage Photo: Imaxtree