Why Black Fashion Designers Needed Their Own Museum Exhibit
And why they shouldn't in the future.
On Tuesday, the Museum at FIT opened "Black Fashion Designers," an exhibit highlighting the work of (you guessed it) black fashion designers from the 1950s to now — the first exhibit ever to do so, in fact. On my way to a press preview for the exhibit Tuesday morning, I wondered how the curators would handle such a weighty topic and a part of me expected to immediately feel moved and inspired upon entering the exhibition space, particularly in today's political landscape. Instead, as I moved through the relatively small exhibition — it's organized into eight "themes," each featuring around 4 to 8 looks — I was initially underwhelmed. All I saw was clothes on mannequins. With the exception of a few designers who are known to use fashion as a form of activism or take inspiration from traditional African design elements, being black had nothing to do with the clothes I was looking at. The talented people featured are and were, at the end of the day, just designers whose aesthetics and techniques and processes are as varied and individual as those of any race. Why, then, did they need to be lumped together into an exhibit?
According to Ariele Elia, the museum's assistant curator, the range of black fashion designers is in fact one of the things they wanted to showcase. "Black fashion designers are underrepresented within the fashion industry and so we really wanted to celebrate and show the different designers, but also to show the wide range of styles that they design and that there's not one aesthetic, but they design in a range of styles," she said.
Hopefully no one thinks all black fashion designers design in the same way, but if they do, this exhibition will certainly dispel that notion. Ann Lowe, a couturier who quietly designed Jacqueline Kennedy's wedding dress, could not be more different from Patrick Kelly, who incorporated racially stereotypical motifs into his colorful designs and became both the first American and the first black member of the Chambre Syndicale du Prêt-à-Porter, who in turn could not be more different from Shayne Oliver of gender-fluid streetwear line Hood by Air. There are eveningwear designers, streetwear designers, menswear designers and others that don't quite fit into any of those categories.
While someone viewing the exhibit might not get much from simply looking at the clothes, there's more value in reading the description cards that accompany each look, to learn how Lowe, Arthur McGee and Wesley Tann struggled to gain credit for their work, or how black designers were celebrated in the '70s, perhaps even more than they are today, or how Andrew Ramroop became the first black tailor on Savile Row in London. Small sections of the exhibit also highlight historical events like the Ebony Fashion Fair and Battle of Versailles. For the first time, FIT launched a cell phone tour to accompany the exhibit, through which visitors can hear more in-depth descriptions of each section and commentary from curators, designers and advisers. A section dedicated to models features a five-minute clip from a roundtable discussion between Washington Post fashion critic Robin Givhan and models (past and present) Bethann Hardison, Veronica Webb and Riley Montana. On Feb. 6, the museum will also hold a symposium featuring talks by designers, models, journalists and scholars on African diasporic culture and fashion; Teri Agins, Dapper Dan, Jeriana San Juan, Webb, Hardison, Carly Cushnie and Michelle Ochs are among those expected to take part.
So in part, the value of such an exhibition is in continuing the conversation about diversity in fashion, and in educating. I, for one, was not familiar with several of the designers featured. Mimi Plange, one of the younger, newer designers on display, who was born in Ghana but based in New York, echoed that sentiment. "I think the exhibit itself is just really beautiful; it's introduced me to a lot of black designers I didn't know," she said. "A lot of times people will say, 'oh there's not a lot of black designers,' but I mean, they found 60 to do the exhibit, so I guess it's about the awareness and just being seen for your work." For other designers I spoke with at the preview, it was about inspiring the next generation and allowing young people to see black role models in the fashion world.
But the ultimate goal of the exhibition should be to help normalize black fashion designers, because they're really just fashion designers. Plange felt somewhat conflicted about her inclusion in the exhibit. "In a way, I just feel really in this modern world. I don't know if we need to be separated. My clothes aren't about any social cause, I just want to make beautiful clothes," she said. "Hopefully someday, you'll just be a designer and someone will like your work for what it is."
See looks from "Black Fashion Designers," on view at the Museum at FIT through May 16, below.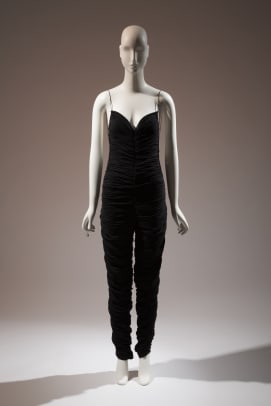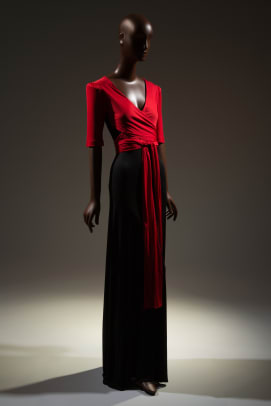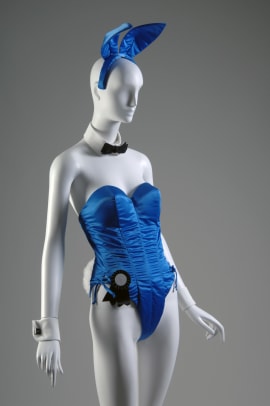 Want the latest fashion industry news first? Sign up for our daily newsletter.