With New Details and Over-the-Top Styling, Gucci Goes Extra-Kitsch for Pre-Fall
Alessandro Michele is here to convince us that embellished silk riding boots go with everything.
Perhaps it's now a house code that Gucci's mid-season collections — the more commercially driven lines known as pre-fall and resort — are entitled to display a bit more quirk than what gets shown twice a year on the runway at Milan Fashion Week. It's not that Alessandro Michele's spring and fall designs aren't steeped in eccentricities, because you and I both know that this very kitschiness is making both Gucci and Kering quite a bit of money. But rather, it's that Gucci has gone delightfully overboard with its pre-fall collections for two consecutive years, and we're starting to think that Michele may be seeing just how far he can push us. Which is to say, the limit does not exist.
As was the case with Gucci's pre-fall 2016 collection, the brand's latest range — the look book for which was released on Wednesday — features all of Michele's signature quirkiness, but dialed up to an 11. And in many respects, it picks up right where Michele left off in the spring. The '70s and '80s remain a large source of inspiration, with tufted shoulders and power suiting separates giving us reason to believe that the '80s will, in fact, be as influential as analysts expect in the year ahead. The seismic Vetements Effect is also seen throughout, in the form of hoodies, track jackets and retooled denim — one look even combines all three. 
But it's the collection's newest elements, styled to over-the-top perfection, that provide the largest sense of shock and awe. Silk, knee-high riding boots embellished with Chinese dragons are paired with almost everything, from midi-length tulip skirts to billowing trousers; other footwear includes round-toe sock loafers with crystal detailing and glammed-up floral creepers. Michele introduced a series of new motifs (in addition to the dragons) as well, such as a very un-Kenzo-like tiger (in one look, sitting on a florescent rainbow poncho) and sequined planets (making appearances on everything from long-sleeved gowns to a chunky sweater dress). The full look book is so rich with exciting detailing that we're certain it'll take us several click-throughs to fully appreciate it. But when Michele says jump, we just ask him how high. 
See the full collection in the gallery below.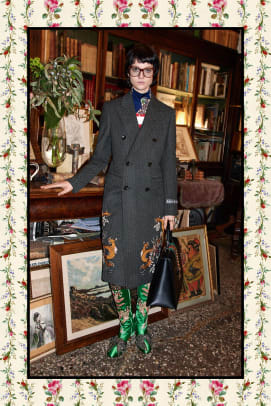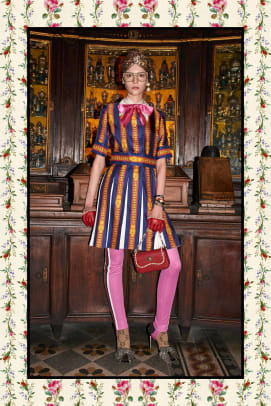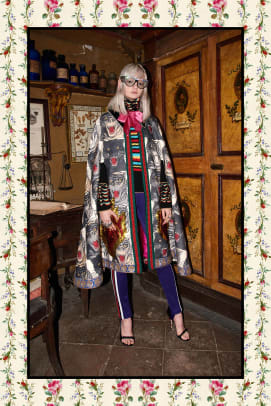 Never miss the latest fashion industry news. Sign up for the Fashionista daily newsletter.