Lions and Tigers and 'Bootleg' Tees Star in Gucci's Spring 2017 Campaign
Oh my!
Since Alessandro Michele took creative lead at Gucci in January of 2015, he's become well known for his affinity for all things eccentric — and has proven himself quite the animal lover. Aside from producing best-selling clothing and accessories adorned with cats, dogs, snakes and the like, he's "cast" both peacocks and flamingos alongside models in seasonal ad campaigns, and has featured lovebirds and the aforementioned feline friends in his look books. However, for Gucci's spring 2017 ad campaign, Michele really took a walk on the wild side, featuring lions and tigers and leopards (oh my!) with a cast of up-and-coming faces to help bring the Italian label's intricate collection to life.
Shot in Rome by Glen Luchford, the 25-image campaign takes it to the streets — including famous landmarks like the newly restored Trevi Fountain — to depict the daily lives of the "artists, intellectuals, creatives and outsider characters" that call the city home. The jungle creatures give the whole thing a bizarre twist; according to a press release, "wild cats nonchalantly roam the romantic city alongside our [cast], a giraffe is fed grapes as they dine al fresco, and lions and tigers are welcomed into their home as they watch TV." Just another day in the imagination of Michele, we suppose. As for the fashion, the label's popular bootleg-style tees take center stage, as do the ornate accessories. Hopefully none of the bedazzled bags became lion food.
The ads will make their official debut on Jan. 1, 2017, but you can check them out in all of their surreal glory in the gallery below.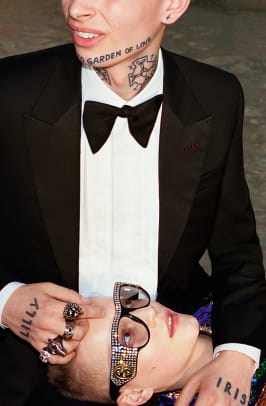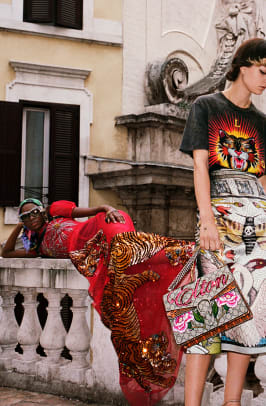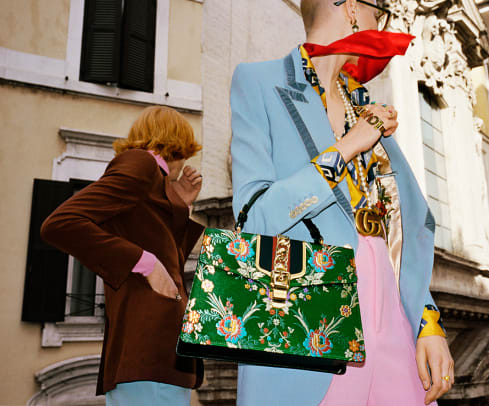 Want the latest fashion industry news first? Sign up for our daily newsletter.