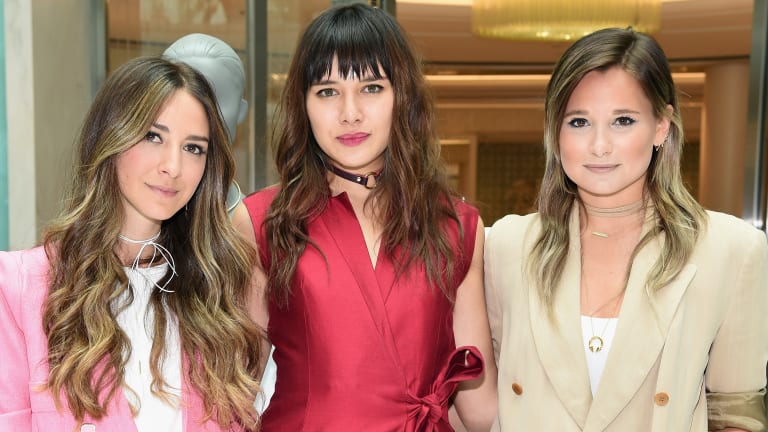 What's Next for Influencers in 2017
Could the days of the $15,000 Instagram be over?
For years, the fashion industry has been fascinated by the massive paychecks bloggers take home for branded content. Perhaps the most famous cited figure is the $15,000 that WeWoreWhat's Danielle Bernstein once claimed she could charge for a single Instagram post, but those numbers can climb even higher — after all, many bloggers are now making at least six figures a year from their deals and product placements. But what once commanded a high paycheck may now be a major roadblock: The higher the follower count a blogger has on Instagram, the harder it is for him or her to reach a high engagement number, a key factor in determining who is chosen for partnerships. 
"People who have a million followers, their engagement is going to go down and down because it's harder to keep all of those millions of people engaged in what you're putting out," says Sonia Langlotz, Senior Director of Digital Partnerships for Wetherly Fashion Group, a public relations agency. "If they have a million followers and [the engagement rate] is only .8 percent, it's not great."
It's very likely that, by now, you've heard of "microinfluencers," a word used to refer to bloggers and Instagram users with relatively small followings (technically, under 50,000, but generally much, much lower) who are often seeded product to review. Microinfluencers are, in essence, the polar opposite of major influencers; where a sponsored post from a big-name blogger can feel forced, microinfluencers have an ability to promote a product in a way that feels genuine and results in a higher level of engagement. It's a methodology used most famously by Glossier, which has relied much more on a network of super-fans for promotion than its competitors. Glossier's VP of Growth, Ali Weiss, explains that the follower count isn't what matters when it comes to picking its "influencers," but rather "the power to create conversation [to sales]." As a result, the brand has worked with some traditional influencers — like Leandra Medine and Caroline Vreeland — but also focuses on customers and members of the Into the Gloss community.
"We strongly believe in the power of the individual to influence her circle of friends and followers, no matter how big that circle is — it could be 100, or 1 million. Social media has given every individual a platform to have her own voice and be an editor," Weiss says. "Instead of thinking about influencer marketing, we think about individuals who can start a conversation among friends and among a community." 
Microinfluencer marketing can be incredibly difficult, especially for already established brands that have matured past relying on word-of-mouth; not only does it require that the product be great, it also calls for certain level of branding capabilities. "You have to have the best branding brain of all time to hit that sweet spot, because there's so few brands that really are messaging on a great level that isn't annoying, that people understand, but is still elevated and makes you want to spread the word," Langlotz says.
Perhaps this is why 2016 has seen the rise of the mid-tier blogger. More and more, brands are seeking out the value that an influencer with under 500,000 followers can offer. Not only are they more affordable, but their engagement rates can hover around 4 percent, which makes them a great value. Most important, their deals often come packaged with usage rights for the resulting images — something for which many major bloggers charge a pretty penny. Many brands don't have the resources to create their own imagery; by repurposing branded influencer photos, they're getting twice the amount of content for one bottom line.
"The thing I mostly try to push for as of late is allowing complete creative control and interpretation by influencers to create their own content with the materials that we give them," says Sydney Reising, CEO of boutique agency Sydney Reising Creative. "The leverage that you get out of these organic-feeling and beautiful pieces of content, they're like mini advertisements, and they shape the product around an actual individual's lifestyle, so it becomes very personable to a consumer in many different lights across different influencers."
Another way to make things more personable is to hire what Langlotz calls the "hometown girls," Instagram users with a small but very strong following based out of smaller pockets that are still fashion based, but not New York or Los Angeles. These influencers don't blog for a living, and as a result they don't have managers or expectations for travel or large paychecks. While they're not a particularly viable option for more expensive brands — their followers might not be interested in spending on luxury goods — they can be a real sweet spot for contemporary brands with smaller budgets. They're likely to promote the brand in exchange for gifting — something which many larger influencers stopped doing long ago. "If you can gift a thousand T-shirts, do it," Langlotz says. "It can really work, and you don't have to force those girls to wear it, because they're really excited about it."
Of course, the ever-shifting nature of social media has made all of this data very unreliable. Many brands no longer care about follower count, which can be inflated; even engagement rates have come under fire thanks to the rise of "likebots" and other automated programs. "You always have to be adapting in real time," Reising says. "The landscape of the media and the way in which we communicate with consumers these days is changing constantly because it is all digital, and it's so fast paced that you have to be prepared to change the ways you analyze and report back on your KPIs."
Agents in the field have taken to using third-party analysts like PeopleMap, an Instagram marketing tool. Other methods include combing through the comments left on sponsored posts and including standouts in the wrap-up report, or seeing how truly engaged an influencer's following is. "We really look through comments to see what the comments are saying," Langlotz says. "Is it just people who want to be commenting on blogger's feeds so they get more followers? Or are they actually saying, 'I love those shoes?' If people comment with a tag to a friend, I think that says a lot too."
So where are major influencers to turn in all of this? In recent years, bloggers across the board were looking to make money off their own products rather than promoting the products of others. In 2013, Chiara Ferragni started her shoe line and Michelle Phan launched her own cosmetics line; Leandra Medine's line of Man Repeller shoes and Bernstein's forays into ankle boots and overalls all launched towards the end of 2016. But what's good for their brands could be bad for their bottom lines: As these influencers turn themselves into mini-moguls, they create competition for the brands that might once have tapped them for promotion.
Still, the jobs are clearly out there from the brands that have the budgets. As the paychecks go up, major influencers find that extended contracts are on the table; while it comes at a price (many girls upcharge for long-term exclusives), it results in a much more organic campaign. "It doesn't make sense to pay one girl $7,000 or $10,000 for one Instagram that the smallest percentage of her followers are going to see," Langlotz says. "You have to build out a large campaign or collaboration, something that they get an affiliate fee or something to that effect that goes for three months, six months, a year, whatever." The beauty space has been the biggest proponent of this trend, with Kristina Bazan taking home a $1 million fee for working with L'Oréal, and Aimee Song striking a deal with Laura Mercier reportedly worth over $500,000.
There is no "one size fits all" approach to influencer marketing anymore; brands have to decide if they would rather spend their money on 100 small bloggers or one mega influencer. No matter what tier, though, it's clear that it's a trend here to stay. The Google Trend results for "influencer marketing" and related terms has been steadily climbing since early 2015, with little sign of slowing down. "The demand for it grows and grows in terms of clients coming to me and asking for it," Reising says. "As long as those people are continuing to maintain and engage their audience, and their audience is actually going and engaging with the product or brand that has hired said influencer, the circle is working."
Want the latest fashion industry news first? Sign up for our daily newsletter.
Homepage image: Dave Kotinsky/Getty Images