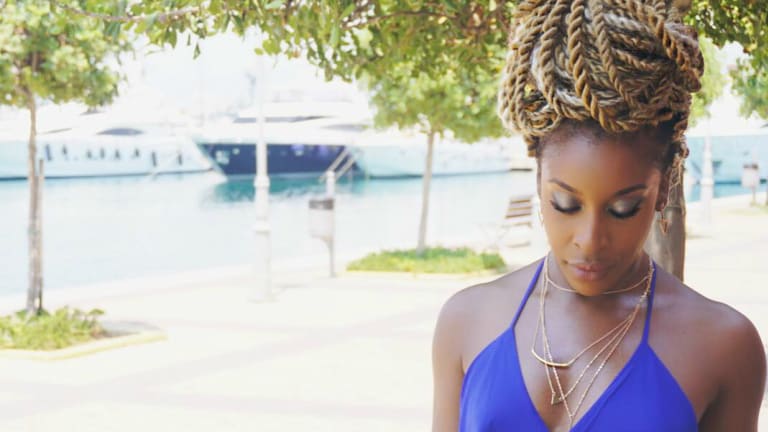 The 21 Most Influential Beauty Vloggers Of 2016
A deep dive into the beauty YouTubers that helped change the game this year.
When we first heard about beauty gurus filming YouTube tutorials, we never expected that people would actually sit and watch the sometimes 45-minute (and up!) videos, often produced by those without any sort of formal training. But the vloggers behind these tutorials have drawn a devoted fan base with their carefully honed contouring skills and unique personalities.
This past year has shown us that these YouTubers aren't going anywhere anytime soon, so we decided to find out who ranks among the most influential personalities in the field – much like we did with the recent Instagram influencer list, and the style blogger list before that.
To determine the ranking, we considered:
YouTube, Instagram, Facebook and Twitter followers, as well as website and/or SnapChat traffic and activity. These numbers gave us a snapshot of how many people these influencers are able to reach on a daily basis.
Brand extensions. We gave props to influencers who have used their influence to create original products.
It factor. We talked to industry insiders (and consulted with Fohr Card) about whom advertisers are loving right now, and who is moving the most products via affiliate links.
Google News searches. Headline makers were rewarded for extending their reach beyond their own network.
In determining this ranking, we had a few restrictions: We didn't include anyone on this list who is a celebrity in their own right, who isn't in the beauty industry in some way (again, these are beauty gurus!) or who doesn't update their YouTube channel at least once a week. We also avoided professionally trained makeup artists (deep as our love for Lisa Eldridge may be). Then, we crunched the numbers in an Excel document to yield this final list of the top 21 vloggers in the game. 
1. Dulce Candy
Dulce Candy's personal bio is interesting and inspiring: She emigrated to the U.S. from Mexico as a child, and later went on to serve in the military in Iraq. She also became quite newsworthy this year when she was chosen to ask a question concerning undocumented immigrants at the Republican debate in January, giving her a reach beyond just beauty gurus. She found her love of beauty while in the army, a time during which she was unable to wear makeup on a daily basis. Now, she has a YouTube following of more than two million, has published a book called The Sweet Life and has worked with brands like L'Oréal, CoverGirl, Dyson Hair and Pond's.
2. Patrick Starrr
As one of the "beauty boys" leading the pack on YouTube, Patrick Starrr is known for his funny transformation videos as well as his downright amazing makeup skills. The turban-wearing bestie of Manny MUA (who also made our list) has broken barriers over the past couple of years, becoming a mainstay in a scene mostly occupied by females. With more than 1.8 million followers on YouTube, Starrr has partnered with brands like Benefit Cosmetics, Formula X, Jouer, NYX and many others.
3. Carli Bybel
Carli Bybel of The Beauty Bybel has been creating YouTube videos since 2011 — an impressively long time in this business — and she has the followers to back it up. With more than five million subscribers, Bybel has since branched out into fashion as well, collaborating on a line with Missguided this year. She also created a makeup palette with BH Cosmetics (an Ulta exclusive) and has been busy promoting them both.
4. Nikkie Tutorials
Nikkie of Nikkie Tutorials is a Dutch beauty vlogger who just happened to land the first makeup collaboration with Too Faced. With just under six million subscribers, the collaboration was well-deserved – Nikkie is known for her innovative videos (see above) and love of glitter (that glow!) and her videos often get picked up around the web (or are inspirations for other YouTubers).
5. Jaclyn Hill
Even if you're not one of the 3.7 million subscribers who tune in to watch her YouTube videos, Jaclyn Hill's name is probably recognizable to you due to her oh-so-popular collaboration with Becca Cosmetics. Known for her killer highlighting skills, Hill collaborated with Becca on the brand's (insanely popular) limited-edition Champagne Pop. Given the product's massive success, the collaborators have since expanded the collection to include a variety of permanent products.
6. Jackie Aina
Jackie Aina is known not only for the gorgeous makeup looks she creates on her YouTube channel, but also for the honesty she serves up with them — and her 926K subscribers (and many brands) love her for it. She has collaborated with Artist Couture, is currently working on "something top-secret" with Sigma Beauty and has done sponsorships with brands like Maybelline and Jouer.
7. Christen Dominique
Christen Dominique really made a name for herself when she posted a video on YouTube about the power of makeup (inspired by Nikkie Tutorials' video in the same vein). In it, she showed half of her face bare and the other half made up. Like many other YouTubers, her Halloween makeup tutorials have also helped to get her noticed. Dominique's partnerships have included projects with Rimmel and MAC Cosmetics.
8. ThatsHeart
With more than two million YouTube subscribers, Heart Defensor of ThatsHeart is known for delivering videos dive deep into hacks, product testing, tutorials and challenges. She's recently teamed up with Marshalls and has worked with beauty brands like NYX Cosmetics and SK-II.
9. Desi Perkins
J-Lo lookalike Desi Perkins has garnered more than two million subscribers on YouTube, probably because she can pretty much do it all — makeup, hair, special effects, you name it. Her Halloween melting makeup tutorials created a hell of a lot of buzz, and if you watch them, you'll see why. She collaborated with Quay Australia on a collection of sunglasses and has worked with brands like Crest, MAC Cosmetics, Benefit Cosmetics and Kohl's, to name only a few.
10. Manny MUA
As we mentioned above, Manny is one of the most well-known "beauty boys" (along with his BFF Patrick Starrr) breaking preconceived notions of gendered makeup. With more than two million subscribers, Manny keeps it real in his videos and reliably shows off flawless makeup tutorials week after week. He's already worked with brands like Benefit Cosmetics, Maybelline and GlamGlow, and has launched a collaboration with Makeup Geek.
11. Laura Lee
YouTube guru Laura Lee's more than two million subscribers turn to her for her videos featuring product testing, tutorials and hacks — not to mention her endearing Southern accent. The vlogger has teamed up with Maybelline, Revlon and Smashbox for past partnerships, and recently worked with Too Faced to help launch their Sweet Peach palette campaign.
12. Kathleen Lights
Twenty-four-year-old Kathleen Lights has 2.8 million subscribers on YouTube and also just launched her own nail polish line, KL Polish. Lights has also collaborated with Morphe on a palette and Makeup Geek Cosmetics on a highlighter palette.
13. ItsMyRayeRaye
Raye Boyce of ItsMyRayeRaye, whose Youtube channel has 1.4 million subscribers, features a variety of makeup and hair tutorials, get-ready-with-me videos and product roundups on her channel. Boyce has worked with brands like CoverGirl, ColourPop and Crest.
14. Nicole Guerriero
While YouTube guru Nicole Guerriero has already had a great 2016, it just (and we mean just) got even better. To cap off her year, Guerriero announced a collaboration with Anastasia Beverly Hills (a coveted brand to collaborate with). Guerriero herself has 2.7 million subscribers on YouTube and has previously worked with brands like GlamGlow, The Estée Edit and Bellami Hair, but we're expecting ABH to be her biggest deal yet.
15. Teni Panosian
Teni Panosian actually started out as a beauty blogger on MissMaven.com, but quickly expanded her content to both YouTube and Instagram. Her YouTube channel has flourished, and while she still updates her blog every now and again, the visual mediums are her main priorities. Panosian now has more than one million subscribers on her channel and works with brands like Garnier, Crest, Revolve, Maybelline and Target Beauty.
16. Jen Chae
Jen Chae (better known as From Head to Toe) is the perfect example of someone who is beauty-obsessed, yet expanded her channel to give her community insight into her entire life. Most recently, Chae walked everyone through her pregnancy, covering subjects like spotting emergencies and a false labor scare. Her 1.2 million subscribers see it all. Chae has worked with brands like Burberry, Sephora and SK-II.
17. Lustre Lux
Katy of LustreLux has 1.6 million subscribers on YouTube and is vlogger BFFs with Desi Perkins, making for ultimate vlogger #squadgoals. She's teamed up with Sephora, NYX, Benefit and MAC in the past year alone.
18. Sona Gasparian
Sona Gasparian of Simply Sona has 650K subscribers on YouTube and just launched her own cosmetics line, Persona. As a professional makeup artist (one of the few to make the cut!), Gasparian started her channel as an expansion of her love of beauty, and showcases tutorials, product favorites, dos and don'ts, and much more. She's worked with brands like L'Oréal, Garnier, Urban Decay and Clarins.
19. Casey Holmes
With a subscriber base of 1.2 million, Casey Holmes keeps it real with her audience, focusing on product testing, tutorials, hauls, Q&As and even her own weight struggles. Holmes has worked with brands like Clinique, Sephora and Smashbox, to name a few.
20. Belinda Selene
YouTuber Belinda Selene has 453K subscribers on her channel, which includes video tutorials, hauls, beauty challenges and even organizational tips. She's worked with brands like Revlon, Bliss and St. Ives.
21. Melissa Alatorre
Melissa Alatorre is relatively new to the YouTube scene, but 2016 has proven to be a major year for her. Another trained makeup artist, Alatorre shares tutorials, tips, product reviews on her channel. Her brand partners over the past year have included Clinique, Laura Mercier x Byrdie, Clarins and Maybelline. 
Main/homepage @JackieAina/Instagram
Sign up for our daily newsletter and get the latest industry news in your inbox every day.