Get in the Holiday Spirit with New York City's Best Department Store Window Displays
It's that time of year again!
Tourists and New Yorkers may not share most things in common — the former enjoying a certain affinity for walking at turtle-like speeds and taking up as much room as possible on sidewalks, and the latter, a penchant for eating pizza in public settings and standing dangerously close to subway platforms — but one thing that is a guaranteed mood-booster for all come holiday season? The festive window displays across major department stores and boutiques around the city. Read on for a roundup of our favorite displays this year, and if you're in town, be sure to check them out IRL before 2017 rolls around. They're not to be missed.
Barneys New York
The windows at both of Barneys New York's Manhattan locations follow the department store's holiday campaign theme, the "Love Peace Joy Project," and feature imaginative installations from Nick Cave, Rob Pruitt, Studio Job, Ebony G. Patterson, and Trey Parker and Matt Stone of "South Park" fame. To further share the messages of love, peace and joy, the retailer is also encouraging shoppers to get involved via social media using the hashtag #LovePeaceJoyProject and to support charitable causes through the Barneys New York Foundation.
Bergdorf Goodman
Bergdorf Goodman's windows are always among the most anticipated of the Fifth Avenue stretch of departments stores, and this year did not disappoint. "Destination Extraordinary" depicts lush, dreamlike vignettes of exotic landscapes and gardens, loosely inspired by the paintings of Henri Rousseau and 12th century Chinese watercolor mountainscapes. "These windows are landscapes of the unexpected," said David Hoey, Bergdorf Goodman's Senior Director of Visual Presentation. "They are delirious remakes of the classic dioramas seen in natural history museums." 
Bloomingdale's
For this year's holiday windows, Bloomingdale's exclusively commissioned a group of visual artists to create one-of-a-kind chandeliers that embody their artistic expression of the word (and the retailer's holiday campaign theme) "light." The result? Eight unique, delightfully unconventional chandeliers, which will be available for auction through the 20th of this month, with 100 percent of net proceeds directly benefiting the retailer's long-standing holiday charity partner, the Child Mind Institute, whose mission is to transform the lives of children and families struggling with mental health and learning disorders.
Henri Bendel
For Henri Bendel's holiday campaign, "From Bendel with Love," the iconic Manhattan store is combining the worlds of street art and fashion in one statement-making display of love and positivity, thanks to a partnership with artist James Goldcrown on a "Love Wall" mural featuring a multitude of colorful hearts scrawled across the stores' interior and window displays. Additionally, the partnership will support Americans for the Arts, the country's leading nonprofit organization for advancing the arts and arts education. 
Lord & Taylor
In the face of increasing awareness of global climate change, we're not surprised to see that more and more retailers are looking to themes of nature for this year's holiday displays. Lord & Taylor was no exception, with its "Enchanted Forest"-themed holiday windows, which portray winter scenes — including 34 hand-sculpted, spirited holiday animals in various states of repose — and holiday-themed activities.
Macy's
This season marks nine years of the Macy's "Believe" campaign, and the 2016 windows are bringing six key holiday themes to life: Believe, Celebrate, Together, Giving, Love and Magic. The windows, which include a gold reindeer, a miniature snowy landscape and, of course, Santa Claus, are surrounded by intricate handmade frames indicating each theme, and also celebrate a near-decade of Macy's partnership with Make-A-Wish.
Saks Fifth Avenue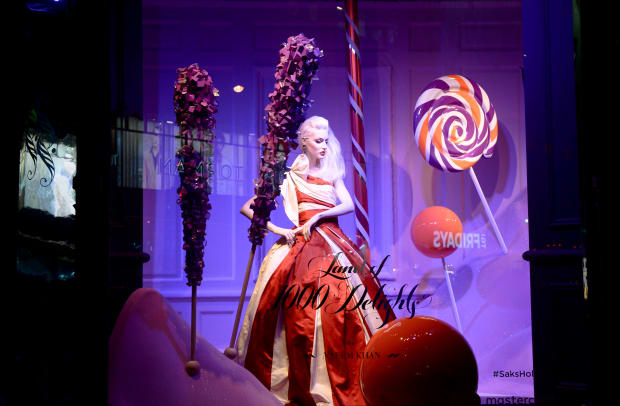 Discover a real-world Candyland (but infinitely more chic) at Saks Fifth Avenue's "Land of 1000 Delights," which juxtaposes sugary sweet lollipops and cotton candy with equally saccharine fashion pieces from labels like DSquared2, Marchesa, Naeem Khan and Proenza Schouler. "Last year was very white and icy with the 'winter palace' theme," explained Mark Briggs, Saks' Executive Vice President, Creative. "How about we go multicolored [this year]? We keep using the analogy of 'candy couture' since everyone likes candy and chocolate around Christmas, but we're turning it into an elegant theme, as well."
Tiffany & Co.
The iconic jeweler is inviting shoppers to discover a "Tiffany New York Christmas" with this year's holiday windows, which feature detailed scale models of a luxe picnic in Central Park with jewel-filled Christmas crackers, champagne and pastries, angel statues covered in gold leaf and a silhouette of a Manhattan skyline that floats along the Hudson River, displaying a Tiffany T square bracelet. "We've created the ultimate Tiffany holiday with dazzling displays that showcase trees trimmed with jewels and vignettes of iconic New York City landmarks that are a nod to our heritage," says Richard Moore, vice president of creative visual merchandising at Tiffany.
And if you're not in New York...
Not to worry! Google is making everyone's holiday wish come true this year with a virtual tour of Manhattan's best and brightest window displays. Click, drag and zoom (or enter a 360° view) your way through department stores including Barneys, Bergdorf's and Saks, plus designer boutiques including Burberry, Louis Vuitton and Ralph Lauren.
Homepage photo: BFA for Saks Fifth Avenue
Never miss the latest fashion industry news. Sign up for the Fashionista daily newsletter.