Dior's Haute Couture Show Featured Absolutely Beautiful Hair and Makeup
Glitter freckles, gleaming star tears and perfectly windblown hair. Swoon.
Dior makeup creative director Peter Philips loves to make women look beautiful — we know because he's told us. At Monday's Dior Haute Couture runway show, he succeeded at doing exactly that. For the Musée Rodin-set show (which marked creative director Maria Grazia Chiuri's first couture collection for the label), the hair and makeup combined elements of ethereal, soft beauty with a tougher, more punk-y aesthetic. The overall effect was breathtakingly beautiful, but what's more is that Philips, true to form, didn't shy away from embracing the models' individuality to get there. 
The show began on a darker note, with many of the models wearing masks, but progressed to what Philips called a more "poetic" tone. It was during this portion of the show that the models' individual makeup looks became evident. Though each look was subtle, they were also straight-up eye candy. Many of the models wore stars placed either strategically at the center corners of their eyes or directly centered below the lower lash line; a portion of the stars were matte black, while others remained glimmery gold.
In addition to these star tears (!!!), a portion of the models also wore a smattering of metallic freckles. "Some girls have a bit more fantasy, like stardust all over the side of the face," described Philips. (Sadly, no, Dior doesn't plan on releasing the star appliqués as part of its for-sale makeup collection.)
Philips kept the rest of the face simple, with a wash of lip color (Dior Addict Lacquer Stick in #550 Tease, a new formula forthcoming from the brand in March of 2017) and golden glow around the eyes. He used the words "pretty," "tomboy" and "symbolic" to describe various aspects of the show and its accompanying makeup looks and also emphasized how the model casting and the "attitudes of the girls gives a street credibility."
The hair, styled by Guido, channeled many of those same themes, with windblown, romantic textures, individualized styles and show-stopping accessories. 
Many of the models wore multimedia head pieces, some of which included feathers, flowers and even branches.
Together, the hair and makeup (not to mention the collection itself, as well as the labyrinth venue) made for a visually stunning display. Now excuse us while we go to a crafts store to try to track down some star-shaped sequins.
Click through the gallery below to see additional photographs from backstage.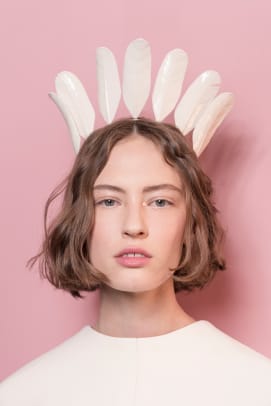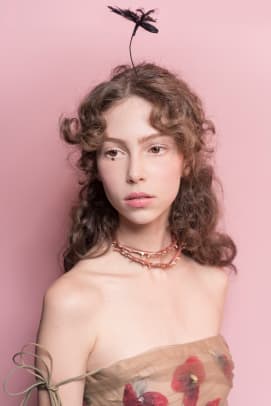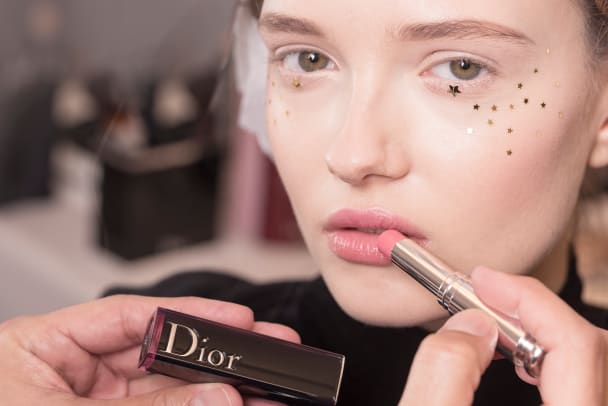 Homepage photo: @fashiontomax/Instagram
Sign up for our daily newsletter and get the latest industry news in your inbox every day.