Dior Haute Couture Taps into a Whimsical, Witchy Fairy Tale for Spring
Maria Grazia Chiuri set her fanciful first couture show for the house in a lush secret garden.
When it comes to fashion week, it's not easy going first. Brands kicking off the runway schedule are challenged with setting the bar for the remainder of the shows; subsequent collections will either pale in comparison or serve as an improvement — often, there's no middle ground. With couture, where the sets are more extravagant, the garments more fanciful and everything is generally much more expensive, the expectations are even higher. Dior Haute Couture fell into this position on Monday with its spring 2017 runway show, held in the first slot on the first day of Paris Couture Week. It marked Maria Grazia Chiuri's first couture outing as creative director, further upping the stakes, but the French house rose to the occasion in a big way. 
Let's start with the set within the Musée Rodin, which was constructed to look like an overgrown secret garden. A layer of moss covered every inch of the venue, including the seats atop low, lush hedges. Overhanging trees were placed throughout, creating canopies that were decorated with jewels, ribbons and playing cards. It was enchanting, like something out of a Hans Christian Andersen fairy tale, and a stark contrast from the basic, all-white set used for Chiuri's ready-to-wear debut for the house in September.
And then came the clothes, which were as whimsical as the set. The show opened with a series of simple, seemingly Salem-inspired looks that prominently featured variations of Dior's famed bar jacket; some were paired with heavy, ankle-length skirting while others accented full-length dresses. Witchy hoods and delicate lace headpieces helped set the tone, but themes, as we know, can be difficult to execute. Though this collection played very heavily into its woodland-nymph aesthetic, it never once bordered on costume, even with the beauty look — glitter freckles, starry tears and loose, undone waves — taken into consideration.
Meanwhile, the Alessandro Michele Effect was out in full force, with animal-shaped accessories (slight serpent belts, oversized butterfly pendants) aplenty calling out for Instagram. But Gucci wasn't the only competitive house we picked up on: Chiuri's Valentino influence is going to be difficult to shake, and here that translated into embroidered tulle, all-over velvet and deep necklines. She knows what she's doing, though, as the gowns were serious red carpet contenders in their own right.
While the last few looks floated down the runway to the familiar tune of "Carnival of the Animals: VII. Aquarium," not one showgoer could've argued that the presentation was anything less than magical. And clothing aside, have we needed such an escape as much as we do now?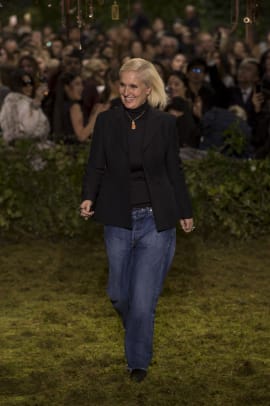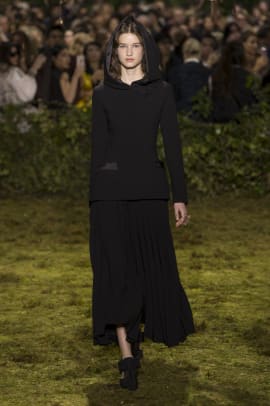 Never miss the latest fashion industry news. Sign up for the Fashionista daily newsletter.