Dior's Pre-Fall 2017 Collection Is a Huge Nod to Millennials' Personal Style
Maria Grazia Chiuri is angling the brand to cater chiefly to a younger consumer.
Maria Grazia Chiuri made it clear from the moment her debut spring 2017 collection for Dior hit the runway that she was going to be making some changes. Gone were the ornate floral walls of shows past; instead, she chose a simple, stark-white show venue, with old-school streetwear-esque logos and feminist messaging to match. The pieces themselves felt sporty and unstuffy, and the styling was relaxed — both surefire indications that Chiuri (the house's first female artistic director) was now steering Dior toward a younger, millennial consumer. It's a strategy more and more retailers, luxury and otherwise, are adopting, as research states that millennial shoppers remain the most elusive group to keep engaged. 
Chiuri's commitment to female empowerment — and, in turn, getting young female shoppers in the door — has continued into Dior's pre-fall 2017 collection. Ahead of the house's 70th anniversary festivities, the former Valentino designer worked to incorporate those millennial-favored aspects into Dior's Parisian heritage. But as a newcomer to the City of Lights (she moved from Rome just last year), her interpretation of Paris is still developing, and she's using that to her creative benefit. "Christian Dior is a Parisian brand, so you have to feel this attitude that there is in the city," she said in an interview with WWD. "You can dress like you want, you can express how you feel. I feel this atmosphere of freedom in the city."
And Chiuri finds this environment of sartorial autonomy to be representative of how women — particularly, young working women — dress today. In her comments to WWD, she noted that she can't align herself completely with Dior's heritage because modern women lead completely different lives: "You have to translate this heritage in a language that probably is more about now, because I want to speak, for this brand, to a new generation of women," she said.
Which is to say: Chiuri's designs are a far cry from the most casual collections Raf Simons created for the house. For pre-fall, every piece is wearable for real life — from ankle-length pleated skirts in easy black and white to a new slew of logo tees to more eclectic embroidered vests and coats — and ready to be paired with just about any other item in your wardrobe, as is the millennial way. The clothes are recognizable, but chameleon-like; they're easily adaptable to any wearer's own league of personal style. As such, Dior has already gotten to work seeding its more Instagram-y pieces with celebrity millennials; earlier this month, Kendall Jenner wore a retro "Dior Addict" T-shirt from the pre-fall line while sitting courtside at a Lakers game. 
Meanwhile, Chiuri traded in the fencing elements from her spring 2017 show in favor of an equestrian theme, evident in houndstooth capes, blocky boots and even literal riding helmets. And nearly every look was styled with a simple black choker, because, I guess, what's more explicitly millennial than that? 
Chiuri seems to understand how millennial women both wear and consume clothes, but we won't learn if this new messaging is actually moving product for several quarters, and that's at the very earliest. In the meantime, we'll let the designs — and its placements with famous youngsters — speak for themselves. 
You can view the full collection in the gallery below.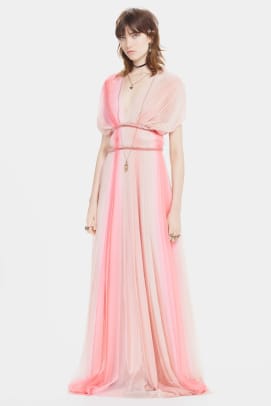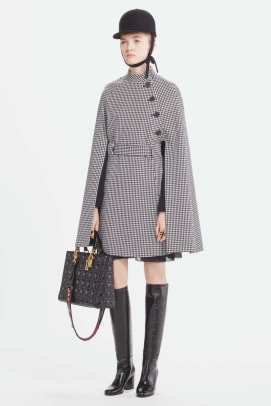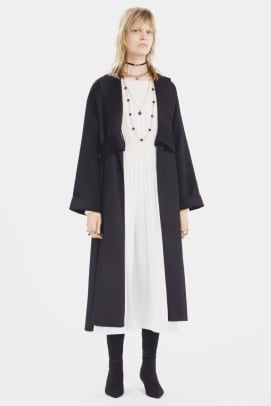 Never miss the latest fashion industry news. Sign up for the Fashionista daily newsletter.