FKA Twigs Is the Creative Director Behind Nike Women's Latest 'Believe In More' Campaign
The sports brand will launch Zonal Strength Tights in partnership with the singer and performer.
As models-turned-activewear ambassadors started to become a running theme within the last year — Gigi Hadid for Reebok; Cara Delevingne for Puma; Bella Hadid for Nike — the latter $30-billion-dollar sports brand decided to switch things up. On Wednesday morning, Nike Women announced a partnership with musical artist FKA Twigs for its latest product launch: Zonal Strength Tights, a new and innovative pair of compression tights for running and the gym.
The professional singer and dancer conceptualized and directed the launch's video "Do You Believe In More?" "When Nike first came to me with this project, I saw it as an opportunity to let young people know they have the power to become the best versions of themselves," said FKA Twigs in an official statement. "I put together a cast of 12 incredible athletes to show that it's about what you do in fitness gear. It's about how you train. It's about how those things help your movement."
The video features a cool mix of sports professionals and creative performers, including U.S. Track & Field star English Gardner, violinist and dancer Saskia Horton, Olympic fencer Miles Chamley-Watson, international karate champion Jay Kirton and dancer, yogi and one of FKA Twigs's longest collaborators Paleta CalmQuality.
For the video's music, FKA Twigs chose a song she already created before she teamed up with Nike. "I realized the song, 'Trust In Me,' would be perfect, because the lyrics say, 'Put your trust in me,'" adds FKA Twigs. "In a way, we're asking people to look at me and the other amazing athletes in the video and trust the way we are. We've worked hard to perfect our crafts and create our own destinies, and we're feeling good in our bodies."
The partnership is certainly something different from Nike, adding a more artistic vibe to the brand. Plus, it's refreshing to see Nike highlight unconventional, under-the-radar athletes (read: krumpers! voguers!) that don't normally get the spotlight when it comes to a major sports campaign. We're excited to see what FKA Twigs has in store next.
Watch FKA Twigs's "Do You Believe In More?" video for Nike above and click through images from the campaign in the gallery below.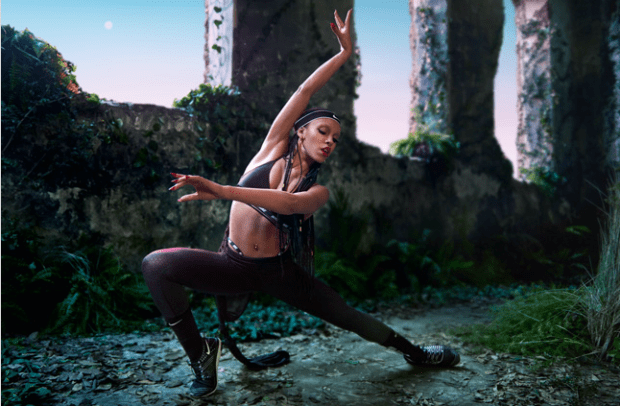 Want more Fashionista? Sign up for our daily newsletter and get us directly in your inbox.