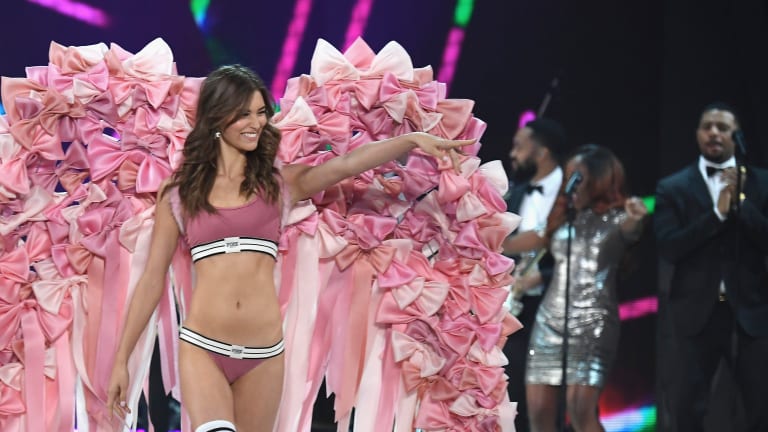 Grace Elizabeth Is the Next Supermodel
Trust us.
Grace Elizabeth has all the components necessary for being a great model: A strikingly beautiful face that easily straddles the line between commercial and editorial, a bubbly personality built for social media superstardom and a killer runway walk. But the Florida native also has that indeterminable, magnetic factor that turns girls like Karlie Kloss or Gigi Hadid from great models into supermodel phenomenons.
Perhaps that's why Victoria's Secret was so eager to bring Elizabeth into its fold; just months after she first started to work with them, and with her first Victoria's Secret runway barely under her belt, the brand has named her the newest face of Pink. "It's absolutely incredible," she says while promoting the new Date Bra at the brand's Fifth Avenue flagship, her first official gig as a face of Pink. "My goal when I first started was to become part of this family, and now I'm a Pink spokesmodel after only six months of working with them. It's been an amazing ride."
Considering it's a position previously held by Angels Alessandra Ambrosio, Behati Prinsloo and Elsa Hosk, it would be surprising if Victoria's Secret doesn't have Elizabeth on the fast-track to an official pair of wings. The brand is already like family to her. "I'm here in New York by myself, so it's really amazing to go to set with your best friends and then go get a juice with your best friends after work," she says. "Even the Angels, I worked with Stella [Maxwell] and Elsa at the Moschino show, and they just come and hug me and talk to me and act like I'm part of their family as well."
And Victoria's Secret isn't the only brand clamoring for Elizabeth: After making her catwalk debut at Miu Miu's fall 2016 runway show (scoring that Katie Grand stamp of approval), she had a breakout season last September, walking for just about every major brand, closing Dolce & Gabbana, and scoring several international Vogue editorials. Not bad for a girl who never imagined modeling was even in the cards for her.
"I actually had no idea I could — being where I'm from, it's not something you think about. We only get football stars," she says with the barest trace of a North Florida twang. "But my mom sent in my photos, because she had so much faith in me, and I ended up getting signed in Miami, and then come up here and it has just taken off."
It's all been a blur for a girl who left her sleepy hometown of Lake City just last year. When most of her peers would be moving up the road to go to school in nearby Tallahassee or Gainesville, Elizabeth's first night away from home was in New York City. It's the accomplishment of which she's most proud. "It was hard, really hard for the first couple of months," she says. "I never even stayed at my house back in Florida by myself, so it's a big deal!"
And no wonder she's proud: It's a risk that's clearly already paying off. On top of all the blue-chip jobs, Elizabeth also already has a growing group of fans who have Instagram accounts dedicated to documenting her many appearances. It's not hard to see why: Follow Elizabeth on Instagram (as over 118,000 people have already), and she quickly becomes the kind of girl you want to be best friends with, sharing videos of herself getting goofy while working out or photos of herself fishing with her family back home. She still can't quite believe that she has fans, but she feels it's important to have a relationship with them, so she follows their accounts and writes back to them, giving them advice.
"I just tell them, your dreams are your dreams, and they're no one else's, they're yours," she says. "Take them by the reins, chase it, do what you can, work hard. If it doesn't work out, it may spike some other interest that you didn't know you have, but you got to explore every option."
In addition to helping her fans, Elizabeth is also trying to work out how she can use her new platform to give back. This winter, she started assembling bags of things to help get the homeless community through the winter: handwarmers, blankets, chapstick, tissues. She would also love to work with children's hospitals, but her packed travel schedule makes getting involved a challenge. "It's so hard to physically be there and be hands on, and that's really what I want to do," she says. 
It's clear that Elizabeth wants to stay as grounded as possible. She prioritizes family when she's home; her parents came to Paris and sat front row at the Victoria's Secret Fashion Show last November. Elizabeth tries to stay connected to her North Florida roots even from New York. "I miss how untouched it is — back home, things are really slow," she says. (As a North Florida native myself, I can vouch for this.) "Nobody thinks, wow I'm this huge model, they're like, 'Ah, Grace is home, we should go bowling!' They treat me like I'm same old same old." 
For now, Elizabeth is excited to keep busy with the Pink family, which she calls her "group of sisters." There will be plenty of travel in her future, from far-flung sets to spring break events and concert series with the brand, and more opportunities to meet with her fans at Pink stores across the country. Victoria's Secret was her dream job, and the brand that has helped launch her career. It was on the trip to Paris with fellow Pink spokesmodels Zuri Tibby and Rachel Hilbert that Elizabeth realized how far she'd come.
"We're standing there with the Eiffel Tower in front of us, they're taking photos, and all these people around us are whispering like they know who we are," she says. "And we get to the hotel and the girls across the barricade are screaming our names, and I'm like, 'Wow, I've made it. These people know my name.'"
But she's still at the beginning of her career, and there are dreams left to conquer. "I would love a Vogue cover," she says softly, almost apologetically, as though maybe she thinks she doesn't deserve to put that out into the universe just yet. "I think that would be amazing." Considering the astronomical year she's had, it isn't a stretch to imagine that Vogue cover is coming up fast on the horizon.
Want the latest fashion industry news first? Sign up for our daily newsletter.
Homepage and lead image: Pascal le Segretain/Getty Images