How Online Marketplace Oxosi Plans To Put Africa On The Luxury Retail Map
Think of it as Africa's answer to Opening Ceremony or Dover Street Market.
If there's one thing that the heated debates around cultural appropriation have made clear in the last few years, it's that the visual elements of black culture are borrowed from by people of all backgrounds. The way in which that's happened hasn't always been respectful or appropriate, but the fact remains that designers and fashion devotees alike often look to Africa and the African diaspora for inspiration.
With the launch of new web platform Oxosi, that inspiration may finally be presented in the right context.
"Everyone is talking about the renaissance that's happening throughout Africa," Oxosi co-founder Akin Adebowale says. "We felt like there was a void in the retail channel in terms of connecting the new energy around high-quality African design with global demand."
Adebowale and his co-founder Kolade Adeyemo started Oxosi to fill that gap. Their goal was to create a platform that would highlight the best brands from all over the continent in a way that simultaneously educates consumers about African design while also fostering a sense of connection amongst those who value it. Oxosi does this through the combination of curated e-commerce in the vein of Moda Operandi and complementary editorial content à la Porter magazine. The site's marketplace currently stocks better-known brands like Brother Vellies and William Okpo alongside more obscure gems like Maki Oh.
"There's a growing number of high-profile brands based on the continent, but a lot of that talent is being neglected by the international community because these labels may not have the contacts, logistical resources or marketing savvy to connect with the global market," Adebowale explains.
Adebowale, Adeyemo and Oxosi COO Kwesi Blair may be just the right people to get those brands in front of a wider audience. With backgrounds in creative strategy, fashion buying and brand consulting, the three men have plenty of experience under their belts — plus personal heritage that connects them intimately to Oxosi's mission. Adebowale and Adeyemo are both Nigerian-born and describe themselves as being "hyper-connected" to creatives on the continent, while Blair is of Afro-Caribbean descent. All share a passion to see Africa thriving creatively and economically.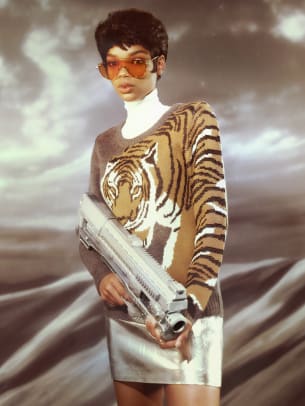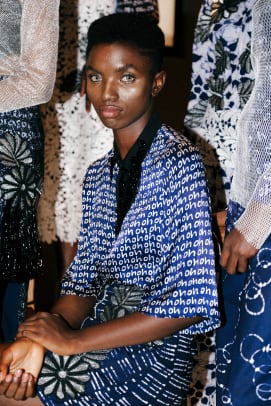 "We think there's an opportunity to build an iconic brand for this generation and the one to come that reconnects them with a particular sense of African self and identity," Adeyemo explains. "In the same way you can go to Yoox and feel their Anglo-Italian sort of background or go into Dover Street Market and feel that Asian-infused aesthetic, we want Oxosi to represent the best of fashion and design from Africa."
Oxosi's founders consider themselves part of a movement they call Afromodernism, which celebrates the "economic, creative and social renaissance" taking place in Africa and the African diaspora today. Not that they want to exclude people of non-African descent; on the contrary, one of their three target customer profiles is comprised of non-African-diaspora shoppers. The goal isn't to exclude anyone so much as to ensure that the stories of African brands are told well.
"We thought it was really important to be able to control the narrative of African brands," Adebowale explains. "That's been an issue in the past in the industry and it's led to so many controversies. People are asking, 'Is this appropriating? Is this ignorant?' We believe that has to do with not having the proper components to communicate about Africa in its many different parts and cultures and languages and art forms. We can do that more sensitively."
Ultimately, the founders hope to build an in-real-life community that rallies around a central lifestyle or aesthetic, the way that Supreme customers connect around the brand's exclusive merch drops or the way Nike fans feel about the athletic label's ethos of achievement. And if the popularity of events like Afropunk are any indication, the Oxosi customer is already out there waiting. As the market continues to reflect this drive toward Afro-centric influences, Oxosi also hopes to position itself as a valuable source of data for other retailers trying to tap into that wave.
"We want economic success for all these made-in-Africa brands, we want to see them as many places as possible and we want to keep the cash flow going into Africa," Adebowale says. "It's important for us to take the lead in showing how to tell those brands' stories the right way."
The one other thing Adebowale and Adeyemo want to make sure the global consumer gets? That Africa is "not a trend."
"If you talk to Africans, it's clear that they don't think their culture or their very being is a trend," Adeyemo says. "We're building a brand that we think has staying power and we want to see it last for generations to come."
Never miss the latest fashion industry news. Sign up for the Fashionista daily newsletter.