Raf Simons Will Bring His Couture Chops to Calvin Klein with New 'By Appointment' Collection
The fashion world's first glimpse at Simons's overall vision for the house — an Americana-inspired, made-to-measure range — is here.
On Sunday morning, Calvin Klein's social media accounts lit up with brand-new campaign imagery — starring the likes Millie Bobby Brown, Abbey Lee, Julia Nobis, Natalie Westling, Jamie Bochert and more — giving the fashion world its first look at the company's fresh, singular vision under Chief Creative Officer Raf Simons. The Belgian designer, who was officially appointed at Calvin Klein in August after months of speculation, will make his New York Fashion Week debut on Feb. 10 (showing both women's and men's collections), but as a teaser, the label has already announced Simons's first big concept: Calvin Klein By Appointment, a made-to-measure service offering handcrafted pieces out of the NYC atelier, opening to the public on April 1.
While details are still scarce, the brand's website explains that the first range will consist of 14 different "distinct looks" — ranging from a cheerleader-esque fringed skirt to a voluminous tulle gown that's reminiscent of Simons's Dior Haute Couture days — and that every decade between the 1920s and today were fused for inspiration. "Calvin Klein By Appointment 1-14 is very much about celebrating the American woman and American fashion," Simons said in a statement, which likely explains the debutante and majorette vibes that come off in several of the collection's more youthful pieces.
Because Calvin Klein has emerged as a red carpet and celebrity favorite over the years, there are plenty of formal evening options — a feathered minidress and a slinky, metallic one-shouldered gown, for example — for customers who seek that sort of VIP treatment. Lest you think this sounds much fancier than the CK you've come to know and love, don't forget the brand's roots: Every image of a made-to-measure piece is juxtaposed next to a pair of simple white briefs. "Calvin Klein is not only about iconic underwear and jeans – it's about so much more," Simons noted.
Click through the gallery below to preview Simons's first collection for Calvin Klein By Appointment, and try not to let the anticipation kill you before his first show for the brand in February.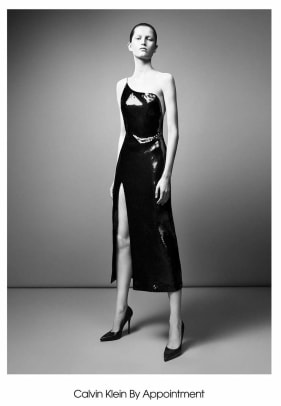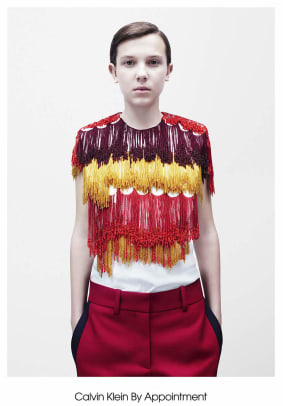 Want the latest fashion industry news first? Sign up for our daily newsletter.