Alicia Keys Brought Down the House at Stella McCartney's Autumn 2017 Presentation
Ain't no party like a Stella McCartney party.
Really, it should be no surprise by now that Stella McCartney loves music: Her spring 2017 runway turned into a dance party; she took over Los Angeles's famous Amoeba Music record store for her autumn 2016 presentation; she regularly partners with musicians. Oh, and she's the daughter of a freaking Beatle.
So, that the designer's latest presentation — for autumn 2017 — was also a tribute to music was a given. What was a surprise? A performance by Alicia Keys, which was the fashion set's reward for hauling all the way up to the famous Cotton Club in Harlem on a Tuesday night. Attendees — including Naomi Watts, Julianne Moore, Maggie Gyllenhaal and, interestingly, Jerry Seinfeld — moved between sets of models dancing and partying, cocktails in hand, waiting for the surprise guest to take the stage. McCartney herself led the dance party right in front of the stage when Keys sat down at the piano to perform (what else?) "New York, New York," and "Empire State of Mind."
Of course, there were clothes, too: Beautiful, deep-reds dominated lacy gowns, sequined dresses and dance-ready fringed blazers. For the tough New York crowd, there was a black leather overcoat, a grommeted leather midi-dress and plenty of nods to menswear — McCartney's latest foray — in the Glen plaids and oversize suiting. A few select looks featured prints starring characters from Beano Studios' comic strip series "The Dandy." All of the models looked right at home in the Cotton Club, celebrating its 40th anniversary in its current location, but they were also looks that feel incredibly current and unique in a way only McCartney can design.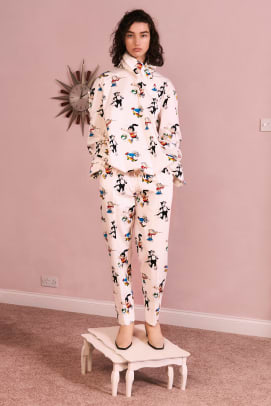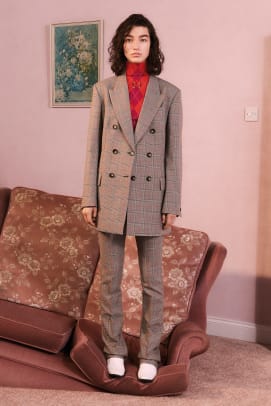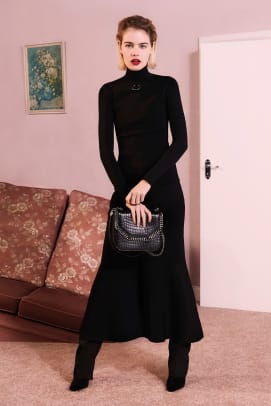 Want the latest fashion industry news first? Sign up for our daily newsletter.