Vetements Covered Literally Every Imaginable Aesthetic at Couture
From Bolo Tie Dad to Park Avenue Grandma to Angsty Teen Punk, the gang is all here.
In a fashion climate that has brands fighting for cultural currency as much as actual currency, we've found ourselves at an impasse — mostly because, as far as the former goes, no label out there has more than Vetements. With their casual, cooler-than-thou designs that breathe fresh air into closet staples (hoodies, T-shirts, denim, puffer coats, socks, etc.), Demna Gvasalia and Co. have largely informed the "look" of today, despite the fact it's not one that's completely original. 
The graphic, massively oversized, creatively layered and sometimes oddly proportioned silhouettes all hearken back to designers and subcultures that existed long before the brand debuted in late 2014 — but from Kanye West and Justin Bieber's tour merch to the growing dependence on bootleg-style logos by houses like Gucci and Dolce & Gabbana, Vetements's influence is unavoidable. So, what is one to do when the industry at large bites your aesthetic? Apparently, cover all remaining ground — which is exactly what the brand did at its fall 2017 menswear show in Paris on Tuesday.
To tease fans ahead of the collection's debut, Vetements served up a short video on Instagram that also doubled as the show's invitation, flipping through a stack of international identification cards (male and female, young and old) with bold, stereotypical descriptors listed instead of names. Said labels include, but are not limited to: bro, emo, couch potato, trash metal, punk, secretary, social worker, nerd, stoner, volunteer, pensioner and granny. And just like some super-hip, real-life version of "The Breakfast Club," every single one of these unique aesthetics was included, making for a diverse showing that — here comes another cliché! — quite literally had something for everyone.
The show opened with womenswear; specifically, a fancy fur coat on a well-coiffed older woman whom you'd fully expect to be shopping at Barneys — though not in the Vetements section. From there, the typecasting continued: a young woman in a loose trench and cropped jeans carried her motorcycle helmet like a purse (a play on the tired "French girl" obsession, perhaps?); a bolo tie-wearing gentleman wore a button-down shirt tucked into dad jeans with "Vetements" printed on the crotch; a goth model paired an oversized leather jacket with giant wide-leg jeans, a dog collar and a wallet chain; a soldier was decked out in head-to-toe camo; and an anarchist punk, complete with red, spiked hair, wore a slime green denim jacket open and combat boots. 
While other obvious "looks" were aplenty (the Pageant Contestant in a ball gown; the Stuffy Office Lady in a fitted pencil skirt; the Bride drowning in lace; the Rich Grandma in a Chanel-inspired tweed suit), the collection came full circle, as it included all of the elements Vetements upon which has built its brand image. Men's suiting was relaxed and off-kilter; denim was boxy and reconstructed; hoodies were layered under slip dresses and puffer coats; and details were worth a triple-take, from the denim boot pants to the neckties used as waist belts. Whether you fall into any one (or more) of the aforementioned #aesthetic types, mixing elements from this collection will surely create some fun street style and editorial moments in a category of their own.
See the full Vetements fall 2017 menswear collection in the gallery below.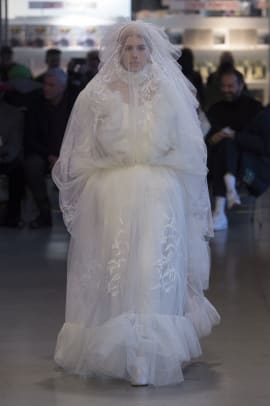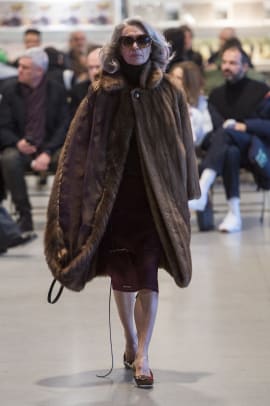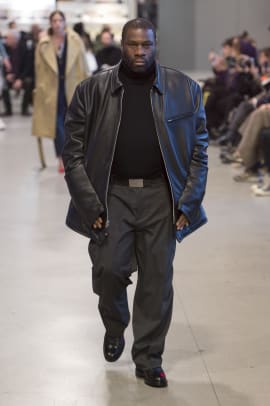 Never miss the latest fashion industry news. Sign up for the Fashionista daily newsletter.