With a Razor-Sharp Fall Collection, 3.1 Phillip Lim Celebrated Powerful Women in Its Own Way
Last season's playful sensuality gave way to fresh asymmetry and polished tailoring.
In the last five days of New York Fashion Week, many designers have used their platform to speak out on the current political climate. Some statements, like Prabal Gurung's touching finale, have been so moving that they've brought editors to tears. Others, including Calvin Klein and Vaquera, have provided more generalized commentary about the nation at large. Even those collections without graphic T-shirts or aggressive soundtracks have displayed more latent, understated civic ties in some way.
Phillip Lim — who remains a prized jewel in New York Fashion Week's ever-shifting calendar — fell in the latter camp with his fall 2017 collection, shown at Spring Studios on Monday. On the heels of a playful, sensual range last season, where Western motifs flirted with otherwise romantic pieces, Lim's latest offering felt at once fresh and familiar. He traded in spring's airy, delicate silhouettes — and largely white color palette — for a stronger arrangement. He worked primarily in structure this time, incorporating some asymmetry so nuanced, I didn't catch it on the first go. 
Accessories, always a Lim highlight, were piled on with abandon; I was particularly drawn to the (rather heavy-looking) architectural earrings, circled chain-link belts (primarily worn over coats) and fishnet netting, seen beneath everything from scoop-neck leather tops to exquisite woolen coats. And the overall vibe was louder, too, thanks in no small part to the candy-red Perspex panels that spliced the runway and "appetite-suppressing pink" carpet that ran throughout.
Though much like his spring collection, each look felt perfectly suited for the fast-moving contemporary woman Lim's been dressing since the beginning. But this season, the pulsating empowerment vibes, razor-sharp tailoring and 2017-era suiting were dialed up to a 10 — perhaps (surely?!) Lim's own nod to feminine strength. While sitting down to write this review, I was reminded of his comments to WWD shortly following the presidential election: "The result has only confirmed my belief that we must stand for what we represent as a brand, so my sentiment is still the same." 
See Lim's fall 2017 collection below.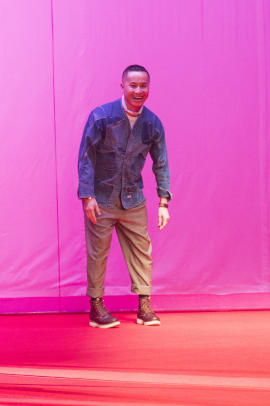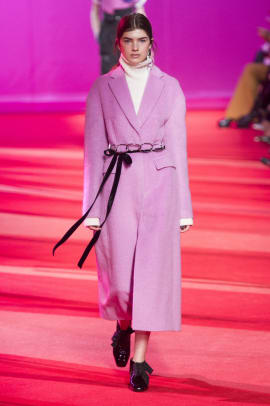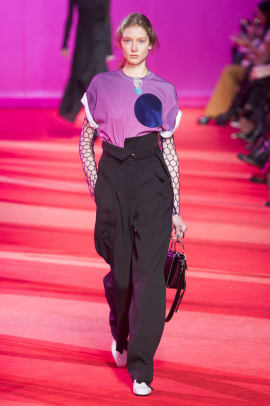 Never miss the latest fashion industry news. Sign up for the Fashionista daily newsletter.