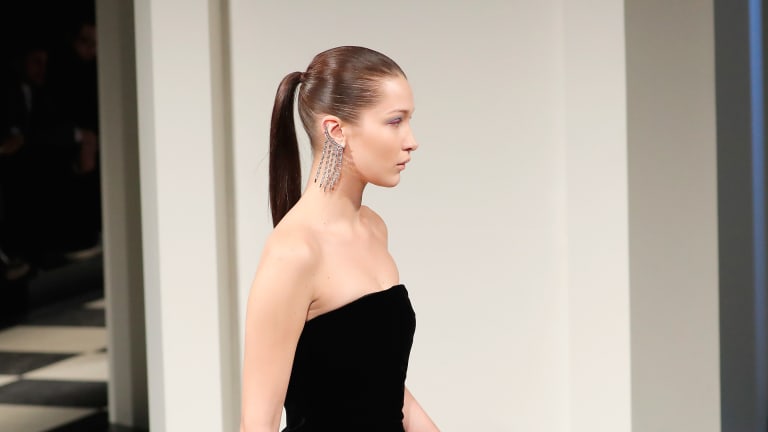 Bella Hadid Talks Winning Campaign Season and Getting Emotional on the NYFW Runways
We caught up with the (super-nice!) supermodel to celebrate her new ambassadorship with Tag Heuer.
It has been a very busy week for Bella Hadid. On Monday, the morning after closing for Prabal Gurung, she walked Carolina Herrera, opened for Zadig and Voltaire, closed for Oscar de la Renta, and showed up for rounds of interviews at a party celebrating her new ambassadorship with watch brand Tag Heuer, which promised to go rather late into the night. 
Certainly, no one could blame her for being tired — hell, I'm tired, and I'm not an in-demand supermodel. But if that fatigue was wearing on her when we sat down to chat, there was no sign of any annoyance or impatience from Hadid. When she showed up (looking perfectly put together, natch), she was gracious and polite, hugging people and greeting every question with a smile. It's no wonder that alongside her sister Gigi, Hadid has the reputation as being one of the nicest people working in fashion. It's also no accident. 
"Especially with the business we're in, there are so many difficult, mean people that it's kind of refreshing; even when there's girls at shows and they're nice, I'll tell them, 'You're such a kind person,' because you don't really find that many people like that these days," she says. "I think it's really important, because at the end of the day, somebody can either say you're a bitch or, 'She was nice.'" 
Trust me: No one is calling Hadid a bitch any time soon. Hadid and I sat down at Equinox's new Bond Street location, where we chatted about everything from her new partnership with Tag Heuer to getting to work with her best friend, Jesse Jo Stark. I don't know if she squeezed in a late-night workout after our interview, but I went home and ordered tacos — and, yes, texted my coworkers, "She was so nice!"
Tell me a little bit about the partnership with Tag Heuer and what it means to you to be an ambassador.
It's so incredible, because it's such a powerful brand and very European, so it takes me back to my roots, which is cool. I've always loved Tag, and I think they've always had such incredible campaigns, and everybody who supports them are such powerful people, so it's amazing to be able to support the brand and be an ambassador.
What was shooting the campaign like?
I love Cass [Bird]. She's the most amazing person, and I'm obsessed with her, so we had such a fun day doing that. I got to see all the watches for the first time, the styling was amazing — it was really my style — and the pictures turned out cool.
You have so many campaigns this season — what does that feel like?
I know! I don't know how — they're racking up, aren't they? [Laughs.] It's been really, really crazy and hectic, but amazing, and I feel so, so lucky to be able to do all these campaigns. It feels crazy to me, because most of that stuff I shot months ago, and now it's all coming out for this season; you kind of forget what you worked on and all the days you put into it. I remember how exhausted I was, but once it all comes out, I look back at it and I'm so proud and happy. It's all worth it, you know?
I promised my mom I would ask about your mom. What is having the support of a "Proud mommy" like?
My mom is my rock, she's my everything. We've both gone through a lot together, so it's really nice to have her on my side, always. She's always been a support system for me, my brother and my sister. For me, she's my best friend, so it's really amazing to have her. She's great.
What does having fans mean to you?
It's crazy to me, because it's all been so recent for me and so intense and quick since it all started. To me, it's still weird when people ask for my picture, or when people want to take pictures with me, because I'm just from Malibu! It's still really bizarre, but I love it, and they're all so incredible. I probably wouldn't be here without all of those fans and the people that support me. When you feel down, I can go and see what they have to say, and they're always there and they always support me, so it's amazing — it's like a second family.
What's the best part about your job?
The best part about my job is that I get to meet so many incredible people and work with so many incredible photographers and learn so much about photography. Now it's a whole fashion family. There's so many people that, if I wasn't in this business, I wouldn't have been able to meet.
What was walking Alexander Wang like?
Wang has always been a show that I've wanted to do, just because I love Alex and it's a really badass show to be a part of. This was my first time doing it, and it was so cool: We were in Harlem, and it was a really radical show, everybody was standing up, the music was amazing, Metro was there. It was just a really cool show — all the looks were dope.
Jesse Jo Stark was there, and she was on the cover of Teen Vogue with you. How cool is it that you get to work with your best friend?
It's amazing! She doesn't live here, she lives in LA, so we flew together a couple days ago. We can plan things; she can come watch me in shows, which is so fun, and I love to go watch her perform. We're on the cover of Teen Vogue together, which is insane, because it's my first cover, and the fact that she gets to be on it with me is so cool. We were able to shoot the whole day together, which is so much fun because — obviously — we're best friends, and she's amazing.
You opened Prabal Gurung's show, which was so emotional for the audience. What was it like on your end?
I went out and walked, and right before finale, when Prabal was about to go walk, I saw him tearing up and I just started crying because it was such a beautiful, moving show. Everybody in the audience was crying during the finale; it was really, really powerful and I'm really proud of him. It was incredible.
And you closed Oscar de la Renta tonight, which is also a big deal.
I mean, literally, I also cried! I don't know if it's just a very emotional week, but that show has always been something really big to me. It's such an iconic brand and I've always looked up to the designers. I cried when I got the show in general, and then when I heard I was closing, I was at a loss for words. [That dress] was so beautiful; when I first tried it on, it was so incredible.
What is left for you to accomplish that you dream about?
You know what, I don't like to really talk about things in the future. I like to work as hard as I possibly can and try to keep doing as much as I can. Just keep moving forward, I guess — I don't know exactly what there is that I want, I just want to keep working hard. I love to work! 
Click through the gallery below for more from Hadid's Tag Heuer campaign and behind the scenes of the shoot.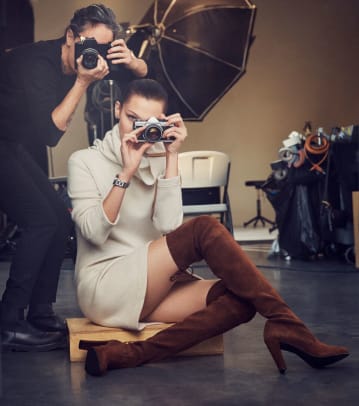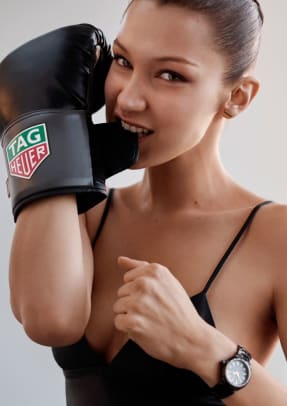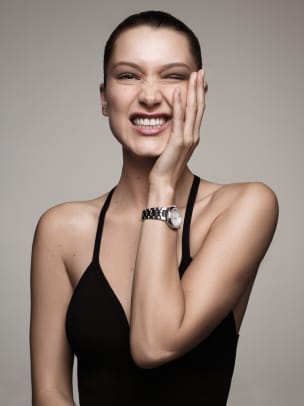 Want the latest fashion industry news first? Sign up for our daily newsletter.
This interview has been edited and condensed for clarity.