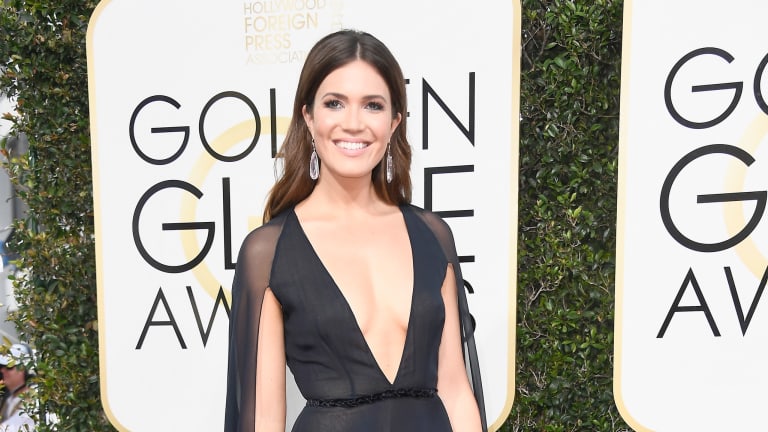 Everything You Could Possibly Want to Know About Body Makeup, Explained
Including how to pull it off in real life — and off the red carpet.
The phrase "body makeup" tends to conjure images of weird, painted-on abs popular amongst certain subsets of beauty vloggers or that roll-on glitter you applied to every inch of exposed skin in sixth grade. Suffice it to say, neither of those associations is particularly elegant. So it might surprise you to find out that practically every star on the red carpet is covered with the stuff — and has been for years. Ever notice a bruised shin sticking out of one of those high-slit Oscars dresses, or freckly, red case of keratosis pilaris on the back of an It Girl's arms? Nope. But that's not because every celebrity is an otherworldly being with special skin superpowers. Like double-stick tape, body makeup has long been one of those stealth beauty secrets that keeps A-listers looking better than the rest of us, but it's only in recent years that they have started to be more open about the fact that their beauty routine extends beyond their faces.
Maybe it owes to the rise of contour queens like the Kardashians, or maybe it's simply the trend of female celebrities pushing back against the idea of perfection, but the body-makeup cat is suddenly very much out of the makeup bag. At the Golden Globes alone, Giuliana Rancic pointed out her expertly highlighted shoulders, while Chrissy Teigen, Mandy Moore and Kristen Bell all flaunted strobed bodies (sternums, limbs, you name it) without pretense.
"Body makeup has always been a staple for red carpet," says makeup artist Fiona Stiles, who works with the likes of Lily Collins and Gabrielle Union. "I don't do it every time; it depends on the client's skin and the clothes," she adds, noting that a variety of factors play into the decision to use body makeup — and how much. The amount of skin showing, is, of course, a major factor, as well as whether there are issues like hyperpigmentation or rosacea to contend with. Even if someone doesn't struggle with those concerns, there are still areas where natural pigmentation can occur, like around the knees and elbows where the skin takes more abuse. Bruises are also a common last-minute fix, since they can can add to the overall coverage needed. As anyone who has ever tried to cover up red cystic acne can tell you, a few strategic dots of concealer can be almost as obvious as the blemish you were trying to cover in the first place. Keeping the cover-up on the down-low and making sure everything looks [sparkle emoji] natural means expanding the coverage area for that cosmetic ninja effect.
Go back two or three years and search for body makeup how-to videos, and you'd probably come up with a few technical walk throughs for body-paint artists, a few vloggers blending brown eye pencil into their cleavage for that Wonderbra effect and a bunch of Halloween ideas. Don't worry, there are still plenty of those out there — the top five most-watched body makeup YouTube videos include two FX makeup looks, a full body contour walk through featuring the dreaded paint-by-numbers six pack and another tutorial promising Instant Cleavage with Makeup!!! The difference is that unlike a few years ago, said contour video is obviously poking fun at the old school over-the-top body makeup ("The first thing that you need are two on-hand makeup artists," vlogger Chloe Morello notes) while the other is flooded with comments — more than 2,000 of them — ranging from "But why???" to "it looks so realistic" at a nearly 50/50 split. In fact, much like that "clown contouring" trend (oh, 2015, you were a simpler time) the majority of the most-watched YouTube body contouring makeup results seem to be jokes about the elaborate, involved processes and often questionable results.
If that's all there was to it, of course, we could easily declare the trend dead — at least for anyone who doesn't have two on-hand makeup artists — and move on. But once revered makeup pros like Charlotte Tilbury and Lisa Eldridge get involved with actual, usable tips, it becomes clear that there's more to this than a little bit of cosmetic comedy. That's right, more people than ever before have even started integrating subtler notions of body makeup into their real, decidedly un-awards-ceremony-filled lives.
What to know before you try it
So what do you need if you want to add a little oomph to your look for your best friend's wedding, or do up your Oscars' party like a real starlet? Step one is to kick off your body makeup routine just like you would your face, with clean, moisturized skin. Choose a milky, hydrating lotion which will fully soak into skin, and apply it at least 15 minutes before you plan on kicking off your body beautification to make sure you're starting with a plumped, not greasy, base. (We like L'Occitane Almond Milk Concentrate.) 
The upshot of the celeb body makeup proponents is that the increased fan demand has helped encourage the development of better long-wearing, smudgeproof formulas in case you, you know, wanted to actually move while also being a glowing beauty god. "In a pinch, I'll use foundation mixed with body lotion or a shimmer lotion, but in general I prefer to use products made for the body, because they'll have better long-wear properties," says Stiles. She's a big fan of the spelling-challenged Prtty Peaushun, a tinted, faintly shimmery lotion that comes in four shades, for radiant, just-got-back-from-the-beach looks, as well as long-time drugstore fave Sally Hansen Airbrush Legs for its unbudgeable wear, but lots of vanity staple brands have gotten in on the body action, too. M.A.C. now carries a mega-size foundation designed for both face and body, while Temptu has developed a version of its airbrush makeup specifically for the body. Kat Von D and Dermablend both made names for themselves with hard-core coverage for tattoos and other body blemishes, while brands like Bairly Sheer (breaking news, spelling is dead) have taken the price point down for easy to use, spray on coverage.
Whatever formula you choose, Stiles points out the importance of keeping the finish in mind. Just like you don't want a stark foundation line around your face, you don't want a matte complexion and a dewy bod — or vice versa. Adding a little glow to your cheekbones? Go ahead and douse your collarbones or shoulders with a hint of shimmer. Riding the '90s matte wave? Skip the body bling and opt for matte bronzing formulas to add depth instead. Cream-to-powder formulas like Nars The Multiple offer a high ratio of blendability to soft finish while gels and creams may offer more staying power, but will need to be set with a translucent powder to avoid stickiness or smearing.
Technique
Just like with a good highlight and contour job for your face, the key to making body makeup wearable is subtlety. Real-life body makeup has to look good at every angle, in any light, which means focusing on blending down lines and edges (a Beautyblender is once again your BFF) and using a featherlight touch to add dimension where it already naturally exists on your body. Think: your arms, legs, neck, clavicle and sternum.
Though choosing a product specifically made for body will decrease your odds of awkward smearing and smudging — not to mention cut down on your dry cleaning bill — there are things to consider before committing yourself to body makeup. Like your favorite foundation and Coachella, precise body makeup and muggy, hot weather aren't going to be a good combo. Likewise, any situation in which you're likely to get splashed with water or where you're going to be especially active won't be body makeup friendly (sorry, all you body-contoured CrossFitters). You also have to assess what you're wearing... and how much you love it. "It's kind of just part of the deal: If you want to wear your favorite white dress, just think about if you're okay with a little transfer onto the fabric," says Stiles. "And don't hug anyone else with white clothes on!"
Regardless of whether body makeup is your cup of collagen-infused beauty tea or just a little bit of voyeuristic intrigue, you can definitely plan on seeing this not-so-new trend hanging around — at least until your fave A-lister's next shower.
Main/homepage photo: Frazer Harrison/Getty Images
Please note: Occasionally, we use affiliate links on our site. This in no way affects our editorial decision-making.
Never miss the latest fashion industry news. Sign up for the Fashionista daily newsletter.